Giant tortoise death casts shadow over Galapagos Islands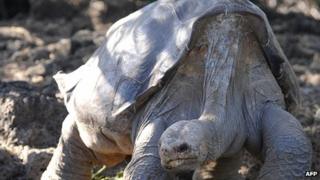 A shadow has hung over the Galapagos Islands since the death in June of its most famous resident, the giant tortoise Lonesome George, and the islands are worried by the impact of his death on the tourist industry.
The day after Lonesome George's unexpected death, Marilyn Cruz took a phone call she would rather not have done.
Owing to Ecuador's constitution, the first in the world to afford the same rights to nature as it does to humans, the famously celibate Lonesome George had to be afforded a full autopsy.
And Cruz would have to do it.
Cruz is a vet, perhaps in her early 40s, who is the co-ordinator of Agrocalidad in Galapagos, the government agency responsible for agricultural standards and biosecurity in the islands.
She takes me to her laboratory and walks towards a large chest-style freezer.
I half expect to see some frozen peas, a tub of mint choc-chip ice cream and a bag of oven-ready chips but instead I am looking down on the carefully preserved remains of a giant tortoise called George.
I am so taken by surprise at this surreal sight I find myself genuinely speechless. A breathy "oh," is all I can come up with.
Once Cruz has closed the freezer and I gather my senses, I ask her what it was like to have carried out George's autopsy.
She hugs her bare arms against the chill air of the lab and, perhaps, the gory images flitting through her mind.
"I felt a confusion of emotions," she tells me.
As a Galapagena, born and raised on the island of Floreana, she felt great sadness at the loss of this national treasure.
But she had to put her sentiments aside, pick up an electric saw and cut through his plastron - the curved underbelly of a tortoise - to get at his insides.
"It was not something I wanted to do, but it was something that had to be done," she says.
Later I walk down Puerto Ayora's main street that runs east-west along the coast.
It is smart, it is friendly and it is lined with restaurants and souvenir shops. The Lonesome George brand is very much in evidence on t-shirts, as jewellery and in the shape of miscellaneous nick-nacks.
I am off to meet a man regarded here as something of a living legend - Fausto Llerena.
He joined the Galapagos National Park in 1971 and his long career as a ranger has been largely defined by Lonesome George.
He looked after him, day-in-day-out, for 40 years and it was Fausto Llerena who found him dead at the end of June.
We sit beneath the shade of bright green vegetation and I ask what Lonesome George meant to him.
I study his bronze features, his shining eyes, a wrinkled fold of skin beneath his chin and think how like a tortoise he looks.
He talks slowly and fondly of George, of the times they shared together.
It is only towards the end of our conversation that his emotions get the better of him and his upper lip begins to tremble.
"He was my best friend," he says.
How does Galapagos pick itself up after this loss?
One response has been to look for another tortoise to take on the celebrity role.
The most likely contender is Diego, an aggressive male who has sired more than 600 giant tortoises. Prolific he may be, but he does not really have the same celebrity quality or quiet, plodding pathos of Lonesome George.
Fausto Llerena clearly is not so fond of him.
"When you enter his pen, Diego comes near and his intentions aren't friendly. He once bit me," he says.
I make my way to the Charles Darwin Research Station, hoping to get a glimpse of Diego for myself.
First, I climb up the wooden walkway to the platform that overlooks what was Lonesome George's enclosure. There are still two tortoises in there, females with whom it was hoped George might mate.
One of them is taking a walk through the pool in the middle of the corral and the other is crunching her way through some stick of plant matter.
I wonder if they notice George has gone, if they miss him as much as the human residents of Galapagos do.
The fruity odour of tortoise dung - not unlike that of a cow pat - mingles with the cool Pacific breeze. It is nearly midday, the sun is directly overhead and the tortoises are flat out, legs thrust into the dusty earth as they soak up the heat.
Then one of them begins to move. It is Diego.
Slowly but deliberately, he manoeuvres into position behind a slumbering female to begin the strenuous climb up onto her shell.
As he begins to grunt, I have to admire his commitment to the conservation cause. But there is something a little unseemly about all this grinding of shells.
Coming so soon after the sun set on Lonesome George's celibate life, sex at midday just does not seem quite right.
How to listen to From Our Own Correspondent:
BBC Radio 4: A 30-minute programme on Saturdays, 11:30 BST.
Listen online or download the podcast
BBC World Service:
Hear daily 10-minute editions Monday to Friday, repeated through the day, also available to listen online.
Read more or explore the archive at the programme website.