Bradley Wiggins: 10 reasons for his Tour de France win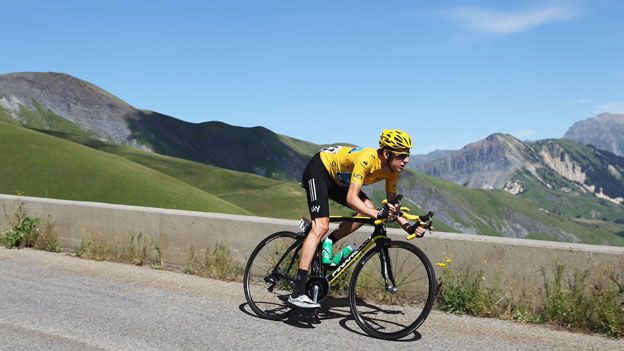 Bradley Wiggins' victory does not come out of nowhere. He was already an Olympic champion on the track, and came fourth in the Tour de France in 2009. But there is a lot more to this story than one man's strong legs.
1. Teamwork.Team Sky this year worked like clockwork, with every rider selfless in support of the leader. Even world champion Mark Cavendish took his turn fetching drinks for Wiggins and the others. It could easily have been otherwise. Cavendish blamed Wiggins for their failure to win gold in the Madison event at the Beijing Olympics. But Wiggins rode heroically to help Cavendish win the world title last year, and Cavendish returned the favour in France. On 28 July Wiggins will be back in the supporting role for the Olympic road race.
2. Science. Team Sky's sport scientist, Tim Kerrison, spotted that British Tour cyclists were struggling particularly with three challenges - the heat, the altitude and the climbs. So the team trained intensively at altitude, in the heat, and on mountain ascents. A volcano in Tenerife provided all three conditions at once. "Tim's the brains. He's changed my career, totally," Wiggins has said. Wiggins sometimes climbed 4,000m (13,000ft) in the course of a day's training, his power output constantly monitored by Kerrison, and plotted on graphs. He made it his target to complete 100,000m of ascent - the equivalent of cycling 100km vertically - in the months leading up to the race.
3. Psychology. "After 2009 I didn't really believe I could win the Tour. I thought, 'That's for someone else, kids from Kilburn don't win the Tour,'" Wiggins told The Guardian . But Wiggins had finished fourth in 2009, and in 2010 - Sky's first year in the Tour - the burden of expectation was massive. Wiggins flopped, finishing 23rd. Sport psychologist Steve Peters has been key in getting the Sky riders to conquer their emotional "inner chimp" and stay cool, focusing on the process not the outcome. Even with the confidence he must have gained from winning three major races in the run-up to the Tour, Wiggins consistently ducked questions about his chances of victory, until the end of the last mountain stage on Thursday.
4. The route. Tour de France routes of the last few years have favoured cyclists with a gift for climbing, but this year's route was made for an all-rounder. Crucially, it included two lengthy individual time trials, where riders race alone against the clock - Wiggins' speciality. "We've been doing this kind of thing for 10 years, winning gold medals at it. The track is my school, the individual pursuit, I've done lots of kilometres in this position since I was a kid," he said after the first time trial on 9 July. (By "this position" he means the stretched-out flat-backed posture that comes from leaning on one's elbows.) The total distance cycled in time trials this year came to 96km (60 miles) excluding the 6km opening Prologue, more than in any of the last four Tours, but less than in 2003, 2006 or 2007.
5. Money. British Sky Broadcasting came up with the millions of pounds needed to fund a serious road-cycling team. The cash enabled Team Sky to buy Wiggins out of his contract with the Garmin team, and to pay his £1.5m salary. It also gave manager Dave Brailsford the chance to assemble a powerful international team including, among others, world champion Mark Cavendish, Norwegian champion Edvald Boasson Hagen, 2010 German champion Christian Knees... and Chris Froome.
6. Chris Froome. Froome has been a revelation. Second overall in this Tour, he has been Wiggins' main support in the mountain stages - and some commentators have wondered whether Wiggins should have been supporting Froome rather than the other way round. At the very least, Team Sky were lucky that Froome was with them, not against them. "I am surrounded by incredibly talented bike riders - including Chris Froome," Wiggins said this week. "The guy is capable of winning the Tour for sure, otherwise he wouldn't be second overall, and he will win this race one day and I will be there to support him doing that."
7. Leading from the front. Team Sky was the first to lose a rider in this year's Tour - Belarusian time-trial champion Kanstantin Sivtsov, in a crash on stage three. This underlined the importance of keeping Wiggins out of danger, at the front of the peloton. Once Wiggins was the race leader, the Sky train, in their black and blue shirts, routinely set the pace at the front of the field. Tour wisdom has it that it is a disadvantage to win the yellow jersey too early, and to be forced to defend it all the way to Paris. But Team Sky managers had foreseen this possibility long in advance, and practised for it earlier in the season. Wiggins went ahead early in the Paris-Nice, Tour de Romandie and the Criterium du Dauphine races, and stayed in front to the end almost without a break.
8. A cleaner sport. When British Cycling began to receive funding from the National Lottery, in the wake of the Atlanta Olympics, a conscious decision was taken to focus on track cycling, because road cycling was so riddled with drugs. The view was that clean riders, such as the UK's Chris Boardman, had been fighting a battle they could not win. Fast forward 12 years to 2009. When British Cycling performance director Dave Brailsford announces the creation of Team Sky, and his ambition to win the Tour de France with a clean British cyclist within five years, it was evidence of his faith that drugs are on the way out. While two riders have failed doping tests in the 2012 Tour, his faith appears to have been justified.
9. Marginal gains. Brailsford's philosophy with the British track cycling team, which helped them dominate the Beijing Olympics, was to "aggregate marginal gains". The idea is to look for small gains in all aspects of racing, which combine to make an important difference. He has brought the same approach to road cycling. Wiggins' yellow time-trial skinsuit may be an example of this. Often the wearer of the yellow jersey uses a yellow time-trial skinsuit provided by the race organiser, ASO. But Brailsford must have thought that the hi-tech Team Sky suit would be faster, or just more comfortable for Wiggins. At any rate, he took care to get ASO's permission for Wiggins to wear a Team Sky yellow skinsuit, to agree the design with ASO, and to get one made - without of course knowing that Wiggins would be race-leader when the time trials took place. How much time did this gain Wiggins? We don't know - but the point is that small gains are worth having, and will accumulate.
10. Strong legs. If Bradley Wiggins had not been a phenomenal athlete, none of the above would have made much difference.