Bradley Wiggins: What the French make of cycling hero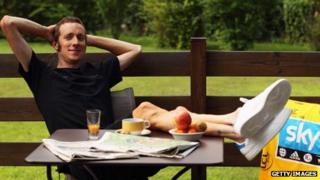 If fans of Bradley Wiggins are fretting about his reception in Paris should he win the Tour de France on Sunday, they can relax. The French public may have started the race knowing next to nothing about the be-sideburned English cyclist - but the more they have seen over the last three weeks, the more they like.
"The French are discovering a little more about him every day," says Alexandre Roos, who has been following Wiggo on the Tour for L'Equipe.
"They know now that he is articulate. They know he is good at interviews. But above all they know that he has a life outside of cycling - that he likes music and British culture, and that he is very proud of it.
"And the French respond really well to that side of him. I know people who are not at all into cycling, but who are definitely interested in Wiggins the man."
James Startt of Bicycling magazine, reckons the French are still figuring Wiggins out.
"He is a man of contradictions. On the one hand he can be charming and funny and full of knowledge about the Tour de France, which of course the French really love.
"And then at other times he plays this mod monster bad-boy type, which no-one has ever seen before in the world of bicycle racing. So he's a bit of an unknown, but what's certain is that he has character.
"And that, they like. All true champions have character."
People who've watched Wiggins over the last three weeks say the attitude of the French has evolved.
Initially, there was a certain suspicion - nurtured in some sections of the media - because of his reluctance to speak to journalists in French.
Wiggins, 32, spent several years with French cycling teams, so he can - if he wants - speak French fluently.
But delivering laconic and (for the French) unintelligible one-liners did not endear him to viewers.
In later post-race press conferences he mellowed. And that helped bring the French over to his side.
Another criticism was aired in a cutting exchange carried out via the press with the former French rider Richard Virenque.
Virenque was responding to a column Wiggins wrote for the Guardian in which he expressed surprise how in France ex-dopers (like Virenque) could still be hailed as heroes .
Virenque (who is indeed a hero in France) said maybe Wiggins should think about working on his own popularity - for example by attacking a bit more often when he races.
It is indeed a common view in France that Wiggins and Team Sky have provided an efficient but boring masterclass in how to shut down a race.
A time-trialler by background, Wiggins consolidated an early lead in the first contre-la-montre (as the French call time trials) and for the rest of the Tour the strategy has been defend, defend, defend.
"Anglo-Saxon teams like Sky are more organised. They are more pro," says Yves Blanc, editor of Le Cycle magazine.
"Every member has a clear job to do, serving the leader, and there's no room for poetry.
"So, yes we have lost something of the romance of the Tour. For the French the history of the Tour is about people who attack, who fail, who overcome disaster to win in the fog or the rain.
"It's not like that any more - but that's not Wiggins's fault. It's the times we live in."
James Startt agrees that "what might be brilliant for Team Sky is not necessarily brilliant for spectators". But on the other hand, he adds, "you have to hand it to Team Sky for dominating the race so effectively".
It's not just Wiggins, he points out.
"Several of his team-mates could be leaders themselves. When you have a world champion - Mark Cavendish - going back and forth with water-bottles, that shows an amazing depth on the bench."
French cycling fans encountered in a bar in Paris were resolutely of a pro-Wiggo persuasion.
"He is a strong rider, and he also has a good moral side," says one, referring to the moment on Sunday, when Wiggins slowed the main group of riders down, after tacks were scattered over the road, to allow those with punctures to catch up.
"That shows a man of character, but also a man of heart."
Another drinker commented: "We like the way he speaks his mind. He can express himself in a way that is shall we say... virile. That's rare these days, and it's good to see.
"Who cares if he's English! Let the best man win! In fact it's good to see an Englishman in charge. You're our oldest enemies! In any case he looks great, and we like the way he talks!"
In many ways Wiggins fulfils the expectations in France of what an Englishman ought to be like. He's seen as stylish, slightly eccentric, gentlemanly, outspoken, and humorous.
Forty years ago the French warmed to another English rider, Tom Simpson, who went on to die in tragic circumstances during the 1967 Tour.
For L'Equipe's Alexandre Roos, it is no surprise that Simpson is Wiggins's role model.
"We had a long talk about it, and he told me how much he admired Simpson for standing up for his Britishness at a time when it was not easy to do so.
"Back then British riders who wanted a career had to leave Britain and they all ended up being forced to fit the mould in some continental team.
"But Simpson refused that. He wanted to do things his way. He was a maverick and that is why Wiggins likes him."
So will there be resentment in France, if Sunday's podium is topped by an Englishman? Not for a minute, says Yves Blanc.
"Let's face it, you came with some great riders, and you may end with not one on the podium, but two if Chris Froome comes second.
"On top of that, if Cavendish wins the last stage, it'll be a record fourth in a row on the Champs-Elysees for him, and he'll be on a podium too.
"We're impressed. These guys aren't cheats. No-one's going to say they stole the race. What else is there to do but applaud?"