Is Chariots of Fire a good running track?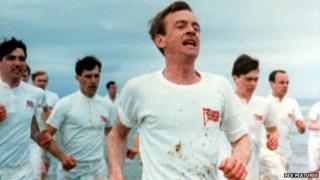 Vangelis's title track for the re-released 1981 film Chariots of Fire says "running" in a way few pieces of music do. But do upbeat tunes help motivate joggers?
It's hard not to think of people running in slow motion with beatific looks on their faces. On a windswept beach. In olden days shorts.
This is the effect of the opening titles music of Chariots of Fire.
But is it the kind of tune that helps the legions of amateur runners as they pound pavement, park and path every weekend?
Sport psychologist Dr Costas Karageorghis , author of Inside Sport Psychology, thinks it is a powerful song for runners. But primarily for getting people in the mood beforehand.
Karageorghis has led a number of studies which suggest a link between music and running success.
"For the average runner, it makes the experience more pleasurable. When used judiciously, music can elevate your performance levels and improve your mood state", he says, likening the effect to "a mild drug" which also helps to distract a runner and colour their feeling of fatigue.
Music is most effective when used synchronously - that is, when stride rates are matched to the rhythmical components of the music, Karageorghis believes.
But it can also be used asynchronously - while running, but not co-ordinating your movements to it. The best tempo for this use is between 125 to 140 beats per minute, Karageorghis says.
The sad news for Olympians is that these results apply only to the amateurs. Elite athletes don't seem to get the same benefits.
However, the celebrated Ethiopian distance runner Haile Gebrselassie has reportedly requested that the techno song Scatman by Scatman John be played at 10,000m races.
Runner's World magazine's Andy Dixon agrees that music can be useful. He listens only on his long runs, often over two hours.
"They get very monotonous and a bit boring. Music for me really kicks after about an hour... to just jolt you out of a kind of trance-like state."
There are runners who don't really enjoy the running and use music "to distract them from the exertion or the monotony of running", Dixon suggests.
So how does the Chariots of Fire titles music fare in the pantheon of running classics?
"It's a slow tempo track", says Karageorghis. "It's not particularly energising. [But it] is extremely effective for recreational exercise participants and elite athletes as a precursor for training and competition.
"When we hear the music, it immediately conjures heroic images, an Olympian striving for glory, of them running on a deserted beach in white shorts, pushing themselves to the max."
Loughborough University's Chris Harwood , a reader in applied sports psychology, agrees that its appeal stems from the imagery and mood it evokes.
"You associate the music with images in the film, which are to do with pushing through the pain barrier and overcoming adversity, so I wouldn't necessarily say it's just something that you would use pre-performance."
Dixon, however, says the tune is too slow to get him going.
"It doesn't do anything for me personally. It feels sacrilegious to be saying that, because it is a kind of iconic tune during big city marathons. In terms of its rhythm, it's hypnotic, almost to the point of being soporific".
What people listen to is as varied and as complex as the many different types of runner there are.
There are those who completely avoid music. Those who prefer to train and hear the chirp and rustle of the fauna and flora. Or those who need to hear their own heartbeat and the rhythm of their own breath.
But for those who are "music runners" - and there are plenty of amateur runners who can't run without, even ignoring bans on MP3 players on road races - there's always a favourite song.
According to a global survey by Runner's World this year, 55% of respondents listen while running.
So what gives people that extra push, making the difference between inglorious plodding or a triumphal final sprint? What quickens the heart, stirs the soul and spurs those limbs onwards?
"There is nothing like hearing the ripping intro to Welcome to the Jungle [Guns N' Roses] when you are struggling to put one foot in front of the other," says Adam Phillips, who ran his first marathon in 2010. "At the same time, the uplifting guitar and Hammond intro to The Shock of the Lightning [Oasis] just keeps me going and pushing harder."
Dixon has a fondness for Hit Me with Your Rhythm Stick by Ian Dury and the Blockheads. "It's got this real kinetic quality to it. It puts a smile on my face. Also, I think it's got a beat per minute that matches my running pace quite well."
Karageorghis says his favourite running track would have to be Mas Que Nada by Sergio Mendes.
"It makes me feel great. It energises me. It puts a spring in my stride. It will turn around or modulate my mood. Every time I hear that track, it completely lifts my spirits."
Marathon runner Ian Bennett says that the best track he runs to is Moaner by Underworld - "Things that build seem to give me energy - and Moaner is so frantic and insane that it lets me go beyond anything else."
Karageorghis has compiled a list of the all-time top 20 most motivational songs based on his research. Number one is Survivor's Eye of the Tiger.
It couldn't be more different to Chariots of Fire.