Collaboration Culture: Meet the artists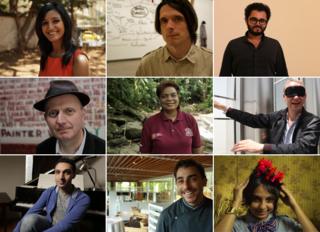 Fourteen artists from nine different countries will be pairing up to create new artworks. Over the next two months, the BBC News website will document their progress and the finished artwork will feature in a weekly documentary on BBC World News television.
1. Shilpa Chavan and Martin Churba
Argentinian fashion and textile designer Martin Churba leaves the comfort of Buenos Aires to experience the madness and stimulation of Mumbai - the home of milliner Shilpa Chavan.
Churba's passion for creating experimental fabrics and prints led to him setting up Tramando, his design studio in the chic Recoleta district of Buenos Aires. He now has stores in Tokyo and New York, all featuring his trademark heavy knits and intricate prints.
Chavan, who trades under the name Little Shilpa, is a milliner, stylist and accessories designer. Inspired by the colours of India and the street markets of Bangalore, she has created hats out of empty plastic bottles, bras, children's toys and old flip flops.
Together they make six outfits which marry their two cultures and their joint love of colour and shape.
2. Bob and Roberta Smith and Paa Joe
The artist Bob and Roberta Smith (one person, but with two names) travels from his home in London to Accra in Ghana where he meets coffin maker Paa Joe. Together they make a sculpture which perfectly displays their shared love of fun and flamboyance, with a more thought provoking side too.
Bob and Roberta Smith, real name Patrick Brill, is a painter and sculptor. Known for his hand-painted signs on wooden panels, he is one of the artists chosen to create a poster for the London Olympics (image 12 in this picture gallery ).
Paa Joe, real name Joseph Ashong, is the foremost coffin maker of his generation. His figurative sculpted coffins are rooted in the Ghanaian tradition to honour the dead. Each unique work reflects the foibles of the deceased - an inveterate drinker may be buried in a giant beer bottle, a pilot in a replica aeroplane.
3. Shakti Mohan and Mohammed Fairouz
Dancer Shakti Mohan is a huge star in her native India. She won the television talent show Dance India Dance in 2010 and starred in a popular soap opera, before leaving to continue her dance studies.
This episode sees her visit New York for the first time to work with Arab-American composer Mohammed Fairouz.
At the age of 26, Fairouz is one of the most frequently performed composers of his generation. He has written numerous orchestral and operatic works, which straddle both Eastern and Western influences.
He will compose a new piece of music, performed by a string quartet and a Klezmer clarinettist, to which Mohan will choreograph a Bollywood style routine.
4. Christian Jankowski and Rami Farook
Berlin conceptual artist Christian Jankowski travels to Dubai, where he will experience the city using all his senses - except sight.
Wearing a black-out eye mask from the moment he steps off the plane, he will rely on Dubai curator and artist Rami Farook to show him around the city.
Over three days Farook guides Jankowski through the souks and the desert, the artificial snow mountain and the hectic streets, while they make a film of their journey together.
5. Jeremy Deller and Michelle Huggins-Watts
Turner Prize winning artist Jeremy Deller teams up with steel pan drum expert Michelle Huggins-Watts in Diego Martin, Trinidad.
British artist Deller specialises in conceptual, video and installation art. He revels in unusual collaborations and creates a unique performance and music event in Trinidad, home to band leader Huggins-Watts.
She is one of the very few female steel pan arrangers on the island. Having toured the world as a musician, she returned to Trinidad on a mission to bring more young people into the music.
6. Jordi Roca and Gaston Acurio
Spanish pastry chef Jordi Roca runs three-Michelin starred restaurant El Celler de Can Roca near Barcelona. It was recently voted the second best restaurant in the world. He travels to Lima, the capital of Peru, to reinvent the potato.
Roca will collaborate with Peruvian television chef Gaston Acurio, whose own restaurant Astrid y Gaston also appears in the world's 50 best restaurants list.
Peru has about 8,000 different varieties of potatoes, many grown on farms high in the Andes. A group of farmers travel to Lima to bring the chefs the pick of their crop. The potatoes are then transformed into a variety of beautiful petit fours.
7. David Shrigley and Teresa Chiba
Glasgow-based animator and illustrator David Shrigley is famous for his simple line drawings, done deliberately badly, telling stories about the absurdities of daily life and the curiosities of human relationships.
He travels to Tokyo, the home of manga cartoons and graphic novels, to work with illustrator Teresa Chiba. Together they collaborate on a comic book.
It will be low-tech, probably photocopied and stapled by hand, and 100 copies will be made. These little books will be handed out for free on the streets of Tokyo.
The BBC News Magazine will show the results of each collaboration, and a documentary revealing the finished artworks will be broadcast on BBC World News each weekend