How much football can you talk about to a non-fan?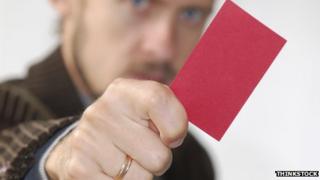 Millions of England fans are celebrating reaching the Euro 2012 quarter finals, with many wanting to talk about it. But at what point do football conversations become boring, or even rude to a non-fan?
Usually conversations about football are reserved for football fans. The less enthused tend to nod and smile, or subtly zone out, when football comes into bus stop banter or office water cooler chat.
But now England have reached the quarter finals of Euro 2012, football fever is sweeping the nation.
There are thousands of people suddenly engaging in debates about goals, free-kicks and possession.
A YouGov poll in May suggested 56% of the whole population are either "not at all interested" (37%) or "not very interested" (19%) in football.
So for those who can just about tolerate an office sweepstake, but have no interest in banal office football banter, at what point does talking about football become boring, or even rude?
Etiquette expert Simon Fanshawe, who is not a football fan, says he cannot stand the assumption football fans make about how much others understand, or even care, about the sport.
"It can be really rude. People don't tend to take the time to explain or inquire about whether they are interested before they talk about it. It's like reaching across the table for the salt or butter without asking for someone to pass it," he says.
Evening Standard journalist Sam Leith says it also depends on whether the person speaking has a captive audience.
"If it was the boss talking about football during a meeting at work, or a tour guide on a London bus, or a radio host, it would be a bit rude. But it's more tedious than anything," he says.
However for football fans who are concerned about offending colleagues or friends, Fanshawe says there is an easy solution.
"It's like any conversation. If you are going to engage people, the crucial word is engage - find out if people are interested," he says.
Sports broadcaster Jim White says there is definitely a sensitivity issue about football talk in social situations, to the point that he sometimes feels uneasy talking about it.
"It's like if there is a doctor at a dinner party, and everyone starts telling them their symptoms. People tend to seek me out and talk about football. I worry I am going to bore others, so I try and change the conversation quickly - to something less controversial like politics or religion," he says.
Football conversation certainly gets more inclusive when a country, rather than a club, is involved, according to White.
But he says there are certain issues that the occasional football follower is more likely to have an opinion on.
"The linesman missing the Ukrainian goal, for example, I think transcends whether people know about football - it's an issue of natural justice.
"Whereas how well Steven Gerrard played or whether Joe Hart is a world-class goalkeeper doesn't," he says.
When it comes to polite chit-chat, White says the technicalities of the offside trap are unfair. But he says plenty of people will be interested in Greece playing Germany - and who German Chancellor Angela Merkel sits next to at the game - because of the current geopolitical issues.
And nowadays football can be a starting point for anything from hair transplants - regarding Wayne Rooney - to cosmetic surgery, he adds.
It is a far cry from the 1980s, when football hooliganism was rife and the sport was not regarded as a subject of polite conversation.
All-seater stadiums, the rise of Sky Sports and the changing demographics of the fans went some way to changing football's image.
England's fourth place in the 1990 World Cup and England's hosting of Euro 1996 - along with David Baddiel and Frank Skinner's Three Lions lyrics - raised its profile.
White says football has now become part of the national conversation.
"It's moved from the back page of newspapers to the front page. Before it was not part of the fabric of life - it didn't have soap opera elements of WAGs and money.
"And never, in a million years, would we have imagined seeing David Cameron celebrate Chelsea's Champions League win while he was with Merkel, and the way it was stage managed to make sure he was associated with success. Margaret Thatcher never did anything to associate herself with football."
He says the social progress of football was "sealed" for him when Fabrice Muamba had a cardiac arrest at Tottenham, and the first fan to help was a consultant cardiologist at London Chest Hospital - "someone who would never have been at the game back in the 1980s".
However, others remain unconvinced.
For Fanshawe, football fans still "utterly dominate public spaces - shouting in a kind of baboon-like male cry during the game".
"There is an assumption that kind of behaviour is entirely acceptable - that people won't complain, and if they aren't patriotic about football they are ninnies," he says.