Towards an unstealable object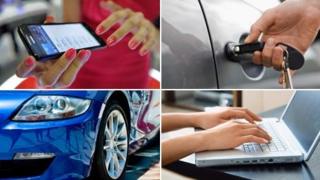 As anti-theft technology increases, life is becoming harder for thieves. But will we ever reach the point where things become unstealable?
When Joshua Kaufman had his laptop stolen he knew exactly where it was, and who had it.
The anti-theft software that he had downloaded meant he could remotely photograph the man using it, and find its exact location.
The man was a taxi driver, later charged with possession of stolen property, although the charges were dismissed because of lack of evidence. The man's face, staring blankly into a computer screen, has now been seen across the world. People saw him sleeping on the sofa, driving, and lying half naked in bed.
Katy McCaffrey suffered a similar experience to Kaufman.
Her iPhone was stolen as she enjoyed a holiday on a cruise ship. She was able to see every photograph as it was taken and automatically uploaded on to her remote iCloud account.
The new owner of McCaffrey's phone became the star of her Facebook album Stolen iPhone Adventures.
Like Kaufman's, the album was shared, tweeted and written about, so thousands could see the man with the phone partying with friends, teasing his girlfriend and photographing such things as the sunset and a plastic parrot.
It's not been established how the man came to have the phone, but he has since left his job at Disney Cruise Line.
Kaufman used the Hidden app which tracks the location of laptops as well as sending photos to the owner. But there are a slew of basic GPS tracking apps that present a formidable obstacle to the thieves.
Find My iPhone has been one of the best publicised apps, although there are a number of others, and also apps for Android phones. As long as the user has an app and has GPS enabled they've got a chance of finding their phone.
There have always been ways of marking your property, whether using a crude method like a UV pen or something more recent like the Smartwater marking system. But that relies on the authorities coming across the stuff in the first place. GPS devices are a significant step forward.
So does this technology make stealing more difficult? Or will petty thieves and opportunists need to become much more technologically savvy if they are to gain any benefit from their ill-gotten gains?
"Stealing is more difficult, and it's also just becoming more of a hassle," says Tom Clarke, a software engineer.
Clarke lost his iPad in December last year and once again was able to view a variety of strange pictures taken by the new "owner" of his iPad.
A cute brown dog was the most popular subject, along with a pink suitcase and a smirking man in a pink knitted bobble hat.
"This technology doesn't necessarily make something impossible to steal, it just makes things less appealing," adds the 27-year-old.
"I never got my iPad back, but I have locked it, which means whoever had it is unable to do anything with it. It's become unusable."
Many of the most prominent cases have come from Apple technology, but there are a variety of apps to be used across other devices.
And of course it is not just computers.
It is easy to lock a stolen mobile phone by calling the provider and supplying the unique identification number - the handset can then be blacklisted.
In America, where cell phones are the target of a third of all robberies, the stolen phone blacklist is only just being introduced. It is being hailed as the "fight back" on theft, and police are hoping it will result in a marked decrease in crimes.
The technology can be easily overridden, but every hurdle adds a disincentive.
Then there are the supermarkets.
There was controversy in 2003 when a radio frequency ID (RFID) tracking system was used in the packaging of Gillette Mach3 razor blades to stop shoplifting at one of Tesco's Cambridge branches.
Anyone picking up a packet of the blades triggered CCTV surveillance of themselves in the store.
Barcoded alarms are often attached to alcohol bottles, and sometimes meat and cheese - items commonly targeted by thieves.
According to the British Retail Consortium, last year saw the lowest level of thefts per 100 stores over the last seven years. Customer thefts fell to 2,833 per 100 stores, from 3,490 the previous year.
The number of cars stolen has also dropped every year since coded keys were introduced, making it near impossible to drive a car without a key.
In 2010-11, 106,228 cars were stolen, down from 117,687 the previous year and massively down on the 587,856 a year which were taken 20 years ago.
And supercars have very sophisticated tracking systems.
Andrew Smith, managing director of Cobra UK Limited, provides GPS vehicle tracking for a variety of super car brands including Lamborghini, Maserati, Ferrari, Bentley and the Rolls Royce Phantom.
Vehicles have small tracking units fitted so they can be followed across Europe from a network of 36 monitoring centres, staffed 24 hours a day.
He said: "Some customers will opt for an upgraded proactive system which comes with a driver card, which means that when they get into the car it will sense if they have the key card with them and recognise them as an authorised driver.
"If they don't and car is driven without the driver card present, it will send out a silent alert to our monitoring centre. We can then call the customer and find out what is going on."
Key theft - by house burglary for example - is already common, but even that can be overridden by engine immobilisation technology.
If a car is reported stolen, and the trackers show that it is being driven, a message can be sent to the car ignition to prevent it from being restarted once the vehicle comes to a halt.
Smith adds: "This technology is something that can be rolled out across any car."
But how likely is this?
Mark Wilson, features editor at Stuff magazine, says anti-theft technology is becoming much more accessible.
"I can certainly see this technology trickling down to more average cars and being more affordable," he says.
"Later this year, we will see the emergence of the 'internet of things', which will see your whole home and its appliances connected to the internet via little network-connected boxes.
"Initially, this will mainly be a boon for home automation. For example, you could remotely control your thermostat or air conditioning via your smartphone, but it also has big implications for security.
"These boxes have motion sensors, cameras and could potentially let you remotely lock and unlock doors from anywhere.
"If a thief knows he or she could be followed by numerous remote cameras, and that the owner of the house has the ability to remotely lock them inside a house, or room, then that surely will put them off."
The success of smartphone tracking apps could influence the design of other valuable items. If a manufacturer makes expensive cameras or televisions and the cost of installing a small GPS device and independent battery drops, it seems an obvious feature to add.
There's always the knowledge that thieves usually find a way around sophisticated countermeasures. But until they do, they'll have to be on their toes.