Boxer Teofilo Stevenson's loyalty to Cuba's revolution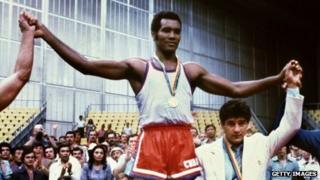 Three-times Olympic gold medallist Teofilo Stevenson died on 11 June. The BBC's Sarah Rainsford went to his funeral and met some of the people inspired by the late boxer who turned down millions of dollars to fight Muhammad Ali.
As I stepped out of the lift into the funeral parlour, the noise hit me. The room was full of family, friends and fans of Teofilo Stevenson and everyone seemed to be speaking at once.
He was Cuba's greatest boxer, once its most famous figure after Fidel Castro, and huge numbers of people had come to remember him - fellow Olympic champions, many in their tracksuits, jostled alongside everyone else.
Stevenson's open coffin stood in a side-room - draped in the national flag, red boxing gloves resting on top. The crowd filed in slowly, taking it in turns to stand alongside in an honour guard.
The boxer was just 60 when he died, and I saw a few people wiping away quiet tears. But most seemed there less to mourn, than to commemorate a sporting legend.
Teofilo Stevenson brought home three consecutive Olympic gold medals for Cuba in 1972, 1976 and 1980.
A poster boy for the Communist sports system, with a destructive right hand, he was unrivalled in the amateur ring for many years, a world champion several times over.
But when he turned down millions of dollars to fight Muhammad Ali, he also became a powerful symbol of loyalty to Cuba's revolution.
The fight with Ali would have been a fantasy clash between the two greatest heavyweights of their generation. But Fidel Castro had banned professional sport as corrupting.
Stevenson would have had to defect and he claimed the affection of "millions of Cubans" was more important.
"As a champion, Teofilo was the greatest, an example to all of us," Stevenson's protégé, and retired heavyweight himself Felix Savon told me when I spotted him towering above the funeral crowd.
"When he stopped fighting he taught me his tricks. And they were the secret of my success," Savon said. He went on to match his mentor with three Olympic gold medals of his own.
I never got the chance to meet Teofilo Stevenson, but Savon's own story has many parallels. Both boxers were plucked from humble backgrounds and honed into top athletes and - like Stevenson - Savon could have gone on to make a fortune.
In a recent interview, he told me he was offered $5m (£3.2m) to fight Mike Tyson - the best professional heavyweight of his own generation. That fee was later doubled, he said.
Sitting in his modest, pink-painted bungalow - with a broken down Lada in the garage, a small state pension and five children - I wondered how on earth he had resisted.
"We fought for an ideal, to defend our country," Savon explained proudly, recalling the years when professional boxing promoters were buzzing round him.
But then he added: "I'm not my own master. I'd have had to abandon my country and my family to fight Tyson and you can't be happy like that, not for all the money in the world."
Instead, Savon fought on for Cuba.
A small room in his home is testament to his achievements, its cabinets full of trophies, silk boxing robes and battered gloves.
Two of his three Olympic golds are draped casually over a wooden bust of the boxer, on a shelf.
But when I asked which item he treasures most, Savon immediately pointed to the badly framed prints on his wall. "My 27 photographs with Fidel Castro," he said, patting me - I assume he thought gently - on my arm as he spoke.
Castro's tribute to Teofilo Stevenson appeared in Granma, the Communist Party newspaper.
"No other amateur boxer in history shone so brightly," Mr Castro declared, hailing Stevenson's talent first, then his loyalty.
Cuba invests heavily in sport, only to see many of its finest defect in frustration, seeking better pay and opportunities overseas but Stevenson, Fidel crowed, "could not be bought for all the money in the world".
And so it was the patriot - and true Olympian - as well as the maestro that the crowds stood and applauded here as Stevenson was driven through the streets of Havana this week for one last time.
As his coffin was lowered into the grave, a woman broke into the national anthem and it quickly rippled through the crowd.
"He was always an inspiration here, and he'll be even more so now," the retired athlete Alberto Juantorena told me, contemplating the future of Cuban sport and this summer's Olympics, as he bid farewell to a legend.
"Teofilo Stevenson will always be in the heart of the Cuban people. He will never be erased," Juantorena said, as the funeral crowd began to drift away, leaving the boxer's grave heaped with fresh flowers.
How to listen to From Our Own Correspondent: BBC Radio 4: A 30-minute programme on Saturdays, 11:30 BST.
Second 30-minute programme on Thursdays, 11:00 BST (some weeks only).
Listen online or download the podcast
BBC World Service: Hear daily 10-minute editions Monday to Friday, repeated through the day, also available to listen online .
Read more or explore the archive at the programme website .