Is the end in sight for bucket-sized sodas?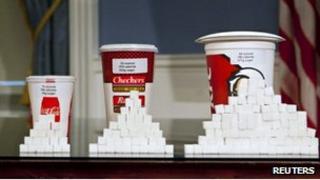 New York City Mayor Michael Bloomberg has proposed banning sales of large soft drinks. Does this herald the end of the popular, money-making bucket-sized cups of soda?
The cold, sugary caffeinated goodness of a big cup of Coca-Cola so delights Chris Alexander he quips it helps soothe his post-traumatic stress disorder.
"If I get agitated, I'll have an incredible urge to get a Coke," says Alexander, a 37-year-old US Army veteran who served several tours in Iraq.
"I'll go get a 48-ounce Big Gulp every once in a while. It's just convenient. If I'm working a lot of hours, I'll just grab a giant one and take it to the office and let it sit there for a while."
Forty-eight ounces (1.42 litres) of soda has more calories than an eight-ounce (227g) T-bone steak, and 5.5 ounces (156g) of sugar, and Alexander admits he gains weight if he slurps the sodas but lets his exercise routine slacken.
But in convenience stores across America, one can buy even larger drinks - one of America's largest convenience store chains, 7-Eleven, sells a 50-ounce (1.5-litre) "Double Gulp" soda, and has at times sold a 64-ounce (1.9-litre) soda.
"They're quite popular," says Margaret Chabris, a spokeswoman for 7-Eleven, which has 7,800 convenience stores in the US.
"People are quite thirsty and want a large-sized soda."
Rowboat-sized soft-drinks have been marketed to Americans for decades.
Huge non-alcoholic beverages are not widely consumed in the UK, where food portions tend to be much smaller anyway, British food service analysts say.
The big drinks were initially popular among labourers - construction workers who needed the sugar, caffeine and water to fortify them over long days on a hot job site, people in the US convenience store industry say.
"That's for the whole day," says Jeff Lenard, vice-president of industry advocacy at the US National Association of Convenience Stores. "It's not to chug in the next couple of minutes."
But the category proved broadly popular with Americans.
"Somebody comes in and they see it's so much cheaper per ounce, or they think 'I'm really thirsty right now' - so they get these larger portions," says David Just, associate professor in the Dyson School of Applied Economics and Management at Cornell University.
They're popular among children and teens who are not ready for coffee but like the zip of the caffeine.
"Kids learn quickly that they can get more bang for their buck by buying a super-size soft drink instead of an eight-ounce carton of low-fat milk," write dieticians Mary Mullen and Jo Ellen Shield.
The drinks are also a money-maker for the convenience stores - the small cost to them of the additional paper, plastic, water and syrup is significantly lower than the few cents more it can charge to the customer.
"Cold-dispensed beverages", as the category is called, amount to only about 2% of a store's sales, but on average, they return a 48% gross profit, according to the National Association of Convenience Stores.
Cigarettes, by contrast, constitute about 36% of retail sales but have only a 15% profit margin.
"These are profitable categories," says Steven Montgomery, president of b2b Solutions, LLC, an Illinois convenience store consulting firm.
In part because of its size and prominence in American society and its progressive, health conscious populace, New York City sets public health trends - it was one of the first major cities in the United States to ban smoking in bars and restaurants, for example.
New York City officials said on Thursday they hoped the ban - on sugary drinks larger than 16 ounces (473ml) sold in restaurants, movie theatres and sports venues - will spread to other cities.
But the ban will not - for now - affect convenience stores or grocery stores.
In addition, soft drink analysts doubt it will be particularly effective: thirsty consumers can simply buy two 16-ounce cups instead of a single 32-ounce drink. And fast-food restaurants can advertise "free refills" - already a common practice in American restaurants - and charge more up front.
"The people who are buying the 64-ounces, whether it's really good for them or not - they're doing it because they like to do it," says Dr Just of Cornell.
"They are the most likely to resist it and the least likely to conform."
The Academy of Nutrition and Dietetics says there is conflicting research on whether programmes like New York's proposed ban encourage consumers to eat more healthily.
In addition, many Americans resent being told what they cannot buy, and on Thursday a conservative advocacy group sought to tap into that sentiment in a statement opposing the ban.
"The mayor's 'Nanny State' approach will do little to curb the problem and will do plenty to alienate the very people we need to work with - not against - the people who consume too many calories from a variety of sources," says Jeff Stier of the National Center for Public Policy Research.