Are these the most offensive ads of all time?
By Kathryn Westcott
BBC News, Magazine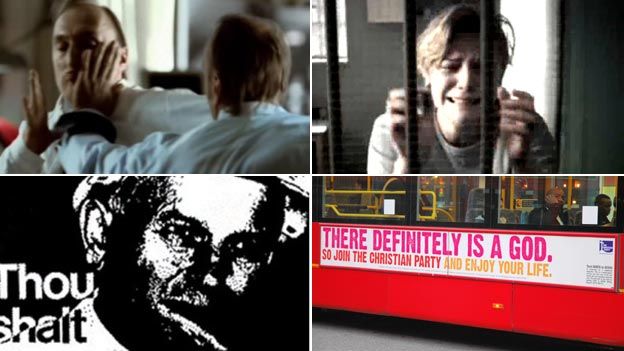 The UK's advertising watchdog has released a list of the most complained-about ads of all time. There are some surprising results.
Anyone guessing what adverts provoked the most complaints might speculate along the lines of sex, violence, swearing, animal cruelty and blasphemy.
Wrong. A Kentucky Fried Chicken TV advert, which aired in 2005 and featured call centre workers singing with their mouths full of food, is the most complained about of all time.
To coincide with its 50th anniversary, the Advertising Standards Authority has collated the 10 adverts from the past half century that have garnered the most complaints.
Among the other most-complained about ads was the famous Opium perfume poster ad of model Sophie Dahl reclining on a fur rug wearing nothing but a pair of strappy high-heeled shoes and some jewellery.
Also making the top 10 were adverts featuring a blind football player kicking a cat across a pitch, a car engineer fighting with versions of himself, and two with religious themes.
But earlier controversial trailblazers are conspicuous by their absence. Where for example, is Benetton, which pioneered the use of "shock tactics" in the 1990s?
Numbers of complaints are growing. Over the last five decades the ASA has dealt with around 431,000 complaints - 31,000 were lodged in 2011 alone.
"In recent years it has become much easier to complain via the web," says Claire Beale, editor of Campaign magazine. And the ad industry has even invited complaints as it tries to keep its self-regulatory position, argues Beale.
Social media now allows momentum to generate a wave of complaints, she suggests. But many of the most controversial themes are familiar ones.
"There are perennially provocative subjects, sex and children being two of the main ones," Beale says. "Clearly KFC was trying to create an ad that people talked about, and that stood out in the increasingly crowded ad break.
"In doing so, they strayed too far beyond what's reasonably acceptable behaviour in commercials and clearly touched a sensitive nerve with parents who felt they were setting a bad example to children merely to create some shock value that would raise the profile of the commercial."
Yves St Laurent's Opium perfume ad saw battle lines drawn over the portrayal of women.
It was the brainchild of Tom Ford who described it as a "tasteful nude in the tradition of high art". He said it was inspired by Woman In White Stockings by 18th Century romantic artist Eugene Delacroix.
Supporters, including a number of feminist writers, described it both as a wittily shot image and a tasteful nude . They said it was a far cry from the vulnerable images of women hitherto portrayed in advertising.
But opponents - including many young women, according to the ASA at the time - denounced it as degrading and pornographic. Some commentators even suggested the ad would pose a danger to road users by distracting them. The watchdog received 948 complaints and banned the billboard ad after agreeing that it was sexually suggestive and likely to cause offence.
Concerns over "decency" motivate many complainants, says Sarah Tate, head of brand at Mother creative agency.
"We haven't really changed that much since the Victorian times - we are offended by bad manners and nudity," she says. "It's basically the dinner party things - you don't talk about religion, get naked or talk with your mouth full.
"It's definitely 'no sex please, we're British'."
You can run naked adverts without getting hundreds of complaints, Tate says. Mother created a series featuring Olympic athletes - including cyclist Rebecca Romero - performing their various sports nude. Another featured naked British rugby players.
"We had no complaints," says Tate, although some advertisers refused to take some of the posters. "It's down to personal taste about what is seen to be decent. A lot of it is about context."
A campaign by the Department of Energy and Climate Change, which aimed to make adults feel guilty about the impact their carbon emissions are having on their children's future, received more than 939 complaints, making it the ninth most-complained about ad.
One ad showed a young girl being read a nightmarish bedtime story by her father about a world blighted by climate change, while two press adverts made use of nursery rhymes. The press ads were banned after ruling that they could not be substantiated by hard evidence.
Charities and public service messages have often prompted complaints, due to the shock tactics often employed.
An ad by Barnardo's designed to raise awareness of domestic child abuse and one by the British Safety Council highlighting national condom week feature in the most-complained about list.
The Barnardo's TV campaign, which attracted 840 complaints, featured repeated scenes of violence and drug taking which many viewers found upsetting. The complaints were not upheld.
The British Safety Council's 1995 leaflet featured the Pope wearing a hard hat with the strap line The Eleventh Commandment: Thou shalt always wear a condom. Nearly 1,200 people complained.
The following year, the council created a storm by featuring a fresh-faced Prince Charles kissing a blushing Princess Diana. "Appearances can be deceptive," ran the copy alongside. "Use a Johnny Condom."
"When you are trying to create awareness, there is a fine line between pushing a message and offending people. In some areas, you are just asking for trouble - such as messing with religion - it's common sense," says Justin Tindall, group executive creative director at Leo Burnett.
There were complaints in 2009 about an ad by The Christian Party with the strap line: "There definitely is a God. So join the Christian Party and enjoy your life." It came in response to a humanist ad reading: "There's probably no God: now stop worrying and enjoy your life."
The Christian Party ad attracted 1,204 complaints but they were not upheld by the ASA.
The second most-complained about ad ever is for shopping channel Auction World, which attracted 1,360 complaints focusing on poor customer service, misleading guide prices and delays in delivery of goods. The channel had its licence revoked by Ofcom, after referral from the ASA.
Number six on the list, with 1,088 complaints, is an ad for Marie Stopes International. A number of complainants said the ad, which aired in 2010, promoted abortion. The ASA also received more than 3,600 postcards and petition signatures because of a campaign by activists before the ad was even broadcast.
The complaints were not upheld, with the ASA at the time saying: "We felt it was clear that the advertisers were promoting their post-conception advice service and was neither advocating one course of action over another, nor trivialising the dilemma of an unplanned pregnancy."
A 2008 ad for a Volkswagen Golf - seventh on the all-time list - depicted an engineer fighting multiple versions of himself attracted 1,070 complaints, which were partially upheld.
In the ad, the man opens the door to his office to find a man identical to himself. The man punches the engineer in the face and kicks him before a series of fight scenes, some involving the men using car parts as weapons, take place. At the time Volkswagen said the "highly stylised and choreographed" adverts were not intended to condone violence.
The ASA ruled it should not be shown before 9pm.
Third on the all-time list was the most complained-about ad of 2010. It featured a team of blind footballers kicking around a ball with a bell on it until it goes out of play. A cat with a bell wanders onto the pitch, the players restart their game and a painful miaow is heard.
This attempt at a blackly humorous scenario from Paddy Power provoked more than 1,300 complaints. It contains two themes that are a classic cause for complaint - depiction of disabled people, and ill-treatment of an animal. But the ASA ruled that the ad was unlikely to "encourage or condone cruelty to animals or cause serious or widespread offence".
But the top 10 is almost enough to make the cynical think that some firms are occasionally setting out to provoke controversy.