London, France's sixth biggest city
By Lucy Ash
BBC News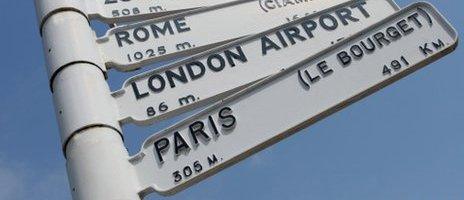 More French people live in London than in Bordeaux, Nantes or Strasbourg and some now regard it as France's sixth biggest city in terms of population. What is attracting a new generation of young French professionals to the city?
On a wet Friday night in Hackney, a group of young professional women walk into a pub. Laughing about the British weather, they shake their umbrellas, peel off their raincoats and make their way to the bar.
Like many Londoners at the end of a busy working week, they have come to unwind over a few drinks.
But if you move a bit closer, you realise they are all speaking French. They are not tourists, exchange students or off-duty au pairs. They all work in creative industries, have lived in east London quite some time and consider it home.
London has a long-standing French community - but it is no longer confined to the streets around the embassy in South Kensington, where you will find French bookshops, patisseries and pavement cafes patronised by impeccably dressed mothers dropping off their children at the posh Lycee Francais Charles de Gaulle.
Today there are French people in every corner of London and their numbers have been growing, with the result that in next week's parliamentary election in France they - along with expats in Scandinavia - will be voting for a candidate to represent them in the National Assembly.
The French consulate in London estimates between 300,000 and 400,000 French citizens live in the British capital - many in London's cutting-edge creative hub, in the East End.
"I came to London from Paris straight after graduating from art school, just to have a look," says Malika Favre. "That was seven years ago and I've no intention of going back."
Malika is much in-demand as an illustrator. Her commissions include a bold, playful design for a new edition of the Kama Sutra, an album cover for a French rock band and artwork for a Californian beachwear company.
Being in London and speaking English gives her access to a wider client base - Malika sees the city as a gateway to globalisation and also relishes freedom from French bureaucracy.
"With a new venture in Paris you always think first of what is going to go wrong. I find the system much easier here - you don't have so many rules and so much paperwork," she tells me.
Marine Schepens, who works for a fashionable advertising agency, says UK companies are more prepared to give young people a chance because it is easier to terminate their contracts than in France.
This fluidity makes employees less risk-averse too.
"I changed careers a year ago but I would have never done that if I was still in France. I'd have thought, 'I'm so lucky to have a job - I must hang on to it.'"
Nadege Alezine, a journalist from Bordeaux, says life in London is not for the faint hearted. She runs a website aimed at the French community called bealondoner.com
"If you want security and nice holidays you stay in France. If you crave adventure and want to get new skills, you come here," she says.
That is not to say she does not miss France. Sipping her drink, she sighs.
"Life in France was easy. You know, good food and wine. I lived near the sea and not far from the ski slopes. And sometimes when London's grey and rainy I think, 'What on earth am I doing here?'"
All the young women I met complained about London's overpriced property. London rents are twice those in Paris.
"In Brick Lane, we had bedbugs and rats," says Malika, "and for the same money I paid for one room, friends back home had their own flats."
Of course, many people living in London have it far worse, but by choosing the East End Malika and her friends are following in the footsteps of her compatriots centuries ago.
The French first came en masse to the East End in the 17th Century. These Huguenots, who had endured years of persecution in France because of their Protestant faith, were offered sanctuary here by King Charles II.
They called their flight Le Refuge - coining the word refugee.
Many settled east of the City of London, where food and housing were cheaper. There are many French street names around nearby Spitalfields Market such as Fournier Street, Fleur de Lys Street and Nantes Passage.
The Huguenots were skilled craftsmen but some feared that they were depriving Londoners of work. A protectionist priest, a certain Dr Welton, called them "the offal of the earth".
Today competition for jobs is intense, especially among the young, and cross-channel migrants are not always welcomed with open arms.
Recently the French consulate commissioned a report called The Forgotten People of St Pancras. It focuses on the young French who arrive in London on a one-way ticket and sometimes find themselves in desperate straits.
The Centre Charles Peguy, a French charity in Shoreditch, helps new arrivals to find work and a place to live.
Cedric Pretat, one of the advisers, says the numbers have shot up this summer.
"Many French people imagine that because of the Olympics, lots of new jobs have been created in London which is not true. But people arrive with this dream."
He adds: "Others are escaping from things in France such as family problems, educational problems and areas like Department 93, because people who live in that part of Paris sometimes have trouble finding a job."
Department 93 is shorthand for Seine Saint Denis, just north of Paris - the French suburb which is home to many French nationals of African origin and a large immigrant population.
To the average French person, it conjures up images of riots, bleak high rises, youth unemployment and racism. It is the most-discriminated-against postcode in France, although ethnic minorities from other suburbs have also had a tough time.
Hamid Senni, a business consultant based in London, was one of eight children born to Moroccan immigrants in the south of France. A well-meaning teacher at his school suggested he change his name to Lionel.
"Because of your name you will be discriminated against, because of your skin colour, and even the address on your CV can stop you from getting a job," he says.
"As for your skills and competencies - none of that counts in France if you don't fit in the box - so I left," he adds.
Hamid now advises many French companies on how to diversify their workforce and he lectures at Sciences Po, one of the country's most prestigious universities.
But he says that in the early days it was much easier to get someone to pick up the phone, if he called from London than from Paris.
I first met him five years ago when he had just written a book. It was called De la Cite a la City and focused on his journey from a rundown suburban estate (Cite) in Valence to London's booming financial district.
Hamid suspects the success of the far right in the first round of the recent presidential elections, the highest share of the vote ever achieved by the Front National in a nationwide poll, might have pushed more young French people across the channel.
"France is really struggling to create jobs and things have got worse because some people are saying the whites should come first," he says.
Cleo Soazandry, another young French national with African roots, has a mother from Madagascar and a father from Guinea. Her parents met in France where Cleo was born. In her early teens, the family moved from Paris to London.
"I was really pushed by my teachers here," she says. "Suddenly I realised I could actually become somebody here, be ambitious."
Cleo adds that seeing black presenters on television made a deep impression on her as there were virtually none in France at the time.
"It's like my eyes opened up when I came here - I think the American dream is also present here in the UK."