Eurovision: Singing in Baku for prizes and freedom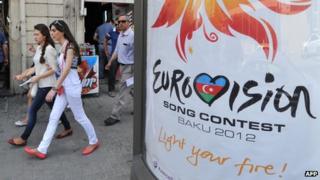 Twenty-six countries will be competing at the Eurovision Song Contest in the Azeri capital Baku on Saturday, but away from the performances, a battle for free speech and democracy is taking place on the capital's streets.
There cannot be anyone in Baku who does not know that the Eurovision Song Contest has come to town.
Everywhere you look there are signs declaring "Light Your Fire!" - this year's competition slogan.
You can see them on advertising hoardings, on the sides of buildings, and also on the 1,000 London cabs that Baku has bought to make it feel more like a European city.
By the way, Baku's taxis are not black - they have all been re-painted purple - which has earned them the nickname "aubergines on wheels".
Turn on local TV, switch on the radio - and you are bombarded by "Boom Bang A Bang" style Euro songs in a variety of tongues. Even for a long-time Eurovision fan like myself, it is a bit freaky.
So was the poster in the window of a women's lingerie shop I noticed yesterday.
It read: "As a gift we offer all our customers a 70% discount - on the occasion of the Eurovision Song Contest."
Suddenly I had visions of crowds of excited ladies queuing up to buy cheap knickers so they could throw them at the United Kingdom's entrant, Engelbert Humperdinck.
Yes, even at the age of 76, the "King of Romance" still gets underwear chucked at him by his adoring fans - he said so this week at one of his pre-contest press conferences.
I still cannot quite believe that a global megastar like Engelbert is taking part in a contest like Eurovision.
After all, this is the man who has sold 150 millions records around the world, who has shared the stage with Elvis Presley - he has even got his own star on the Hollywood Walk of Fame.
And yet now Mr Humperdinck has picked up the poisoned chalice of Eurovision. Among his competitors in Baku are the mischievous Jedward twins from Ireland - and six singing grannies from Russia. Yes, there has never been a Eurovision Song Contest quite like this one before.
Those singing pensioners are amazing, though.
Sadly, they will never get to share a stage with Elvis - but I would not rule out six more stars on the Walk of Fame.
In Baku, whenever the Buranovo Babushki appear in public, they are surrounded by journalists, or mobbed by fans. They are clearly the grooviest grannies in town.
And their disco dance Eurovision song, Party For Everybody, is tipped to do very well.
It has already set a new record. Granny Natasha is nearly 77-years old - that makes her the oldest singer in the history of the Eurovision Song Contest.
But it is not just the participants that are making this Eurovision song contest stand out - it is the politics, too.
In the run-up to the competition, international human rights groups have been accusing the authorities in Azerbaijan of trampling on democracy, stifling freedom of speech and locking up political opponents.
The government here maintains those criticism are unfair and has accused the West of a smear campaign.
This week police broke up an anti-government protest outside the Azeri television station which is broadcasting Eurovision - demonstrators there had been chanting "Freedom to Political Prisoners".
The police detained more than 30 people. And there was another protest this week - around 100 activists simply walked around Baku - to avoid being arrested, they carried no placards, they did not chant slogans.
But they wore T-shirts bearing the words "Sing for Democracy". I spoke to one of the organisers of the protest walk, Rasul.
He told me he wanted all the singers at the Eurovision Song Contest to speak out on stage against human rights violations in Azerbaijan.
The Swedish singer Loreen, one of the favourites to win this year's Eurovision, has already had a meeting with local human rights activists, much to the annoyance of the Azeri authorities.
And the arguments do not end there.
Azerbaijan is locked in a war of words with one of its neighbours, Iran. Clerics there have said it is inappropriate for a Muslim country like Azerbaijan to host an event like the Eurovision Song Contest.
After a spiralling war of words, this week Iran recalled its ambassador from Baku.
As for another neighbour, Armenia - well, it pulled out of the contest weeks ago, claiming security fears. With so much politics swirling around, it is easy to forget there is a song contest going on.
How to listen to From Our Own Correspondent:
BBC Radio 4: A 30-minute programme on Saturdays, 11:30 BST.
Second 30-minute programme on Thursdays, 11:00 BST (some weeks only).
Listen online or download the podcast
BBC World Service:
Hear daily 10-minute editions Monday to Friday, repeated through the day, also available to listen online .
Read more or explore the archive at the programme website .