Chess in India: Why is it on the rise?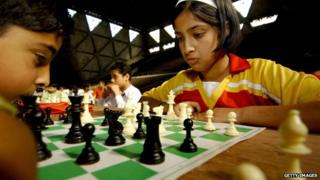 The world chess championships are under way in Russia, where Vishwanathan Anand defends his title. His success is widely credited for the growing popularity of chess in his home country, India, the nation widely believed to have given the game to the world.
He's been described by some as the Sachin Tendulkar of chess, a role model to thousands of Indian school children and arguably one of the country's most successful sportsmen.
Vishwanathan Anand is India's biggest chess star, and was the first in the country to secure the game's highest honour, by becoming a grandmaster.
Anand gained international acclaim in 2007 after he became world chess champion, a title he has now won three times.
The 42-year-old from Chennai is currently in Moscow, competing against Israel's Boris Gelfand for his fourth title. The score is currently three points apiece after six draws.
His moves are being watched closely by chess enthusiasts in his home country, where the games are being screened on a national sports channel and large sections of the sports pages are devoted to it.
Chess has a particularly strong following in Delhi, Calcutta and across the south of India. The state of Tamil Nadu, where Anand is from, was even in the bidding to host the current world championships, losing out to Russia.
Chess has risen in popularity in the years following Anand's first triumphs, says Bharat Singh, the secretary of the All India Chess Federation.
"The game has really grown in the past six or seven years particularly," he says, highlighting the fact the number of grandmsters (GMs) in India has tripled in that time frame, to 27 GMs today. The number of international chess masters in the country has also tripled (to 76) in the same period, and India is in the world top 10 in rankings.
The latest Indian to pick up the grandmaster title is 15-year-old Vaibhav Suri, who won the accolade last month.
Success has been equal for both men and women in India, Koneru Humpry is the country's most accomplished female player, who holds the world number four spot.
The opening up of India's economy in 1991 enabled more players to travel abroad and play tournaments and achieve rankings, says Devangshu Datta, a chess commentator and journalist.
"Increasing internet use is another reason why India jumped several levels so fast and why Anand and his generation broke through. From the early 90s onwards, you had databases where, at the click of the mouse, you could work your way through millions of games."
The game is growing at the grassroots, and is now on the curriculum in the states of Tamil Nadu and Gujarat, and is taught at schools across the country. Chess coaching clubs are springing up at a fast pace too.
"We get as many as 50 calls a day from interested parents," says Dhanajay Ramraje, who runs the Chanakya Chess Club in Mumbai. Ramraje coaches children in the game at their houses and in schools, charging as much as $30 (£19) an hour.
At one such session, a group of children is gathered around a dining room table. Their eyes are fixed in concentrated, accompanied by hard stares at the black and white pieces in front of them. As they take turns to move them across the board, the silence in the room is punctuated with the tapping of clocks, and the occasional gasp.
"I like chess because it helps my brains sometimes," says Namya Kumar, who is six years old and one of the three girls in the group. She is competing against four-year-old Aadya Tekukar, who started playing at the age of two and despite being so young, has already won trophies.
Looking on is Aadya's mother, Dr Shubangi Tekukar, who says: "Chess helps you take good decisions in your life.
"It is a game in which there are many moves and out of that you choose one best move. Like that, in your life also chess helps to improve your ability to make the best decisions."
The educational value of the game is why many Indian parents are encouraging their children to play the game, says Singh. Indians place a huge emphasis on their children's learning, and chess is seen as a welcome addition.
"The general perception is that if you play chess it will help with your studies, especially in logical reasoning, mathematics, physics, and there are surveys which prove that chess players are better mathematicians," he adds.
Another reason why some say Indians have an affinity for the game is because it is widely believed it began in the country.
"I think we Indians have some kind of a knack for the game, maybe it's because it originated here," says Manuel Aaron, India's first international chess master, who is writing a book on the history of the game.
One theory is that chess evolved from the Indian game Chaturanga, meaning four units of an army, which began in the country in the 6th Century.
"It was not an ordinary people's game," says Aaron. "It was a game to train people in the art of warfare. The pieces were elephants, horses, camels and foot soldiers, symbols of the army."
Many people also believe the Mughal emperor Akbar played live chess in the courtyard of his palace, Fatehpur Sikri, in Agra.
Legend has it he would sit in a high place, and watch real animals and soldiers move around a giant board, says Aaron.
Today chess is attracting more money and corporate sponsorship, but it is still difficult to make a full-time living from playing the game, says Pravin Thipsay, another chess grandmaster.
Thipsay, who runs coaching workshops, still works in banking and believes more needs to be done to encourage people to take up the game at the top level.
"We've had more world junior champions than any other country... but at a really senior level, aside from Anand, we will struggle to overtake countries like Russia. It'll take 10 to 15 years to do that."
Thipsay says while India has embraced the game, it still hasn't fully accepted chess as a profession.
"Chess players gets a lot of respect from their colleagues, but you cannot make a living out of it. At a senior level it's hard to find someone who could replace Anand.
"At the grassroots, progress is great but progress at the top is not."