Clinton Cards: How greetings cards are changing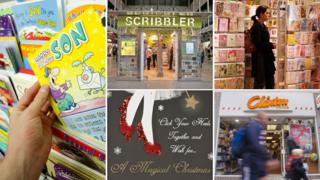 While Clinton Cards has gone into administration, the UK is actually sending more greeting cards than ever. But the type of cards is slowly changing.
For the past decade or so, "the internet is killing…" has been a popular refrain when it comes to declining businesses.
And it would be easy to assume that the traditional card shop has suffered at the hands of websites offering personalised cards and cheap deals.
But that's not the case. The High Street greetings card shop is doing just fine.
Last year saw a 3% rise in card sales compared with 2009, and while Clinton Cards may have struggled, other chains such as Scribbler and Paperchase flourished.
"Cards make us feel loved," says Sharon Little, chief executive of the Greeting Cards Association. Thus there is still a bit of stigma about the likes of e-cards.
"It's a lovely thing to receive a card from someone, and people certainly don't all buy their cards off the internet - people tend to think that's a bit lazy."
Birthday cards are still the most purchased cards, followed by Christmas, Valentine's Day and Mothers' Day. Fathers' Day follows closely behind.
But there are new categories that reflect changing times.
"There's a card for passing your driving test, cards to congratulate you on your divorce, and there are cards for many multicultural events too - Diwali, Eid and Chinese New Year are just a few of them," adds Little.
"There are more and more occasions to send a card for now."
Easter cards, once unheard of, now make up a significant portion of the spring season card sales - the period that includes Valentine's Day and Mothers' Day.
Once upon a time you might send a congratulations card to someone who had had a baby - now cards are frequently sent upon the announcement of a pregnancy. Another seasonal novelty - an import from the US - is the Halloween card.
The divorce cards now available might be thought a tad unpleasant by some. But there's an echo of the first commercial Christmas card, which reportedly caused offence in 1843.
Greetings card pioneer Sir Henry Cole erred by including picture of a festive family scene where the adults were holding aloft their wine glasses in front of young children.
It is hard to imagine what Cole's critics would have made of the current range of rude cards.
Scribbler, a card company that boasts 15% year-on-year growth, puts part of their success down to the popularity of their rude and, at times, downright obscene cards.
They make up 15% of the company's sales and their website has a function to turn off the offensive cards, blocking them from view.
"People love edgy humour," Scribbler chief executive John Procter argues. "Rude cards do very well for us - it's one of our USPs. We like to be a bit near the knuckle."
Funny photography and knitted animals are also popular, making up another 20% of Scribbler's sales, while retro humour, featuring old photographs, is 20% again.
Despite their popularity, rude cards do not fare well at the Henries, the industry awards, named after Sir Henry Cole, held each October at The Lancaster Hotel in London.
Organiser Jakki Brown, who edits Progressive Greetings, the monthly industry magazine, says: "The rude cards don't get very far with us, they don't tend to win. Quirky humour is popular, not the rude, not the risque."
"The Henries are the Oscars of the greetings card industry. We had 14,000 cards entered last year."
Brown is so passionate about greetings cards that she once spent £12,000 at auction on an original Sir Henry Cole Christmas card. It is one of only nine still in existence.
There are 20 categories at the Henries, including cutest cards, funniest, best design and best sentiment, as well as the Henry Cole Honorary Achievement award, which last year went to Giles Andreae, the man behind Purple Ronnie and Edward Monkton.
With the internet rife with cat-related memes, it is perhaps no surprise that the physical greetings card industry has some of the same content.
"Britain and Japan go crazy for cute cards. One that won last year was a rather angry-looking cat dressed in a little denim outfit."
Duncan Cox is a card designer at Urban Graphic, the company behind the angry cat.
"That cat divided the office, but sometimes you see a picture that is so bizarre you just have to go for it.
"Quotations cards do really well for us. We had a card that said 'the older you get, the better you get, unless you're a banana'. That was a massive seller.
"Animals-wise, it's obviously cats and dogs that do best - animals people can relate to. After that, you're going down the road of monkeys and bears."
The greetings cards industry is massive in the US, but the custom is not uniformly observed everywhere.
"Sending cards is a very British thing," Little says. "I have a few French friends who think we're all a bit potty for doing it, but it's engrained in our social culture - it's what we do."