Bob Marley: Coolest dad at my prep school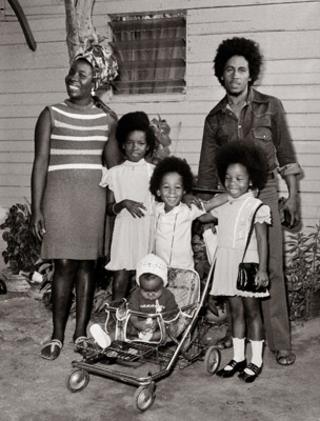 Born in 1967, Cedella Marley was the eldest of Bob Marley's biological children. Here, as a new film about the singer goes on general release, she explains that as a father he was surprisingly strict.
He was a cool dad, as cool as they come. He never raised his voice to us and I think it's because they spent so much time on the road, that when they were off the road it was, "We have four days, what are what are we going to do? Let's just have a blast."
If he was in town he would always be the one that would come and pick us up from school, take us to the beach. We'd go running, swimming. He was very competitive, a work-out fanatic.
My parents' style of parenting was: "If we're running a race, don't actually think I'm going to let you win!" Those were fun times though - watching him watch us lose!
I wouldn't say he was a cuddly dad, but he was fun. He was funny - he would always try and make you laugh.
He wrote songs, hanging around, and it was fun to watch him too. It was kind of casual, if we were sitting back watching tv, he'd have his guitar.
Nice Times was my lullaby, he actually wrote that song for me when I was born.
Music was important in our childhood. It wasn't something that we had to do. My father's attitude was, "If you want to do it you can do it, but if want to do it you're going to have to be great at it."
He was a perfectionist - it had to be perfect.
He was very strict about our schoolwork. We went to Catholic schools. It was very funny for people who would say, "Your father is such a Rastafarian." And I was, "Yeah and he sent us to Catholic schools!"
Growing up in Jamaica culturally you have religious prejudices. And being children whose parents were Rastafarian, people wanted to make you feel like you were "less than" because of your religion. I think that's why daddy and even we children were over-achievers - we're always striving to break down barriers, and make changes and do something different with our lives.
My dad wanted me to be a doctor or a lawyer, and in hindsight when I think of all the legal trouble that we've been in, I should have probably gone to law school!
My dad had girlfriends. I think that goes with the territory - I would never marry a musician. But his relationship with my mum looked loving. Whenever I saw them it was loving.
My mum raised most of dad's kids at one time or another. We all lived in the same house at one time or the other. And now even in adulthood we live blocks away from each other. My life would not be the same without them.
I really can't think of any time where we actually had a friend sleep over, because the parents wouldn't have it. If I had a friend and she wanted to spend the weekend at my house, she'd tell her parents she was actually spending the weekend at someone else's house.
I think they had this misconception of our household.
They might have thought that you would come to the house and there would be drums of herb [marijuana] hanging out and rolling paper stacked to the ceiling but our house was very strict, our parents didn't smoke inside the house.
My dad was a sexy father, with flowing dreadlocks, muscular. I was very proud of him.
Whenever he would come and pick us up from school I would walk out with my chest up and my nose in the air. I was like, "That's my dad." He was the sexiest dad in prep school.
His lasting influence on me? He said something that I don't 100% agree with. He said: "If my life is just for me then I don't want it."
But I know what he meant. If you can't do something that would help to bring about change, then what are you living for? Even though our time was short, he was a great person to have as a father.
[Cedella Marley designed the Olympic kit for the Jamaican team.] We did a photoshoot with Usain Bolt a couple of months ago and inside the clothing I have a couple of quotes from dad embroidered. I said to him, "This is going to be dad's first time coming to the Olympics, and we both looked at each other and laughed."
It's one of the proudest moments in my life to be able to do that. I am going to be in London for the Olympics and Jamaica is going to be on fire!
Cedella Marley spoke to Outlook for the BBC World Service.