Public proposals: Readers' stories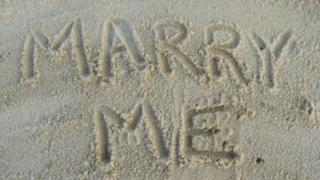 A growing number of people are making the most intimate of occasions public - by getting down on their knee in front of an audience to pop the question.
A BBC News Magazine feature on the subject generated a huge response. Here, readers share their public proposal stories.
Anthony Eastwood, Northwich, UK
I proposed to my wife of seven years on New Year's Day 2001. Her home town team Bolton had been promoted to the premiership that season and she had never been to a match so I took her to Liverpool (my team) versus Bolton.
Unbeknown to her, I had spent feverish weeks prior arranging for the announcer George Sefton to pop the question at half time.
I wore a pre-printed T-shirt which bore the message: Tell me Ma, me Ma, to take the champagne off ice, I've asked Yvonne to be my wife.
It was an incredible day and a wonderful moment (the only chance I'll ever have off being cheered by the Kop and 38,000 people).
I have to admit the whole thing was nearly scuppered when my wife to be wanted to visit the ladies at half time - I convinced her to wait on the pretext of listening to the half time scores.
Chris, Bexleyheath, UK
I think public proposals are a great idea. I proposed to my fiance on her birthday on a flight from London to New York.
The cabin crew were more than accommodating and even let me carry out the whole thing whilst everyone else was seated with the seatbelt sign on so as to not have the hustle and bustle of the cabin.
They had the champagne ready. My fiance had people congratulating her all the way through baggage at JFK. I think she forgave me as she said yes.
Tim, Liverpool, UK
I tried to propose to my girlfriend using banners tied to a series of five motorway bridges on my girlfriend's route home from work. After spending a frantic afternoon driving round various back-roads to find the necessary bridges, I was just putting up the final banner when a police car pulled up and told me that I had 20 minutes to get them all down as they were causing traffic to slow dangerously.
Despite my best efforts they wouldn't extend this to 40 minutes which would have been enough time to collect my girlfriend and propose.
It was soul destroying picking her up and driving home, seeing lonely pieces of gaffer tape hanging from the bridges where the banners were stuck only 30 minutes before.
Still, we got engaged 10 days later on holiday in Egypt in a much less public way (by ourselves on a hill at sunset), and we get married in three weeks time. At least it gives my best man a good story for his speech.
Tom Hands, Bexhill on Sea, UK
I decided that I wanted to propose to Hannah almost as soon as I met her, but promised myself that I would leave it at least 12 months before doing so. We had met after a mutual friend introduced us at a pub quiz I was hosting and I was due to host another pub quiz just after our first year anniversary so decided that would be the perfect time to get down on one knee. I set about writing the questions, but subtly placed certain answers in the quiz to correspond with my main intention of the evening.
On the night itself, Hannah seemed surprise that so many people had turned up for this particular quiz and confused as to why her mother would bring a camera along and insist on taking her photo so much. But the quiz got underway and went rather well.
It was then time to take a deep breath and to make the night complete, so I began to remind the pub of five questions I had asked throughout the night. When I had finished reading back the first one ("Q: What is the surname of the animator who worked with Joseph Barbera? A: Hanna") I got a slightly tipsy cheer from my dearest, who had taken this as nothing more than a romantic nod in her honour. I read the second question ("Q: What is the legal document that bequests possessions to others left by a deceased person best known as? A: Will") to an excited hush as virtually everyone else in the pub knew where this was leading. The third question was read ("Q: What is the name of a female sheep? A: Ewe") and she still hadn't twigged. I read out the final two ("Q: Fill in the blank of this Beautiful South song title: Don't BLANK her, have me. A: Marry" and "Q: What is the musical note between Ray and Far? A: Me") and she was still none the wiser.
So I recapped with just the answers. "Just to repeat those ladies and gentlemen, the answers to those five questions were Hanna, Will, Ewe, Marry and Me. HANNAH, WILL YOU MARRY ME?" At which point she finally got it and the look on her face was priceless. I had the flowers and ring ready and waiting for her as she walked over, and in typical Hannah style she asked if her team would get another point if she said yes, and then said she'd only say yes if I got down on one knee which I just about managed to do whilst balancing an engagement ring, large bunch of flowers and a microphone. She said yes and the pub erupted into generous applause and the sound of champagne corks popping.
James Swinburne, Manchester, UK
My boyfriend proposed to me in Paris on my birthday last year, with a ring from Tiffany that he'd saved up for for over two years.
It was the last day of a surprise trip - he took me for a meal and then proposed to me on top of the Eiffel Tower. It really was an amazing moment.
I remember thinking it was so brave that he'd proposed to another man in front of so many people.
Everyone who saw loved it though. People were cheering, congratulating us, taking pictures and offering advice. I wouldn't have wanted it any other way.
Will Gowin, Maidstone, UK
On 24 March 2012, a very busy and sunny Saturday - which was also my girlfriend's birthday - I proposed. I blindfolded her at the entrance to the busy Brighton Pier and walked her up. As we walked I had taken over the PA system on the pier, which played the REM song At My Most Beautiful.
Half way up we stopped and I took her blindfold off. I told her to look up, in the sky was a plane circling the pier pulling a banner reading 'BEX! I LOVE U WILL U MARRY ME?'. As she turned around, I unbuttoned my shirt to reveal a t-shirt saying 'Bex will you marry me?' and pulled the ring from my pocket.
As all our friends, family and a lot of strangers looked on she said yes.
Vinay Mistry, Bradford, UK
I proposed in public via a flashmob choir . I did it to be different and no other reason. I personally like to believe proposals should be individual and expressive of how one feels for the person he/she is proposing to.
I wanted to marry my fiance and wanted the world to know.
Additionally I also like to think that women want special proposals. Restaurants and most other things have become a cliche.
Krishna had no idea and was in clear shock. At one point she told me she felt sick, but she loved it overall and couldn't have asked for a better proposal. But she does now feel nothing else I do will live up to it.
Brian, Bristol, UK
I proposed to my then girlfriend while scuba diving in Tenerife. I put a ring in a box that I had bought that looked like a treasure chest and pre-laminated some cards asking her to marry me with yes and no answers.
I gave the box to the dive guide who hid the box in some rocks and pointed it out to my partner. While she was looking at it, I was on my knees behind her with the signs.
She pointed to yes and we are getting married in March 2013.
Claire King, Ware, UK
My partner proposed to me in December. He had arranged for us to go ice skating at a local venue where they had an ice rink set up for Christmas. After the session had finished, everyone got off the ice except myself and Mat. Then, after looks from kids leaving as to why are they allowed to stay on, a CD that he had made came on over the sound system.
In the middle of the ice rink he got down on one knee. There were people watching from the large cafe and a round of applause followed. Following on from this, the story also made the front page of the local paper. This was more embarrassing than the public proposal but the way I look at it is that we have a great memory in print that not everyone gets.
I wouldn't have changed it for the world.
Oliver, London, UK
I proposed in public on a sunny day in Hampstead in June 2008. I invited all our friends and family to come and join us for a surprise birthday party for my girlfriend (no-one knew that I was going to propose apart from our parents and my brother-in-law to be) but instead hired a decorated route master open top bus and my brother-in-law made sure everyone got on board.
I then whisked my girlfriend round to the spot on the pretence of grabbing some brunch with her brother on the high street and proposed in the street in front of everyone.
I think she was very shocked and taken aback to begin with, but was very pleased and excited after that and thankfully for me, said yes. We got on board, had a bus tour of central London followed by an engagement party on the roof garden of a hotel in Trafalgar square which I had hired out for the day.
We had an amazing, unforgettable time and it is still something that all our friends and family talk about to this day.