Has Instagram made everyone's photos look the same?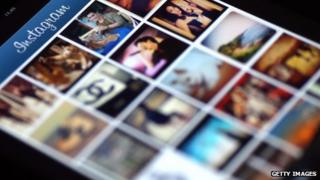 Instagram, the photo app, has been sold to Facebook for $1bn. But has it sparked a wave of generic retro-looking snaps, asks photographer Stephen Dowling.
Instagram - and its bedfellows such as Hipstamatic, Camerabag and Picplz - have brought to digital photography a fever for a certain style of imagery.
Smartphone photos are given saturated colours and Polaroid-style borders, dark vignettes, light leaks and lens flare like those that plagued the Kodak moments of previous generations.
It may be 2012, but popular photography hasn't looked like this since the early 1970s.
The trend began a few years ago with Hipstamatic, an app which apes the look of lo-fi toy cameras.
Now Instagram allows a pic to be taken on your smartphone, a digital "filter" to be applied, and the resulting pic made viewable to the site's ever-increasing community. Chances are that that artfully retro pic of a display of cupcakes your friend showed you at the weekend was an Instagram pic.
Launched in March 2010, Instagram took until the end of that year to notch up its millionth user but from there its ascent was dizzying.
Just 15 months later there are more than 30 million account holders and a billion pictures on the site's servers. That's a lot of cupcakes.
Instagram's use of filters mimics some of the processes photographers used to push photographic boundaries - such as the super-saturated colours created cross-processing slides in negative chemicals, or using expired film's palette of soft, muted colours, or playing around with camera settings or darkroom equipment to boost contrast.
The site's co-founder Kevin Systrom has said : "The idea was to make mobile photography fast, beautiful and fun. We learned from experience that taking photos on the phone didn't lead to the results that we wanted, so we created the filters and tools to achieve a more artistic experience."
Systrom and the other suddenly very rich creators of Instagram may have good cause to thank a man called Michail Panfiloff.
Panfiloff is not on the board of Facebook. He is not a tech commentator who predicted the site's rise to riches.
In fact, he was the head of a Cold War-era Soviet optical plant in Leningrad which decided to make a knock-off copy of a humble Japanese point-and-shoot camera in 1982.
The resulting camera, the Lomo LC-A, could be considered the godfather of Instagram's 21st Century success, and why digital photography suddenly looks very retro indeed.
Film photographers went through this retro-fashioned revolution a decade and a half ago, after some Austrian students found Lomo LC-As lurking in a Prague camera shop and created the "don't think-just-shoot" ideal of Lomography in the mid 90s, often utilising plastic-lensed toy cameras and film that had long passed its sell-by date (it was a lot cheaper).
The craze helped create an icon of the LC-A to the point where production was restarted.
Now Facebook and the Flickr-verse are full of "Lomo" shots but the difference is these are bits and bytes.
The ability to turn an everyday pic into something "artistic" at the click of a button is the very embodiment of digital photography's curse of convenience - no long learning curves, or trial and error with expensive rolls of film. But is it creative?
Writer and photographer Kate Bevan doesn't think so.
"Do I think it's artistically valid? No. I think it kills the creative instinct. However, I do love sharing and I understand the mindset that wants to make his or her pics stand out, even though Instagram does the opposite of that."
The first time one sees a picture with an Instagram-type filter applied, it might be impressive. But the thousandth time?
"I'm all in favour of people experimenting with pictures, and I'd never be elitist about photography," suggests Bevan. "But I don't think it encourages experimentation - it encourages the use of lazy one-click processing.
"Hardly anyone who's whacked a one-click filter on an image is going to have the patience to sit and play with the sliders in Lightroom, or get to grips with Gimp [free photo-editing software]."
My own Flickr account has a fair few images that look like they could have been created with Instagram's retro-flavoured algorithms. They weren't - they are all film.
They are the result of a decade and a half's mistakes and mis-steps. Cross-processed slide film with wild colour shifts. Grainy, muted colours on out-of-date film. Flare and faded colours on lenses made without modern, contrast-boosting coatings.
The mistakes, however, made me a better photographer. And the moments when it does somehow come together - like the following shot of a cyclist on London's South Bank on a 60s-era Zenit and expired film - made the perspiration worth it.
The film is aged and expired, the colours boosted and warped, but the effect is dependent on the characteristics of that single frame and the limitations of the camera it was loaded into. No other picture will look quite like it.
Not all of Instagram's filters are so eye-popping and not all of its users travel down the retro path. Some photographers give their shot-on-the-hoof pics a gentle tweak using Instagram.
One such convert is Kevin Meredith (aka Lomokev ), an author, photographer and teacher based in Brighton.
"I uploaded my first picture to Instagram on 12 October 2010. It was of some sausages frying in a pan - awe-inspiring stuff," he says.
"I do use Instagram differently to how I use film or DSLRs. Instagram images can be all about the immediacy of the moment when I want to let people know what I am up to. I generally send my Instagram pictures to Twitter and Facebook. I keep my Flickr stream for 'real' pictures that I shoot with film and digitally."
Meredith also believes Instagram can be a genuinely creative tool as well.
"It is creative. After all an Instagram image that someone takes even before a filter is added is unique, no-one has ever taken that picture before even if there have been very similar ones taken before it.
"If two people use the same camera, film and lab to develop pictures, their images might visually look the same but that does not stop them putting their own style into the images."
Another Instagram fan is music photographer Kate Booker . She's an occasional user of the app alongside shooting on DSLRs and film.
For her, Instagram's social aspect is another plus.
"I'm intrigued by other people's worlds and Instagram allows you to view the most popular users, follow people and view other people's lives and their perspectives in a really simple way.
"Images transcend languages and I just love that Instagram is internationally used and someone in Mexico can upload an image instantly so you can get a view into their world and likewise I can upload something and share so anyone can view my world."
Meredith also believes Instagram's embrace of retro aesthetics may have another effect - the rebirth of film.
"There will be lots of people out there that will just use smartphone apps to take pictures and then use apps to sex them up. But there are those who want to dip their toes in film.
"I am always pleasantly surprised when I teach one-day workshops and colleges and universities to see the amount of students that use film and get it rush developed. I have run the same workshop two years running with Bath Spa University Graphics students. More used film the second time round and they're not even photography students."