R.I.P. Tesco Value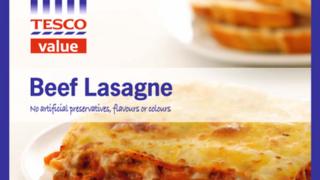 Tesco Value has been shelved. Its blue and white stripes have passed their sell-by date. The bargain brand has checked out.
Instead the 20-year-old range is being replaced by a younger, brighter model with only a slightly different name, Everyday Value.
Bosses say the "no frills" facelift is a step up in quality - none of the products will contain MSG, hydrogenated fats, artificial flavours or colours, or genetically modified ingredients - at no extra cost.
But its predecessor will be fondly remembered as the range which transformed the bargain hunt for supermarket savings from an exercise in sifting through shelves for cut-price offers, to a process of scanning the aisles for colours and stripes.
Launched in the depths of the early 1990s recession amid supermarket price wars which saw bread being sold for as little as 7p and a tin of baked beans slashed to 3p, Tesco Value set a trend in supermarket sub-brands that traded on cost-cutting.
Friends might have foreseen that it would have struggled through the more prosperous late 1990s and early 2000s, when trolley snooping and supermarket snobbery could have been enough to shame consumers into forking out more for their weekly food shop.
But it has made it all the way through to the current downturn, only to be shelved.
Its utilitarian blue and white stripes - reminiscent of Eastern bloc design, or even hinting of prison bars - were still bringing in sales of more than £1bn a year.
As well as families on a budget, the range was beloved of impoverished students.
But there were also those who mocked the two-tone bars in graphical pastiche, with one website dedicated to a mock up of "Valentines Day Tesco Value Cards" .
The cards come with a "sincerity guaranteed" label and a best before "shortly after postmark" advisory. Tesco Value's rival Asda Smartprice really did have such a card .
While own-label products have lost most whiff of stigma - even Waitrose has "Essential" - the country is undoubtedly more quality conscious than it was in bygone days.
Friends may have seen the signs that other supermarkets were revitalising their offerings into seemingly more nutritious and aspirational brands as the end of the line for Tesco Value.
Asda kicked off the trend with the renaming of its mid-tier range as Chosen By You, while Sainsbury's has relaunched its core own-label products under the "by Sainsbury's" banner.
Now Tesco Value has become an unexpected item in the bagging area.
No flowers.