Bluebells: The survival battle of Britain's native bluebells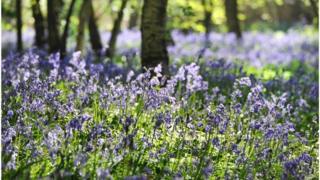 Britain's native bluebells are under threat from an aggressive hybrid, so could they disappear completely?
The bluebell is a quintessential sign of British springtime, with the vast spreads of tiny blue flowers found across Britain in April and May.
In fact, the UK's woodlands are home to almost 50% of the global population of our native bluebell (Hyacinthoides non-scripta). With its unique scent and the very delicate form and structure of the flowers, it is an extremely special flower, say experts.
"We have some of the best bluebell carpets in the world," says Katie Lewthwaite of the Woodland Trust. "People don't necessarily realise, but we've got just the right damp climate for them."
But our native bluebell is now under threat from an aggressive hybrid. And with the UK being home to such a large chunk of the world's population, it means this bluebell is threatened on a global scale. It's ringing alarm bells for conservationists.
Many of the bluebells found in our gardens and urban areas are not the traditional British flower, they are in fact an aggressive hybrid (Hyacinthoides x massartiana) - the product of cross-breeding between the native bluebell and the Spanish variety (Hyacinthoides hispanica).
This hybrid was first recorded in the wild in 1963. It's highly fertile and has spread rapidly in the UK's urban areas.
But more worryingly, its distribution has also been increasing in woodland areas - the preferred habitat of the UK's native bluebell and home to some of its oldest populations.
"Evidence shows that when a hybrid bluebell has got into a woodland area it does have the ability to take over," says Nicola Hutchinson, head of conservation for the UK charity Plantlife.
"Native bluebell woodlands are one of Britain's most iconic countryside images and we should make every effort to protect them."
There are concerns that hybridisation could dilute the distinctive traits of our native bluebell over time, according to Dr Mark Spencer from the Natural History Museum.
To make matters more complicated, identifying the hybrid in order to assess its rapid spread is no simple matter - even botanists struggle to tell them apart, says Spencer.
When identifying bluebells, it is important to look at flowers that have just opened. Older flower spikes are less unidirectional and more upright. Also pollen may be lost and the flowers could have lost their scent.
"The hybrids are incredibly variable, which makes identifying them difficult," says Spencer. "Some hybrids will be almost identical to the Spanish plant, while others are almost identical to the native.
"Sometimes you cannot tell the difference unless you apply DNA analysis."
Dr Deborah Kohn, a research associate at the Barrett Laboratory at the University of Toronto, has been investigating the hybridisation of bluebells in southern Scotland for several years.
Her research focuses on the natural crossing rate between native and non-native bluebells, which she believes is now the main source of threat to our native species.
Although they may still outnumber non-natives by 100 to 1, the possible scale of eventual change in native populations should not be underestimated, she says.
Dr Kohn planted native and non-native bluebells together in recent research experiments. She found that in just three years the non-natives had reproduced at a much greater rate than the natives had.
So could this spell the end of the British bluebell?
"There are certainly areas in southeast England where the bluebell will become a somewhat different plant to what it was several hundred years ago," says Spencer.
"There's even evidence that this is already happening. In London for example, nearly all plants will have varying degrees of mixture with the Spanish bluebell."
But he does not think it's a "death knell" for our native bluebell, but spreads in ancient woodland could change irreversibly.
"Effectively as gardeners in the last 200 years we've undone 8-10,000 years of isolation by bringing together the Spanish bluebells with our native species," says Professor Fred Rumsey, fellow botanist at the Natural History Museum.
"What we have done may cause irrevocable change to a species for which we hold the major proportion of examples in the world. We should therefore act as we directly caused the problem."
What could help stop the spread of the aggressive hybrids is milder weather, says Kohn.
"I think this early milder weather might separate out the flowering times of the native and hybrid bluebells. At the moment they overlap completely and can only hybridise when the flowering in synchronous.
"But if this strange weather means that they overlap less, then it would reduce the chance of them hybridising."
The National Trust reports that bluebells are likely to peak in time for the Easter weekend across most of the UK, earlier than previous years.
The low winter rainfall also means bluebells could be smaller and less abundant in 2012, but the dry conditions could mean the ones that do emerge will be well-scented.
In 2011 the average flowering date for bluebells in Britain was 12 April, but in 2012 the Natural History Museum received records of the native flower as far north as Helensburgh, Scotland by the end of March.
This data comes from the annual public survey of bluebells run by the Natural History Museum , now in its third year. It is building a nationwide picture of when and where bluebells start flowering.
Members of the public are invited to upload details of bluebell sightings, along with photos, on to an interactive Google map .
Additional reporting by Michelle Warwicker.