News tweets: $640m can buy a lot of car elevators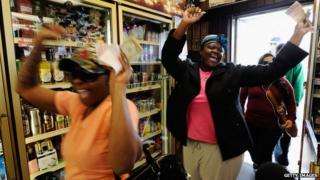 Starting from 24 March, a week's worth of news - condensed into 10 topical tweets, some more serious than others.
1.Just arrived at the ocean's deepest pt. Hitting bottom never felt so good. Can't wait to share what I'm seeing w/ you @DeepChallenge
Director James Cameron (@JimCameron), who made a solo descent to the deepest part of the ocean, the Marianas Trench. His was only the second manned expedition to do so, and the only one to tweet about it.
2.Jim Cameron gets wifi at the bottom of the ocean?
Blogger Corey Atad (@CoreyAtad), reacting to the news.
3.You truly understand the scope of the Internet when you realize it still has room for non-Mad Men stuff today.
SNL head writer Seth Meyers (@sethmeyers21) after the internet exploded in "Zou Bisou" references and plot discussion following the long-awaited premier of Mad Men, Season 5.
4.I will jump this shark for Vladimir.
Aviation writer Lizzie O'Leary (@lizzieohreally). An open mic caught Barack Obama telling Russian Dmitry Medvedev that he would have more flexibility to discuss missile defence after the election, as well as Mr Medvedev's response that he would "transmit that information to Vladimir", meaning Prime Minister Vladimir Putin. For the next hour, Twitter was awash with Vladimir jokes.
5.No coffee for Donald Verrilli at the office this afternoon. Coffee's for closers only.
Foreign Policy correspondent Blake Hounshell (@BlakeHounshell) recalls Glengarry Glen Ross after Solicitor General Donald Verrilli was panned for his performance championing the healthcare law at the Supreme Court.
6.Romney built an elevator in his home for his car. I hope it's tall enough to fit the dog on top.
Colbert Report host Stephen Colbert (@StephenAtHome) after news broke that Mitt Romney's California home had hired a lobbyist as part of an extensive renovation of the Romney's California home. That renovation will include a 3,600-sq ft basement and a lift for cars.
7.New JetBlue slogans go! -- "Crazy about flying." "Travel made unforgettable." "Buckle up!" "Your ticket to adventure." "It's all the rage!"
Copywriter, photographer and blogger Daryl Lang (@DarylLang) tests his skills in response to a JetBlue flight making an emergency landing after the pilot had to be subdued.
8.So if Obama had sent Congress a dead skunk and 3 empty cans of Pabst instead of his budget, it would have gotten as many votes.
Conservative columnist Jonah Goldberg (@JonahNRO) after a proposal based on President Obama's budget plans for 2013 was voted down in the House of Representatives, 414-0.
9.I'd be more excited about Anchorman 2, but I JUST trained my straight guy friends to FINALLY stop quoting Anchorman 1...
Comedian and Actor RJ Aguire (@rj4gui4r) on news that the comedy hit Anchorman would receive a sequel, eight years after the original.
10.Is that a lottery ticket in your pocket or are you just really bad at math
Matt Watson (@biorhythmist), offers a more rational take on the frenzy for the US Mega Millions lottery. The jackpot is worth $640m (£400m) thanks to unprecedented ticket sales. On Friday, many American tweeters wondered how they'd spend their winnings.