Meet the UK's oldest farmers
By Steven McKenzie
BBC News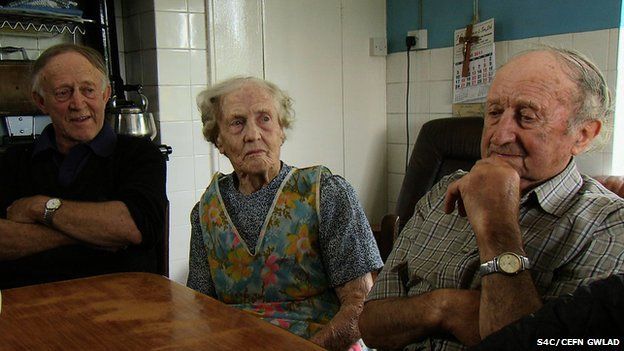 With changes to state and company pensions, the road to retirement is getting longer. But in agriculture, a growing number of men and women are already working well into their 70s and even late 80s.
Elwyn Williams, 74, his brother Ceredig, 85, and their sister Nancy, 89, live together on Rhiwlug Farm and run two other farms near Llandysul, in Ceredigion, west Wales.
The Williams brothers get up at six each morning to tend the livestock, while their sister still makes her own butter.
"My brother feeds the calves and I milk a couple of cows, then we're having breakfast before going out to feed the cattle, see the sheep and doing a bit of fencing," says Elwyn.
"We maybe finish the work at six thirty or seven in the evening. There are problems sometimes like a difficult calving or a difficult lambing, so you cannot work things by the clock."
The Williams siblings' three farms cover a total of 365 acres (147ha), carrying on the family business started in 1937 by their father.
With no children of their own to leave the farms to, and no plans to retire, the two brothers and sister will carry on for as long as they are able to.
"This world would be empty without animals and I enjoy working for them and with them," says Elwyn. "I treat them like children, I speak to them as well. They all have their own characters."
Iain MacDonald, 80, still works on a holding near Staffin on Skye
Forgetting to put your teeth in seems an unlikely occupational hazard. But for another of the UK's oldest farmers, it is just that.
Iain MacDonald, 80, recalls a trek into the hills of Skye to round up sheep and only then realising he had left his dentures at home. Without his teeth, he could not whistle commands to guide his collie Pip.
The dog and sheep went everywhere except in the right direction. Defeated, Iain had to return home to retrieve his dentures. "I'd gone all that way and I couldn't get the dog to do anything I wanted her to."
A sturdy man who is quick to laugh, with white hair that was red in his youth, he remains resolutely committed to life on his 150-acre (60ha) holding. "What else can I do?" says Iain, whose wife Katie died last December. "I will stop when I lose my strength."
For 30 years he also made a two-hour round trip in a small boat to check a gas meter that powers a lighthouse. The readings are now done automatically. And until it became too much of a chore, Iain would bundle sheep into a World War II assault craft to make a short crossing to a small island where the grazing is good.
His cattle still swim to the same isle during low tide in January and October. There was a time when he swam with the animals, but he now makes the trip in a boat accompanied by some friends. Iain is the last farmer in Scotland to swim livestock between pastures.
More than a quarter - 29% - of farmers in the Highlands and Islands are aged 65 and over, the highest proportion of the country's regions, according to Scottish Agricultural College research.
And over the sea from Skye on the Scottish mainland is another of the characters behind the statistic. Farquhar MacBeath, 87, lives with his wife Mary on a croft at the end of a narrow road that runs deep into Gleann Beag.
From Skye, the nearby settlement of Glenelg and its white-painted houses can be reached by a short crossing of the Kylerhea Straits on a small car ferry, Glenachulish. But this 40-year-old craft, the last manually operated turntable ferry in Scotland, only sails from April to mid-October.
For the rest of the year, there is no alternative to the twisting single track road that climbs to more than 1,000ft over Bealach Ratagan, one of the highest mountain passes in the UK.
Down in Gleann Beag stand the ruins of Dun Telve and Dun Troddan, the fortress-like stone homesteads of Iron Age farmers. The rubble remains of another of these conical houses, or brochs, lies on the hill that rises steeply behind the MacBeaths' home.
Born on a croft, Farquhar worked in salmon fishing before being called up during WWII, serving as a commando in Holland, Germany and the Far East. He returned home in 1965 after a stint in the merchant navy, and got his own croft two years later.
"I still do the odd bit now and again. I'll take the quad bike and have a look at the sheep. I don't do any heavy work, my wife's nephew does that. But I have got the books to do. That's a full-time job now."
Farquhar is an oracle on the farming history of the area.
"In 1962 there were more than 200 cows in this area. Now there is only about half that number and there are very few sheep. The first year I was here more than 700 lambs went out on a float [a lorry] straight to Norfolk, but now there is next to nothing. People are taking them down in horse boxes."
On the Scottish islands, Ena MacDonald, 71, has spent almost her entire life in crofting.
She grew up on the machair - the coastal wild flower meadows found in the Hebrides - and left home as a young woman. She spent 10 years working, first in Glasgow and then Australia.
"When I came back in 1966 I put my heart into helping my father crofting," says Ena. "I helped with everything - from cutting peat to harvesting. I also grew vegetables and sold them and that brought in some money."
She took over the croft after her father's death, but has since passed the running of the farm on to son Angus. The family's main focus is 300 Highland cattle.
She recalls creating a stir driving her father's little red tractor, with her blonde hair in a ponytail and often with her young son at her side.
"I suppose it was unusual for people to see a woman driving along the road on a tractor in those days," said Ena. "You have hard times and you have good times. If you really like it and love it you just carry on. It is something that is in your blood."
Friendly rivalry keeps Roddy MacKerlich, 79, interested in his croft at Drumbuie in Lochalsh. Like many of Scotland's crofters, he held down a full-time job as well as working the land.
He was a telegram boy at 15, and 40 years later retired as Royal Mail delivery manager for Skye and Lochalsh.
Each year Roddy and his wife Kathleen, also 79, plant three to four rows of potatoes stretching 80 yards (73m) each.
Harvesting the crop by hand takes eight days and involves bringing the potatoes to the surface using a grape - an agricultural version of a garden fork - then the back-straining task of putting them in baskets.
The work keeps him mobile, says Roddy, adding that he also likes the challenge.
"There's a cup awarded for biggest turnip grown and I have won that once or twice. Competitions like that are good in a crofting township."
His brother Ian, 75, runs another croft nearby. "That's the cause of a wee bit of competition too," says Roddy.
Back in Wales - where 64% of farmers are aged 55 and over - Tegid Williams, 72, and his wife Olwen, 68, have run a dairy farm in the Conwy Valley since 1960.
Starting with a few cows which they milked by hand, the couple later bought a milking machine and built up their herd to 80 animals. Today they have 40 Jersey cows, 20 of which are milked daily.
"Some of the cows are 17 to 18 years old so everybody is growing old together," says Tegid. "The only difference I have seen in my work now is that I am a bit slower and it takes me longer to do a job, but I am lucky in that I can feed the cows using a tractor."
The couple plan to carry on farming into their old age. They encouraged their two daughters to take up other careers. One is a nurse, the other a lecturer.
"I was born in the same bedroom where I am sleeping now. Hopefully I can die in the same place where I was born."
On Skye, Iain MacDonald pauses in his day's work to ponder the future of his croft. He has three daughters and three sons.
"One of my sons will take the place over. But he's happy enough to wait," he adds with a wry smile.