Egypt elections: On a mission to rebuild the country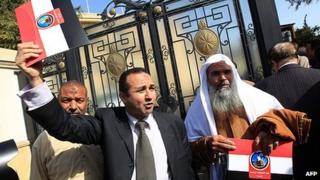 Presidential elections will be held in Egypt in May - the first since Hosni Mubarak was removed in last year's popular uprising - and it looks as if the list of candidates will be a long one.
Outside the office of the Presidential Election Commission, close to where President Mubarak used to have his residence, the candidates come out in a steady stream, brandishing the papers they need to begin their run for election to be the next president of Egypt.
Sami Ibrahim Abdul Latif is a man of humble origins, from a simple village in the Nile Delta, wearing the traditional Egyptian galabeya.
He scrapes a living reciting the Koran in graveyards.
His programme is to support the poor - people like himself, he says.
His campaign team consists just of himself. He has no campaign funds whatsoever.
"What about the requirement to secure 30,000 signatures," I ask him, in order to get his name on the ballot paper?
"That's wrong," he says, and he pledges to challenge it with national and international lawsuits.
In Egypt's more than 5,000 years of history, only three people have ever stood in a contested election to lead the country and that was the less-than-free presidential race won by Hosni Mubarak in 2005.
But this year, even before nominations have closed, more than 900 Egyptians have already put their names forward.
It looks like democracy has really caught on.
Those aspiring to follow President Mubarak include a cleaner, an undertaker and someone described as a repentant thief.
One photographer, who proudly declared he had no educational qualifications whatsoever (and surely just as little chance of success), appeared on a TV chat show.
When he was introduced as a candidate, he upbraided the presenter:
"My dear lady, I am not a candidate. I am Egypt's next president. I believe I am Egypt's undisputed next president."
I met another of the candidates, Farghal Abu-Deif Atiya, holding court at his cafe in a poor neighbourhood.
It is called the Freedom Club Cafe but he hopes soon to rename it the Presidential Cafe when he is successful.
"If I can run my cafe efficiently, why not Egypt - indeed the world?" he says.
"The old regime used to deal with us as ignorant people," he says, "as a nation of deaf and dumb. Egyptians will respect me as a man of the people."
He insists that he has begun trying to gather 30,000 endorsements needed to get on the ballot paper.
But I did not see much sign of any urgent action, as we sat round pleasantly chatting, drinking shai (tea) and tasting the sweet, milky Egyptian concoction called sahlab.
New broom or old guard?
The contrast could hardly be more stark at the campaign headquarters of the man currently leading in the polls, former Arab League chief Amr Moussa.
Serious-looking men and women bustle round in suits. There is modern Egyptian art on the walls and fine chandeliers hanging from the ceilings.
Upstairs, a team of volunteers is busy collating the thousands of signatures they have already gathered to get on the ballot.
This being Egypt, there are great long forms that have to be filled in correctly to the smallest detail, lest the whole candidacy be declared null and void.
Here they have media advisers, outreach advisers, political advisers. Thousands of volunteers and countless offices spread across this vast country of more than 80 million people.
They could not even tell me precisely how many.
They say their mission is to rebuild Egypt. It is an impressive display of professionalism for a country so new to the concept of free elections.
The candidate, Amr Moussa, was Hosni Mubarak's foreign minister for a decade before moving to the Arab League. His advisers almost visibly bristle at the suggestion that he is tainted by association with the old regime.
"Mr Amr Moussa has a long and distinguished career," one told me. "He is very proud of his achievements. There is nothing to be ashamed of. There is nothing he or we shy away from."
Maybe Egypt needs such a man. Still, some are asking whether this is the sort of candidate Egyptians were fighting for when they died, in their hundreds, during the revolution last year.
Of course it is early days yet. The largest political force, the Islamists of the Muslim Brotherhood, are still agonising over whether to put up a candidate or to give their support to someone else.
So will Egypt's next president be someone with, shall we say, experience of the old system and good contacts with the mighty military? Or will Egyptians opt for a completely new broom?
If there is one lesson of the last year, it is that Egyptians are no longer prepared to be taken for granted, and are still capable of surprising the world.
 How to listen to From Our Own Correspondent:
BBC Radio 4:A 30-minute programme on Saturdays, 11:30 GMT.
Second 30-minute programme on Thursdays, 11:00 GMT (some weeks only).
Listen onlineordownload the podcast
BBC World Service:
Hear daily 10-minute editions Monday to Friday, repeated through the day, also available tolisten online.
Read more orexplore the archiveat theprogramme website.