News tweets: Deadly hoodies and political games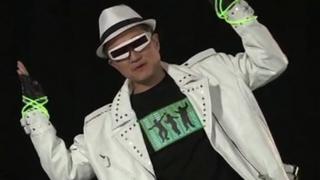 Starting from 16 March, a week's worth of news - condensed into 10 topical tweets, some more serious than others.
1.I don't think there's anything wrong with being exhausted and dehydrated. But not in front of everyone!
Entertainment journalist Mark Harris (@MarkHarrisNYC) responding to news that US filmmaker and campaigner Jason Russell was detained by police in San Diego after allegedly "acting bizarrely, running into traffic" in "various states of undress". Russell was later taken to hospital, with his wife claiming he suffered from "extreme exhaustion and dehydration".
2.Any time you can dump a QB with mystical powers for a 35 year old guy coming off 4 neck surgeries, you have to do it.
Sportswriter Bill Simmons (@sportsguy33) after Peyton Manning was traded to the Denver Broncos. The 35-year-old quarterback, who has suffered from several injuries, will replace Tim Tebow, the 24-year-old famous for his spirituality and his seemingly miraculous ability to win games in the fourth quarter.
3.Upset that the Teenage Mutant Ninja Turtles will be aliens? The "Karate" Kid remake was about kung fu. This battle has been fought and lost.
Blogger Matthew Baldwin (@matthewbaldwin.) A new live-action film based on the Mutant Turtles will be directed by Michael Bay - but serious fans were upset by some of the proposed changes to the original mythology.
4.Firing back at critics, Mike Daisey unleashes a scorching new blog post. Which opens by misquoting Mark Twain. Because, THAT'LL show 'em.
Writer Merlin Mann (@hotdogladies) after performer Mike Daisey was caught having made up some events in his one-man performance, The Agony and The Ecstasy of Steve Jobs. Daisey maintained that in a piece of theatre he had the liberty to alter the facts of what happened when he visited an Apple factory in China. His only regret, he said, was airing the piece on public radio as journalism.
5.Sure the Ryan budget is Dickensian, but rumour that it replaces food stamps with 'gruel voucher' is not true
Economics reporter Daniel Gross (@GrossDM) after viewing Rep Paul Ryan's proposed budget for the US government. Critics say the plan cuts too much from social services for the poor at the expense of the rich.
6.Mitt Romney vehemently denies he is like an Etch-A-Sketch. Unless you like Etch-A-Sketches. Then he's totally like an Etch-A-Sketch.
Blogger William K Wolfrum(@wolfrum), after a senior staffer to the Mitt Romney presidential campaign said the candidate would not lose moderate voters in the general election by taking conservative positions during the primaries. "I think you hit a reset button for the fall campaign," advisor Eric Fehnstrom said. "Everything changes. It's almost like an Etch-A-Sketch. You can kind of shake it up and restart all of over again."
7.John Edwards used a prostitute? That's as surprising as learning John Edwards used hair spray.
Comedian Michael Ian Black (@michaelianblack) on rumours that former presidential candidate John Edwards used the services of a recently arrested DC madam. Edward has denied the allegations.
8.Etch A Sketch stock is up? Psst, I'll mention Mr. Potato Head next. Buy Hasbro
That's the Romney staffer, Mr Fehnstrom (@EricFehrn), offering stock advice and making light of his Etch-a-Sketch gaffe. Two of Romney's competitors, Rick Santorum and Newt Gingrich, appeared at campaign events with Etch-a-Sketches, and the company's stock price jumped from $4.00 to $12.50 a share.
9.Journalists in Wikipedia stampede as WH announces President Obama will nominate Dartmouth College President Jim Yong Kim to head World Bank.
The BBC's Jude Sheerin (@Write_Well_) after Mr Kim's nomination was announced. The relative unknown became a lot better known today, regarding both his work improving medical care in the developing world and hisrapping spacemanskills.
10.Please stop making fun of what Geraldo said, I lost my grandmother to hoodies :(
TV producer Jenny Johnson (@JennyJohnsonHi5) after media personality Geraldo Rivera said that Trayvon Martin's hooded sweatshirt contributed to his death. "I think the hoodie is as much responsible for Trayvon Martin's death as George Zimmerman was," Mr Rivera said. "You have to recognise that this whole stylising yourself as a gangsta, you're going to be a gangsta-wannabe, well people are going to perceive you as a menace."
For style reasons, some tweets have been edited to remove links.