Forgotten food: 25 foods readers would like to revive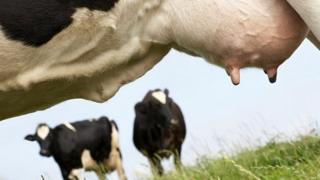 An article on reviving Britain's forgotten foods prompted many emails about the dishes and foods readers would love to bring back. Here is a selection of 25 such lost treats.
Many British dishes have died out over the years, but a growing movement of people want to bring them back. Here's what readers would like to see on their dinner plates again.
1. I would love to eat a tea-time treat from 50 years back, cows udder served warm with brown bread and butter. Also pigs trotters cooked until the crackling and meat falls off the bone. Mike Ward, Chesterfield, Derbyshire
2. I was shocked to discover that hops only came to Britain a few centuries ago. Before then we Brits used mixtures of plants, herbs and spices, known as "gruit", to flavour and preserve our beer. I would love to try a gruit ale, but I don't think anybody brews it any more. Dominic Griffiths, Wallasey.
3. Proper beef dripping sold from trays. Swansea market used to have about 10 or more butchers, there's two now. Most used to make their own beef dripping sold from large trays. This is not the pure refined stuff you get in packets or jars as you do now. The thick rendered fat was on top and the dark brown jellied meat juices underneath. The fat basted your joint and roasted your potatoes, the jellied juices added to your gravy. Perfect. Stuart Martinson, Pontardawe
4. I'm 52 years old and I remember growing up with an urn of beef tea boiling in the kitchen to welcome visitors. Also, the wonderful restorative effects of barley port wine gruel. Gruel sounds terribly archaic but everyone should try this version which will blow them away. Viv Welch, London
5. Brought up in Devizes, Wiltshire, our Saturday meant a visit to the Pie Shop in the Market Place. Long gone now, of course. Mum would buy six "dodgers". These were miniature cottage loaves usually still warm. Once home, the tops of these wonderful creations were ceremoniously pulled off, thus leaving a well that was filled with REAL butter and cheese, before putting on the "roof" and eating it. Wendy Kempster, Bearsted
6. When I was young the local shops in Whitechapel, London, all used to "pat" their own butter, then wrap it in greaseproof paper. It was made from a creamier butter than we know now, it was heaven on hot toast. Steve Smer, Esbjerg, Denmark
7. Proper old-fashioned barley sugar twisted sticks, 6in long. Peter Ashton, Guildford
8. Titbit Sauce. It was made by Fletchers, but disappeared about 20 years ago. It was amazing. Much better than any of the other brown sauces of the day. David H, UK.
9. Quinces and medlars, and all the varieties of apples, potatoes etc that we no longer grow. Steve Merrick, Stockport.
10. Pickled beef was a favourite of our family back in the 50s. The beef would be chosen and then pickled by the butcher. I seem to remember it was kept in the pickling brine for about two weeks. When cooked it was rose pink inside and had a texture and flavour I have never forgotten. L Webster, Birmingham
11. Gipsy tart. Wonderful pudding we used to get regularly at school in Kent. People either loved or hated it. It's very sweet, a pastry base with a filling made from muscovado sugar and evaporated milk. Years ago I saw it on sale in a baker's shop in Battle, but haven't seen it for years. Linda Hall, Newport
12. Not strictly a food but I'm fascinated by a drink I have read about in books on 18th Century London called "saloop", containing sassafras and orchid root. It was served hot on the streets from barrows, much like coffee-to-go today. Emma Burford, Faversham, Kent
13. I would like Curd Tart to be made again. My grandmother made one every week so I think they may be a Yorkshire creation. I suspect it was made to use up the leftover curds after cheese making. Angie Jardine, Bodmin, Cornwall
14.The pigs trotters I used to eat wrapped in paper straight from the butchers shop. Michael Fabbro, Gwent
15. I can't get Black Bun any more. It's a traditional dense fruit cake eaten on Hogmanay in Scotland. My grandparents always had it and for me it is as part of new year as turkey is to Christmas. Unfortunately it seems you have to be my age or older to even know about Black Bun now. Jan Reid, Irvine, Ayrshire
16. Colwick Cheese. Wonderful stuff. Like cream cheese only much sharper. I've only ever seen it in Nottingham where I grew up. Haven't had any since I was up there once, probably about 20 years ago. I still miss it badly although I left home nearly 50 years ago. Marcia Malia, Windsor
17. Carlins - dried peas that used to be available in north-east England on Carlin Sunday. They were withdrawn many years ago but they tasted good. Sally, Stirling
18. Brawn - pig's head specially ordered at the pork butcher's in Watford (or you saltpetre your own). Stewed for hours with peppercorns, allspice, cloves, mace, lemon, parsley, a few veg, salt and pepper. Then chopped, in its own very tasty jelly. Susan Lawrence, Chiswick, London
19. Sprats, not so common these days. Talking to the fishermen they cannot get enough money for them to be worth catching, as a consequence the sea is brimming with them. Ivan Burdfield, Southampton
20. We have a local dried seaweed called "Dulse". Nowadays it's only ever produced and consumed during the summer months, most notably as a novelty at the Auld Lammas Fair at the end of August. It used to be eaten all year round as a snack when my grandparents were young. It's delicious and a great source of vitamins and minerals. Gavin, Ballycastle, Co Antrim
21. Good British thick-seam tripe and honeycomb. Stewart Grimshaw, Morecambe, Lancashire
22. When I was little I can remember my Nan making what she called potted rabbit, it was delicious. She would cook a rabbit, then take the meat off the bone and place it in a bowl and press it under a weight. It would then slice like ham. Beautiful with a nice pickle. Hadrian Caldwell, Moulton, Cheshire
23. Damson cheese. If ever there was food of the gods, this is it. I made it years ago when I had a plentiful supply of time and damsons. At Christmas, I turned it out of its bowl, spiked it with toasted slivered almonds and served with cream from the house cow. What a divine combination. Only the most special of friends were offered this. Susan Tomkins, Canterbury, Kent
24. I would love to see Damsons make a comeback. Homemade Damson jam is just so different to the smooth over-sweet paste that is called "jam" in the few shops/brands that sell it. Damson fool is one of the most amazingly-flavoured desserts ever invented too. It's an overlooked but very versatile fruit, with a distinctive tart taste that can't be matched by anything else. Emily, Surrey
25. Chitterlings, sweetbreads and fat bacon - my childhood foods in Gloucestershire. Bryn Griffin, UK