Italy's women still wait for change under Mario Monti
By Mark Duff
BBC News, Milan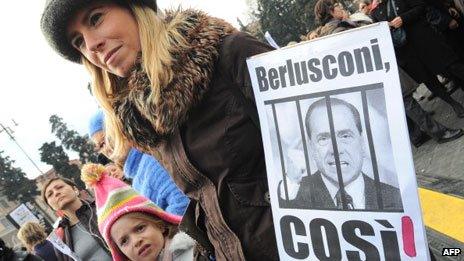 Silvio Berlusconi, may be gone, but Italian women still face an uphill battle for respect in the face of what some commentators describe as a "damagingly" sexist media.
Just over a year ago, one million women took to the streets and piazzas of towns and cities across Italy.
They were angry at their portrayal on television and in the press as little more than the playthings of rich and powerful old men, and at the tawdry revelations of then Prime Minister Silvio Berlusconi's shenanigans.
This week, as Italian men handed out sprigs of fragrant yellow mimosa to mark the Festa della Donna (Women's Day), much on the surface may appear to have changed.
Mr Berlusconi has gone, and the new technocratic government presents a very different picture of the role of women at the highest level of politics.
Mr Berlusconi's poster girl of women in politics was the equal opportunities minister, Mara Carfagna, a former topless model and Miss Italia finalist.
For all her charm and the seriousness of her campaign against stalking, many Italians still saw her as political eye candy for the flirtatious prime minister.
The top-ranking woman in Mario Monti's new technocrat government is Elsa Fornero, a no-nonsense former economics professor who has been described as Italy's answer to Margaret Thatcher.
Ms Fornero is not just in charge of the equality agenda, she is also minister of labour and welfare.
Equal opportunities, the message seems to be, are part and parcel of the Monti government's commitment to drag Italy into the 21st Century.
Ms Fornero is not alone. Mr Monti has also appointed women to the justice and interior ministries.
So it is now women who are grappling with labour and pensions reform - the toughest problems facing the government.
But some things do not change. Semi-naked dancing girls still feature on TV and advertising billboards. And men still call the shots on prime-time game shows.
In the workplace, too, there is still a long way to go towards genuine gender equality, although Mr Monti has led the way in promoting a bigger say for women in the running of Italian business.
Last month, the two visions of Italian womanhood clashed at one of the traditional highlights of the entertainment calendar - the San Remo Festival of Italian song.
San Remo still draws big audiences to the state broadcaster, RAI. Its format is old-school - glamour, glitz and an ageing male host assisted by two women.
This year the headlining sidekicks were George Clooney's former girlfriend Elisabetta Canalis, and Argentina-born model and actress Belen Rodriguez.
Next morning it was not the songs that Italians were chatting about but Ms Rodriguez's risque split dress and what it revealed - the tattoo of a butterfly and the faintest suggestion that she perhaps was not fully clothed.
Those on the front line of the battle for women's rights were furious.
"It's better to turn off or switch channels," Ms Fornero said, adding that there did not seem to have been any appreciable change since the days of Silvio Berlusconi.
The irony is that the head of RAI, Lorenza Lei, is another high-profile woman.
Alessandra Perrazzelli, a high-flier at one of Italy's biggest banks, Intesa San Paolo, was another woman who switched off.
"I couldn't believe what I was seeing," she said. "It represented everything that's so wrong with the portrayal of women on state television."
Ms Perrazzelli is president of Valore D, an organisation working to encourage the promotion of the country's brightest young women to senior positions in Italian business.
She praises the Monti government's efforts, the paradox of an unelected government of experts effectively recasting Italian society, as well as wrestling with the nuts and bolts of long-overdue structural reform.
But for her, that is not enough.
Asked if she would trade all those women in positions of power for the chance to flush out the Augean stables of Italian TV in order to improve the portrayal of women, she did not hesitate for a moment.
"At this point, I'd go for a clean-up of Italian television," she said.
"I think the damage of having women portrayed as not important, as not relevant, it's extreme, and there's a lot of work that needs to be done there."