Adventure travel in the age of the online connection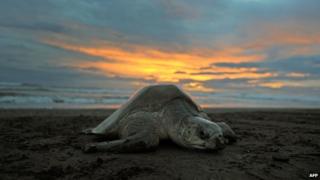 Some of the most remote places in the world are starting to feel less isolated thanks to new technology. This may be good for people who live in them, but for travellers it's a mixed blessing.
Playa Nancite in the Santa Rosa National Park is a bit different this year. It is still one of Costa Rica's most remote spots but it no longer has the same sense of isolation.
The change is certainly not obvious.
Getting here requires the same effort - an hour's drive along a deeply rutted and muddy track, only passable in a four-wheel-drive with a winch, followed by a 40-minute hike over a very steep hill.
The beach itself is also unchanged.
Olive ridley turtles still nest here in their thousands, undisturbed by poachers but hunted by jaguars, which often patrol the beaches at night.
Sadly, there is also little difference to the huge quantity of plastic strewn across the high-tide mark, which washes up on to the golden sands from distant South Pacific islands.
No. Change has come invisibly - through the airwaves.
Last year, you could just about get a mobile signal if you were standing in the right spot but now you can sit on Nancite's beach and connect to the internet.
Don't get me wrong, I am as much a slave to the world-wide-web as the next person but I cannot help feeling a little sad at this development.
It may be a cliche but there is no doubt that technology makes the world feel a smaller - and less interesting - place.
It has the habit of shrinking the distances between countries and merging cultures.
For me, real adventure travel does not just come from the journey itself but from feeling cut off from one's normal way of life - a situation that forces you to accept what you find and become absorbed by it.
And being isolated can also be exciting since it often brings a frisson of risk.
Unfortunately, with the unseen umbilical cord of a mobile or internet connection, it is much more of a challenge to experience the unfamiliar and leave the familiar behind.
In short, adventures are not quite so, well, adventurous.
Take Ernest Shackleton's heroic Antarctic feat - one of the greatest adventure stories of all time.
One wonders whether it would even have happened had the internet been around in his day.
He and his men certainly would not have embarked on one perilous journey after another, if they had been able to let someone know where they had been stranded.
Back on Nancite, the internet had an immediate impact on me.
Every day I found myself repeating that well known mantra of the 21st Century, "I must check my emails."
When I could have been walking through the forest looking for wildlife, beach combing, or even swinging gently in a hammock under sunbathing iguanas, I was huddled over my computer trying to keep sand out of the keyboard and glare off the screen as I communicated with people back home and - more often than not - cursing the connection speeds.
It is a funny old thing - last year, I was perfectly content without any internet. This year, it is annoyingly slow.
Not everybody feels the way I do about the developments on Nancite.
Wilberth Matamoros, for one, is delighted.
He has spent over a year in Nancite, mostly on his own, logging the comings and goings of the nesting olive ridley turtles.
Each night, he walks up and down Nancite's half-mile of beach counting, measuring and tagging them.
Recently he came across a jaguar eating a turtle.
Rather than back away, he crept closer and videoed the action using his torch as a light.
It was an exciting moment and one he was keen to share with his girlfriend who was more than 5,000 miles (8,000km) away.
With the new internet, he had uploaded pictures of the event before dawn.
For the last five years, Wilberth from Costa Rica has been going out with Jenny Neeve from Essex, in the south-east of England.
They met while working on another turtle project and have stayed together despite only seeing each other for between two and six months a year.
When I ask Wilberth what the secret of their success is, he says "talking".
Until the internet arrived, he talked to Jenny virtually every day from his mobile. Half the time she would call him, the other half he phoned her.
Unfortunately that sort of love did not come cheap. Wilberth was spending nearly half his $500 (£300) a month salary talking to Jenny.
Now with the internet and Skype, communication is free which means that they can talk for as long or as often as they like, and the money he saves he can spend on flights to actually see Jenny.
Of course, I do not begrudge Wilberth and Jenny their new-found freedoms but - romance aside - Nancite's internet highlights the paradox of this kind of technology.
You crave more of it but, deep down, you know you would be happier with a lot less.
 How to listen to From Our Own Correspondent:
BBC Radio 4:A 30-minute programme on Saturdays, 11:30 GMT.
Second 30-minute programme on Thursdays, 11:00 GMT (some weeks only).
Listen onlineordownload the podcast
BBC World Service:
Hear daily 10-minute editions Monday to Friday, repeated through the day, also available tolisten online.
Read more orexplore the archiveat theprogramme website.