Being suddenly blind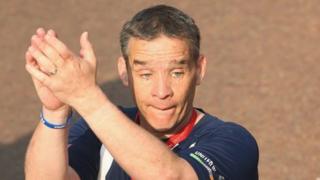 David Rathband, the police officer shot and blinded by fugitive gunman Raoul Moat, has been found dead. He had spoken of his struggle to adjust to life without sight. It's a hugely difficult transition to make, writes Damon Rose, who lost his sight at 13.
Losing your dominant sense is shattering and confusing.
With the right support you can turn it around and learn to live afresh but it's a very big hill to climb. The journey requires a great deal of patience and practice and is complicated enough without also factoring in trauma and injury in the line of police duty.
Everything from your ability to move around, read, write, do DIY and appreciate the scenery around you, suddenly changes or disappears.
When your sight does go or gets so bad that you have to acknowledge it, you need to speak to your local social services to get an assessment.
It's at this point that you will probably first come across the "blind person tools" that are regularly handed out. These will include the white cane and a "liquid level indicator" which buzzes loudly to tell you that you've put enough boiling hot water in your tea mug - small things matter at this stage.
These basic handouts - along with mobility training and orientation plus domestic rehabilitation - are the basics for moving forward.
Many listeners to BBC Radio 4's In Touch, the long-running show for blind people, have years of experience under their belts and were keen to pass it along after veteran presenter Peter White did a two-part interview with the former police officer, broadcast in December 2010 and September 2011.
Listeners contacted the programme in their droves afterwards with all sorts of practical ideas and support.
"People wanted to contact him. They found his comments and what he said quite inspiring. He was saying things that probably they hadn't heard said before," says In Touch producer Cheryl Gabriel, who is also visually impaired.
"He talked about reading books and said he didn't like reading. He had this idea people were going to put him in a box with the interests blind people should have: 'Why would I start reading now?'
"In his mind he was still a sighted person, a sighted person who couldn't see, rather than a blind person."
Gabriel and Rathband were on the phone for an hour before the final interview.
"He was saying he got frustrated at not being able to find a matching pair of socks. He wanted to just live on his own to prove that he could do so, and still support his family."
Gabriel was a police officer for five years before her sight failed. She says: "Everything in his life was not geared to being a blind person.
"He was trying to fight for his independence. He wanted to live almost as if blindness was incidental but your blindness goes in the front rather than behind. David wanted to put it behind him but it was always in front of him.
"You're the one who is a police officer, the one who can fix stuff. You go out there and deal with people. To suddenly have that taken away, it must have felt like his world was turned upside down and I have a lot of sympathy."
The suddenness of Rathband's blindness is hugely significant.
"What he went through is unimaginable," says Gabriel. "Most people have a period of getting used to being blind, you think, 'Hold on, what's going on here?' when you begin to notice deterioration... but his whole experience was just horrific with the mental scarring he must've also had."
TheRNIB's Helpline offers emotional and practical support to anyone who is struggling to come to terms with sight loss, sudden or long term. People can call 0303 123 9999 or email helpline@rnib.org.uk.