Been and Gone: Farewell to ocean 'adventurer' Fairfax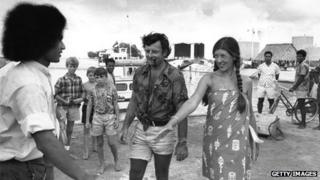 Our regular column covering the passing of significant - but lesser-reported - people of the past month.
In his passport,John Fairfaxdescribed his occupation as "adventurer", a fitting role for the man who became the first to row solo across any of the world's oceans. His epic 180-day journey across the Atlantic in 1969 saw him battling sharks, intense heat and strong winds as he doggedly headed towards the Florida coast. He'd been inspired to attempt the trip after Chay Blyth and John Ridgway had made a two-man crossing in 1966, and he worried that someone else would beat him to a solo effort. As a teenager he had lived rough in the Amazon jungle and worked as a professional smuggler in Panama after bicycling there from California. Two years after his Atlantic triumph, he became the first person to row across the Pacific, although this time in company with his friend Sylvia Cook. Afterwards he swore never to touch an oar again.
The sea was also the inspiration forMike deGruy, the Bafta award-winning cameraman whose stunning underwater footage was a major contribution to the BBC series, Life in the Freezer, The Trials of Life and Blue Planet. He also worked on number of projects for the film director James Cameron, including Last Mysteries of the Titanic. He believed in getting close up to his subjects and almost died in 1978 after being attacked by sharks while filming in the Pacific. On another occasion, he got into freezing waters with sea lions so he could better film the creatures being attacked by a pod of orcas. His footage of a shark leaping from the water to grab a low-flying albatross is seen as one of the most dramatic ever filmed. He was working on a project for National Geographic when his helicopter crashed in New South Wales.
Bruce Surteeswas also known for his work behind the camera particularly for his long-running partnership with the actor Clint Eastwood. He began as a camera operator on some of Eastwood's early films but his outing as a cinematographer was on The Beguiled when his low-level lighting enhanced the Gothic ambience of what was not one of Eastwood's great commercial successes. His ability to work with very few lighting sources earned him the nickname Prince of Darkness. The partnership with Eastwood continued on a succession of films, including Play Misty for Me, Dirty Harry and The Outlaw Josey Wales. He worked with John Wayne on The Shootists, the big man's last screen appearance and was responsible for the low-level stage lighting that was such an important part of Dustin Hoffman's portrayal of the comedian Lenny Bruce in the film Lenny.
James Whitakerwas one of a new breed of royal correspondents who actually set out to find stories about royalty, whether good or bad, rather than just filing bland accounts of their activities for the court pages. He built up an enviable set of contacts in the Royal Household, which enabled him to break the news that Mark Phillips and Princess Anne were to divorce, and he also sourced the pictures of the Duchess of York cavorting with her financial adviser. However, it was with the coverage of Diana, Princess of Wales, that Whitaker became most closely associated. He was the first to reveal that she suffered from an eating disorder and also to break the news of her relationship with Dodi Al Fayed. A man of expensive tastes, he often wrote his Daily Mirror column while fortifying himself with smoked salmon sandwiches and champagne.
Irish actorDavid Kellybecame a familiar face on British TV in the 1960s and 70s when he appeared in a string of situation comedies. He will be best remembered for his role as the inept builder Mr O'Reilly in an episode of Fawlty Towers, when his fond belief that "a lick of paint" would cover his bodged work incurred both Sybil's ire and the application of her rolled-up umbrella. He began his career on the stage in Dublin, then moved into TV comedy with roles in Me Mammy, Never Mind the Quality, Feel the Width and On the Buses. He also played Albert Riddle, the one-armed dishwasher in the series, Robin's Nest. His cinema roles included Michael O'Sullivan in Waking Ned, for which he won a Screen Actors Guild Award, and he played Grandfather Joe in Tim Burton's adaptation of Charlie and the Chocolate Factory.
Singer-songwriterDory Previnendured a troubled childhood and that, together with the tribulations of her later life, formed the basis for much of her work as a solo artist. She began her career as a lyricist for MGM, where she met and worked with the composer Andre Previn. The two married in 1959 and the writing partnership gained two Academy Award nominations in the 1960s, including the song The Farway Part of Town, which was sung by Judy Garland. Their songs were recorded by artists such as Frank Sinatra, Jack Jones and Sammy Davis Jr. Their five songs for the film The Valley of the Dolls helped keep the soundtrack in the charts for six months. She divorced her husband in 1970 following his relationship with Mia Farrow, and she launched herself as a solo artist making six albums including Mythical Kings and Iguanas.
Among others who died in February were award-winning Sunday Times foreign correspondentMarie Colvin; the man who trained Muhammad Ali,Angelo Dundee; former champion jockeyJosh Gifford; singer and actressWhitney Houstonand Northern Irish "it's a cracker" comedianFrank Carson.