The rise of the undercover sting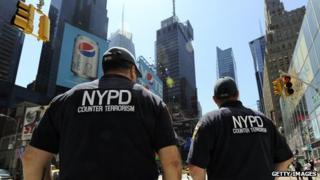 The handing over of British businessman Christopher Tappin to the US authorities has provoked criticism of the extradition treaty between the two countries. But it also puts the use by the FBI and other law enforcement agencies of undercover "stings" in the spotlight.
It has become one of the most familiar news stories in the United States - the arrest of a terror suspect, usually a young Muslim man, following a sting operation by the FBI.
Dozens of alleged terrorists have been put behind bars in this way since 9/11, in operations involving FBI agents or informers posing as Islamist extremists.
In some cases, the suspects have been supplied with money, transport and realistic weapons.
Earlier this month, a 29-year-old Moroccan, Amine El Khalifi, was arrested apparently en route to Capitol Hill with what he thought was a suicide bomb and a Mac-10 automatic weapon.
Everyone else involved in the alleged plot to commit mass murder at the heart of the US government appears to have been an FBI agent posing as a member of al-Qaeda.
Fictitious company
Mr Tappin, of Orpington, south-east London, is not accused of plotting to commit any atrocities - he is alleged to have sold batteries for Iranian missiles.
But he does say he is the innocent victim of a sting by federal agents.
In 2007, he was indicted by a grand jury in El Paso, Texas, on three counts of plotting with others to export $25,000 (£15,800) worth of batteries without a licence.
The company he was dealing with, Mercury Global Enterprises, turned out to be a fictitious enterprise staffed by immigration and customs enforcement agents.
Mr Tappin, who appeared in a Texas court on Tuesday, faces a trial and a possible 35-year jail sentence.
He says he did not know the batteries were meant for military use and the responsibility for obtaining the relevant export licences should have rested with the exporter in the US.
Whatever the truth in Mr Tappin's case, there is little doubt that the US law enforcement agents, and the FBI in particular, have stepped up their use of stings in recent years, in anti-terror or security-related cases.
'Inept agents'
Undercover operations have been a feature of law enforcement around the world for decades, particularly in drug smuggling and gang cases.
But the "war on terror" has rewritten the rules about how far officers can go in conspiring with would-be criminals and helping to plan their crimes.
Michael Levine, a former undercover agent who says he pioneered the use of stings in the 1970s as a Drug Enforcement Administration agent, has serious misgivings about the new tactics.
He is particularly concerned about the use of paid informants, often former criminals themselves.
"It used to be, before the war on terror, that really inept agents, people who were not good at detecting crime, not good at using informants, would hook up with informants for big money, who would go around entrapping people into crimes."
'Bad guys'
Mr Levine, who now works at the US state department as an instructor for the Brazilian Federal Police, says stings that use informants rather than trained undercover officers can cross the line into "creating crime".
"You want to catch bad guys, people who are committing crime, people who have committed murder.
"You don't want your informant to go out and talk someone into it. You can do that all day long and fill jails from the Bronx to Bogota, Colombia. It's the easiest thing in the world to do, but that's not law enforcement."
When he posed as a "bad guy" in the 1970s to catch mafia drug traffickers, the justice department demanded prior evidence of the suspects' involvement in organised crime.
Not now, he says. "The world is in a panic about the war on terror, which I suppose is pretty justified, but I believe it has caused us, the justice system, to start accepting all kinds of crimes that, in earlier years, would have been an entrapment."
'Preventing attacks'
US law enforcement agencies argue that the public demands a more aggressive approach to stop criminals before they have a chance to commit mass murder.
An article on the FBI website, advising undercover officers on how to avoid entrapment charges, says: "In the aftermath of 9/11, it no longer proves sufficient to solve crimes after people have committed them.
"Rather, a top priority of law enforcement is preventing another terrorist attack against US interests.
"The American people expect federal, state, and local law enforcement officers to proactively prevent another terrorist attack, and even one failure is unacceptable."
US government officials have praised stings as a powerful means of protecting US citizens from harm on their own soil.
What began as a trickle of anti-terror stings in the aftermath of 9/11 became about a dozen cases a year from 2008 onwards, according to legal experts.
Both the justice department and the FBI have rules on how far investigators may go in facilitating crimes.
Agents can supply suspects with equipment and help them plan attacks, but they must also offer them an opportunity to quit the scheme, perhaps by suggesting alternatives to violence or reminding the target that innocent women and children would be killed.
"Law enforcement must, in a controlled manner, divert someone determined to harm the United States and its people into a plot bound to fail from the outset, instead of one that might succeed," writes the FBI's David J Gottfried, in the same article.
If the authorities go too far, the case could collapse. Entrapment has been recognised as a defence in federal courts since 1932, with the aim of protecting those who might not have committed a crime were it not for the involvement of the police.
Prof Karen Greenberg, director of Fordham University's centre on national security in New York, believes the entrapment law in the US is effectively a busted flush, when it comes to terrorism cases.
Juries always err on the side of caution, she argues, as they do not want to take the risk of releasing a terrorist, regardless of how flimsy the evidence against the defendant is.
"Even when the judge is sympathetic to the notion of over-aggression on the part of the government in the sting, entrapment defences don't work," she says.
Since 9/11, no one has gained an acquittal in a terrorism trial after claiming they were the victim of entrapment, according to a New York University study.
As a result, argues Prof Greenberg, the FBI and other US law enforcement agencies effectively have "carte blanche" to mount "over-aggressive" sting operations.
Four men who were sentenced to 25 years in jail after placing bombs outside the Riverdale Temple synagogue and a Jewish community centre in the Bronx area of New York in what was seen as a test case of the entrapment law, have this month launched an appeal against their conviction.
The bombs were fakes supplied by the FBI.
The men's lawyers claim they were illegally lured into the plan by a paid government informant, a convicted fraudster posing as a member of a Pakistani terrorist organisation, who gave them money for food and rent and promised them $250,000 (£157,800) in cash, holidays in Puerto Rico, a BMW and a barbershop.
US District Judge Colleen McMahon, sentencing the four in June last year, said their affiliation with any political cause was "minor" compared to their desire to make money but they had still intended to "kill and maim and destroy".
Sentencing the main defendant, James Cromitie, she said: "The essence of what occurred here is that a government, understandably zealous to protect its citizens from terrorism, came upon a man both bigoted and suggestible, one who was incapable of committing an act of terrorism on his own.
"It created acts of terrorism out of his fantasies of bravado and bigotry, and then made those fantasies come true."
This is perhaps the most extreme example to date of alleged entrapment, argues Karen Greenberg, but it is indicative of a wider trend that will be counter-productive for the FBI and may radicalise young Muslims with no previous interest in violent jihad.
"When they are over-aggressive, it diminishes the validity of the category itself. It's OK to have these cases if they are done right.
"You don't want to end up throwing the baby out with the bath water."