Virginal or strapless? How New York says Yes to the dress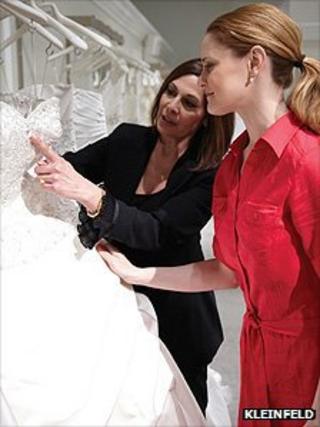 Everyone wants to look good on their wedding day and fulfilling the dreams and fantasies of the wealthier soon-to-be-marrieds of New York is very big business.
As soon as I get to 20th Street in Manhattan, I see them. The brides-to-be, all heading for Kleinfeld, the great wedding dress superstore.
Inside the vast emporium - all plush carpets and chandeliers, sofas and mirrors - the consultants greet the women and show them to dressing rooms with their names on the door (you must make an appointment in advance).
And then they begin the process of offering up the fantasy to all the Courtneys and Ashleys, the Kates and Samanthas.
Weddings are, of course, a multi-billion-dollar business in America and for most brides, the dress is the thing.
Kleinfeld has 1,500 different dresses.
Silk and satin, lace, tulle and chiffon. Beaded bodices and bustiers that lace up in the back.
The brides-to-be are soon as high on these astonishing, delicious confections, as children in a candy store.
The average price for a dress is around $6,000 (£4,000), though there are dresses for less - and dresses for much, much more.
At least one Nigerian princess was in recently and spent $32,000 (£20,000) and that is before you add the veil, the headpiece, the shoes, the jewels - also available at Kleinfeld.
As is the second dress - some brides like a different gown for their reception.
'Dream' dress
In one of the dressing rooms, Brittany - who has come for her first fitting - admires her strapless, ivory, fish-tail wedding dress and smiles.
"I love this dress because it reminds me of the ocean and I'm getting married in Hawaii," she says.
Her consultant will stay with her bride-to-be through the whole process, even giving her a home phone number for emergencies, when the shop is closed.
"We want everyone to find exactly the dress they dream of," says Mara Urshel who, with her husband Ronnie Rothstein, owns Kleinfeld.
"We make sure everyone is perfectly fitted," adds Urshel, who shows me the room where the chosen gowns are hung from the ceiling on a dry-cleaner's rack that runs a whole city block.
Down here are scores of seamstresses, beaders, pressers, the kind of craftspeople you might once have seen at a couture house.
Well-known designers, those just starting, all flock to Urshel, who was once a top buyer at Saks. They know that to be shown at Kleinfeld is essential in the wedding-dress business.
Kleinfeld was a Brooklyn landmark from 1940 until seven years ago, when Urshel and Rothstein moved it to Manhattan and transformed it into the palace it is.
And to Kleinfeld they come - white, black, Asian women come from all over the country. As well as from Europe, China and Brazil.
With same-sex marriage legal in New York, Kleinfeld can outfit two brides for the same wedding, and does.
It can retro-fit a dress for an Orthodox Jewish bride, who must be covered up.
Anything is possible.
'More bling'
In a central atrium, lined with mirrors, dotted with raised platforms, brides model their dresses for their families.
At Kleinfeld, even the guys get a look-in with a men's boutique, all antique prints and vintage furniture.
"Tone-on-tone tuxedos are very chic," says Frank, who runs the department, showing me handsome wedding suits in various shades.
After watching the brides-to-be, one thing is clear - they do not want to look virginal.
They want fashion. Most want strapless.
They also know the lingo. "Ballgown?" says one bride-to-be. "Or fish-tail? Poofy skirt? Or fit-and-flare?" She ponders the choices.
"I want more bling," she says, for clearly each girl is a movie star on her own red carpet.
Most of the brides arrive with ideas already dancing in their heads, often because they have seen Say Yes To The Dress, the reality show featuring Kleinfeld.
Suspense is high on the show: Will Niche get her way or give in to her mother who wants a sedate wedding dress? Will Rosanna's grandmother, a couture seamstress, approve?
"Che pensa, Nonna?" Rosanna asks. Grandma examines the dress.
"Bellissima!" she exclaims.
 How to listen to From Our Own Correspondent:
BBC Radio 4: A 30-minute programme on Saturdays, 11:30 GMT.
Second 30-minute programme on Thursdays, 11:00 GMT (some weeks only).
Listen online or download the podcast
BBC World Service:
Hear daily 10-minute editions Monday to Friday, repeated through the day, also available to listen online.
Read more or explore the archive at the programme website.