Inside the high-end housing market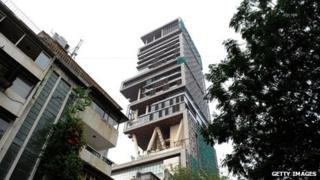 The property market may be in poor shape in many parts of the world, but the super rich continue to spend eye-watering sums on new homes.
The latest deal to grab headlines is a penthouse apartment with panoramic views of New York's central park, sold to a Russian fertiliser magnate for $88m (£56m).
Dmitry Rybolovlev is thought to have bought the palatial pad for his 22-year-old university student daughter, Ekaterina Rybolovleva.
The 6,744 sq ft (627 sq m) apartment in Central Park West is the highest value individual property sale in New York history.
It works out about $13,000 (£8,204) per square foot, which could well be a new record. An estate in Hong Kong's ultra-exclusive Peak, 10 Pollock's Path, which sold last summer for $102.7m (£65m) was previously thought to have held that title, with a per-square-foot value of $12,188 (£7,704), although no official record is kept.
The high-value real estate market went quiet after the 2008 financial crisis, as the world's billionaires fretted about their investments or bided their time until they could pick up a bargain.
'Ultra luxury'
But professional wealth watchers say it has bounced back with a vengeance and is now almost entirely detached from the ups and downs of the conventional housing market or, arguably, reality.
"Once you get to the ultra luxury end of real estate you are operating in a different market. It is not necessarily moving with the variables of the rest of market," says Forbes magazine property expert Morgan Brennan.
It is widely believed that the world's most expensive private dwelling is in Mumbai, India.
The 27-storey Antilla tower, which boasts three helipads, six floors of parking and a series of floating gardens, was built at a cost of $1bn (£630m) for India's richest man, Mukesh Ambani.
But it currently stands empty. According to press reports, the Ambani family are concerned that spending the night there will bring them bad luck, as the building's design falls foul of vastu shastra, an ancient Hindu architectural doctrine.
'Strong market'
Other properties which routinely get mentioned in lists of the most expensive properties are industrialist Ira Rennert's 63-acre waterfront estate, in the Hamptons, New York, which is thought to be worth $180m (£114m), and Donald Trump's $125m (£79m) Maison de l'Amitié, in Palm Beach, Florida.
Of the deals that have gone through in the past year, Russian venture capital billionaire Yuri Milner's $100m (£63m) purchase of Palo Alto Loire Chateau, a 25,500-square foot Silicon Valley mansion, was the biggest in America.
The former home of TV mogul Aaron Spelling, which was once known as America's most expensive house, was also sold last year after three years on the market.
The buyer, Petra Ecclestone, 22-year-old daughter of Formula One tycoon Bernie, managed to get it at the bargain price of $85m (£54m), a substantial saving on the list price of $150m (£95m). Like Mr Milner, she does not intend to use it as her main residence.
Jeff Hyland, the Beverley Hills property agent who helped broker the deal between Aaron Spelling's widow Candy and the Ecclestones, says the market in high-end property is holding up.
"It's quite strong because there is so little inventory. Houses like Candy Spelling's, there are only a handful of them that come on the market and you need something like a death, or a divorce, in this case Aaron Spelling died, to make it happen.
"The air is very thin. We have a lot of buyers. We have an awful lot of Russians, Saudis, and now Chinese coming in."
Biggest deals
Property transactions at this level are relatively easy to set up - the Ecclestone deal took just 48 hours - as there is never any question about loans falling through at the last minute.
"Almost everything we sell in Beverley Hills is $10m (£6.3m) or more and it's all cash," says Mr Hyland, president of Hilton & Hyland Real Estate, part of the Christie's International Real Estate network.
Sellers do not have to worry about time wasters or tourists either, as all would-be buyers are vetted by the agent.
"If we don't know who they are, if we haven't heard their name, then most likely they are not a candidate," says Mr Hyland.
"And if we can't Google them we ask for a letter from their bank showing they have a net cash value that's in excess of the asking price - readily available funds. If we don't get that, they don't see the property."
But for the really big deals, you increasingly have to turn to Europe.
Ukraine's richest man, Rinat Akhmetov, last year forked out $215.6m (£136.1m) for two properties on the seventh and eighth floor of the One Hyde Park development, in central London.
'Under the radar'
In September 2010, brothers Nick and Christian Candy - the English property developers behind One Hyde Park - sold a penthouse apartment in Monaco to an unnamed Middle Eastern investor for $314m (£198m).
Billionaire Russian tycoon and Chelsea football club owner, Roman Abramovich, is also a fan of the Cote d'Azur, which like Switzerland has seen a boom in high-end property prices in the past few years.
Villa La Leopolda, the 10-acre estate he is thought to have purchased from Microsoft mogul Bill Gates for $450m (£284m) is often described in the media as the world's most expensive house.
But the truth is we will never know for sure. Many of the biggest property deals take place well away from the prying eyes of the media, and are not even listed in real estate agents' guides, according to the experts.
Morgan Brennan says: "We see a lot of these higher-end homes transfer through third parties, so even if they show up in a public record it's not always easy to see who that property is associated with. There are a lot properties that go under the radar.
"If I was a high profile, high-net worth individual, I would probably be pushing for that as well."