The lull of the Shipping Forecast
By Alex Hudson
BBC News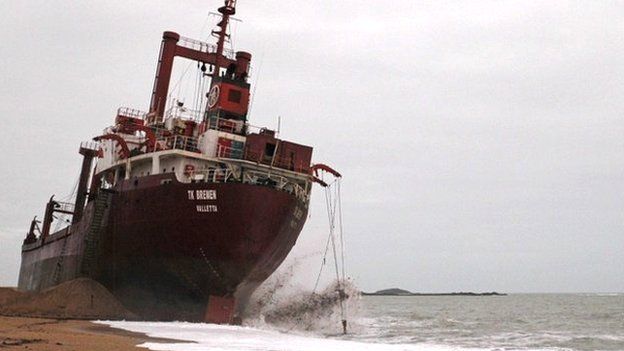 The Shipping Forecast may provide vital weather information to sea captains and sailors, but some of the most devoted fans are those who listen to it for its poetic quality.
If you went out on the sea today, you would be sure of no big surprise.
For the past 90 years, hardy maritime workers heading out have turned on a radio to find out exactly what weather could be expected by tuning in to the Shipping Forecast.
Areas like Viking, Forties, Humber, Faeroes and Fair Isle drift out on the airwaves along with warnings of how rough conditions could be.
If nothing else, it is more efficient than the attempt at the first storm warning service by Admiral FitzRoy, founder of what would become the Met Office and inventor of the weather forecast.
In the 1860s, he came up with the idea of different shaped canvas-covered frames to alert ships - lit up by fires at night - of danger.
"To the non-nautical, [the Shipping Forecast] is a nightly litany of the sea," says news presenter Zeb Soanes, who can regularly be heard reading the forecast.
"It reinforces a sense of being islanders with a proud seafaring past.
"Whilst the listener is safely tucked-up in their bed, they can imagine small fishing-boats bobbing about at Plymouth or 170ft waves crashing against Rockall."
The forecast's slow, methodical delivery - for the very practical purpose of clarity - has led to many describing the broadcast as close to poetry as a news broadcast gets.
"It's like a lullaby almost," says Shipping Forecast regular Kathy Clugston.
"There's something about the sound of it and the rhythm - it's so repetitive - that is so soothing."
Peter Jefferson, who read the Shipping Forecast for 40 years, has said that he was often told his voice sent many listeners to sleep.
Poet Seamus Heaney immortalised this calming rhythm as the images "Conjured by that strong gale-warning voice/Collapse into a sibilant penumbra."
There are four broadcasts a day on the long-wave broadcast of Radio 4. These times - 0048, 0520, 1201 and 1754 - are set in stone, not to be moved come hell or high-water.
Though you would think that come hell or high-water, the bulletin would be all the more important.
In 2011, as England closed in on retaining the Ashes, Test Match Special - which also broadcasts on Radio 4 long-wave - cut away to the Shipping Forecast just moments before the final wicket fell.
Listeners returned to the jubilation of commentators as England were victorious, reports of the final ball hidden by talk of Cromarty and South-east Iceland.
In that Test series - in an incredible coincidence - all three English victories were missed by long-wave listeners because of the forecast. Cricket enthusiasts listening on digital services were unaffected.
"You just sort of prayed quietly that no wickets would fall while you were reading the forecast," says Jefferson.
"If something happened, you knew you were going to raise the ire of all cricket fans."
But as yet, there has been no unstoppable force to hit the immovable object of the forecast.
When there were plans to move one of the bulletins by 12 minutes, a campaign opposed to the change was set up because it "threatened the demise of civilisation for its devoted listeners," according to Stefan Collini of The Guardian.
The plans were soon dropped.
There seems to be something about hearing about areas like Rockall or Shannon that is intrinsically linked with the UK's heritage, so much so that composer Philip Sheppard decided to include it in his music for the closing ceremony of the Beijing Olympics.
"It's part of the fabric of this intangible thing called Britishness," says Soanes.
"Just like red telephone boxes, Wimbledon, the chimes of Big Ben, the smell of cut grass, scones and jam."
And it is probably not something that would make it onto air in every country of the world.
"It is eccentric, though you only realise when people come from other countries - they are completely baffled by it," says Clugston.
"Only recently, some Americans came in, listened to the broadcast and said, 'Well, we don't understand a word of that but it was terrific. Could we have a recording of that to go back and play in our office? No one would believe us otherwise'."
The job of actually reading the forecast can be a tough one. The late broadcast - lasting around 11 minutes - can strike fear in those new to the task.
"It's the last thing you do, having been at work since 4.30pm," says Soanes.
"But you can't afford to start lulling yourself to sleep. It's vital information first and poetry incidentally."
And the broadcast's strict timing, rhythm, format and script - a maximum of 370 words, except for the final, longer broadcast - mean that delivery has to be precise.
"It was the thing I was most nervous about when I started at Radio 4," says Clugston.
"I was absolutely shaking. I was nearly sick. You're aware that it's something that people love and they know all the voices. You don't want to read it wrong."
Back in the autumn, the BBC announced that long-wave transmission was slowly being wound down.
And with long-wave being vital to the Shipping Forecast because of the range of the frequency, could this be the end for the Shipping Forecast as we know it? Not according to the BBC.
It says that long-wave will continue to broadcast the Shipping Forecast for many years to come, until at least the end of the current charter in 2017.
And that means that the quirkiness - as well as vital information - is here to stay.
"Occasionally you get a little something pop up," says Clugston.
"My favourite is 'light icing'. I love saying that - it makes me think of cakes."