Exploring Rick Santorum's Italian roots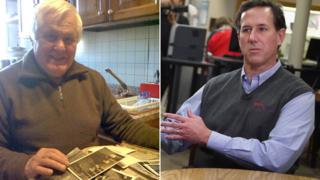 A family in northern Italy believe they are related to Rick Santorum, one of the four Republicans hoping to be the next president of the US.
Gianni Bottesi thought he recognised the features of the American politician he glimpsed on the TV news, as he watched it in his home in northern Italy.
When he saw - and heard - the politician's surname, he said out loud to his wife Giannina, "He must be family - our family."
The politician was Rick Santorum, whose grandfather Pietro left the bustling lakeside town of Riva del Garda for America in 1920.
With him was his young son Aldo, who grew up on the East Coast and became Rick Santorum's father.
For Gianni, watching the TV at his family hotel on the outskirts of Riva, it was a news story beyond politics.
He had long since lost contact with his mother's side of the family - the Santorums, who were in America - and he was thrilled by this unlikely update.
Rick Santorum has spoken about his grandfather as being inspirational for his presidential campaign.
Pietro Santorum, he has told audiences, left Italy because he was worried about Mussolini's rise.
Riva's museum displays photographs and artefacts from the fascist era. Mussolini came to live beside Lake Garda and his experimental republic was at nearby Salo.
But Santorum is an old surname in the Riva area. "About as common as Smith is in England!" someone said when I arrived, intrigued to trace what remained of the politician's line.
Santorum lives on as a name in the town but I was advised that direct connections with the candidate had probably long gone.
I tried my luck in a bustling piazza, where locals were cooking polenta for a public festival.
"Santorum?" I asked a trio of elderly men. "America!" they replied in unison.
When I expanded a little, one of them suggested I try asking in a district on the outskirts of town.
Walking there against a tide of people rushing to town for polenta, I wondered if my quest was just a little far-fetched.
But when I tried the local tabacchi (tobacconist), the owner did not seem in the least surprised. It turned out he was from Milan and kept up with international news.
He confidently suggested that I could ask the owner of a hotel a few streets away. "But now," he sighed, "I think it will be closed."
The hotel was indeed closed but I rang one of several bells.
The door clicked open for me. Inside, a charming woman leaned over a balcony.
I explained in my feeble Italian that I was looking for family of Rick Santorum - feeling, even as I said it, that it seemed a random quest indeed.
The 'Santorum look'
But it was as though the family were expecting me.
They welcomed me into their living room, sat me down at a table and brought out the previous day's local newspaper, which had a full-page story, on page 34, about Riva's unexpected link with American politics.
And an interview with a local couple of Santorums.
Meanwhile Gianni's wife, Giannina, brought out a bulging family photo album.
While she went through it, the images tumbling on to the table, her husband tried to enlighten me about Santorum family history.
My brain was spinning at the sheer numbers of cousins and which line was which.
There was a Giuseppe Santorum, I learned, who had six children including Maria, who had given birth to Gianni Bottessi in 1938.
"So that makes you Rick Santorum's distant cousin?" I suggested, as Gianni's granddaughter Martina joined us as translator, and other relatives appeared from other parts of the family-run hotel.
Giannina was still working her way through the album. Nothing just yet of the American emigres and none, in particular, of Rick Santorum who, according to the local newspaper, had visited Riva at least once.
I thought one relative did have a strong facial resemblance to him.
"There is a Santorum look," Gianni said, and a few minutes later a young child appeared, to show me the distinctive family colouring of pale eyes.
"What colour eyes does Rick Santorum have?"
I had to admit I had no idea and, anyway, Santorum's mother is Irish-Italian.
Before I left this wonderfully hospitable family, I was taken on a Santorum mini-tour of the cemetery, the church and the house where some relatives had lived.
Whether or not this all ends up on a tourist trail, it has been an interesting few weeks for Santorums on either side of the pond.
And Gianni Bottesi is claiming a personal victory.
He is delighted, to have news of Santorums living and thriving in America - however late it is in arriving.
Update 15 February: This report has been revised following conflicts with information provided by others claiming kinship with Rick Santorum.
How to listen to From Our Own Correspondent:
BBC Radio 4: A 30-minute programme on Saturdays, 1130.
Second 30-minute programme on Thursdays, 1100 (some weeks only).
Listen online or download the podcast
BBC World Service:
Hear daily 10-minute editions Monday to Friday, repeated through the day, also available to listen online.
Read more or explore the archive at the programme website.