Can you advertise British weather to tourists?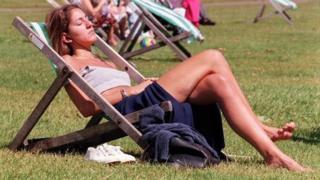 British weather is often seen as a drawback but a marketing campaign is hoping to use the nation's favourite talking point to attract foreigners. So can Britain's weather really boost tourism?
There is little Britons love moaning about more than the weather.
Barely a day passes without a familiar exchange along the lines of: "Isn't it terrible weather? Isn't it cold out?".
Indeed some would argue that - along with tea drinking and queueing - lamenting the weather is almost woven into British DNA.
But according to Culture Secretary Jeremy Hunt, Britain is selling itself short.
He says British weather is much better than both Britons and foreigners - who tend to think of Britain as a rainy and cold country - believe.
Announcing a government campaign to attract more tourists, he told the Times: "We have much lower rainfall than Paris. We have to make sure people understand the reality about the weather."
So could the weather actually be Britain's secret weapon?
The Independent's travel editor Simon Calder thinks the campaign might be on to something.
"It is the British way to grumble about our weather - but the more you travel, the more you understand that we enjoy a wonderfully diverse yet usually benign climate.
"San Diego in California may claim the balmiest weather, and Phoenix, Arizona, the sunniest, but ours is much more interesting," he says.
Far from bemoaning the weather's changeability, travel writer Hilary Bradt agrees that it is its variety that makes it so exciting.
"There is nothing monotonous about the British weather, and it's because of its variety that we have such wonderful landscapes and countryside.
"I used to live in California, and actually the relentless blue skies became very boring," she says.
But even if British weather is better - and more interesting - than people think, how easy is it to market?
According to Jonathan Gabay, a marketing expert and the founder of Brand Forensics, selling the weather is always going to be an uphill struggle.
"A few years ago Israel ran a marketing campaign that showed the country wasn't all desert - it showed Tel Aviv - that was acceptable because it was fact.
"The trouble with the weather is that, even with statistics - for example saying the rainfall is actually x, even though you thought it was y - how on earth can you be sure it will happen? It's variable," he says.
As far as facts go, rain actually falls on fewer days a year in London than it does in Paris, Santander in Spain, and Wellington in New Zealand, according to VisitBritain.
Over the last 30 years, the average maximum temperature in July has been 20.6C in Teignmouth, Devon, 19.4C in Newton Rigg, Cumbria, and 22.8C in Greenwich, London, Met Office figures reveal.
That compares with 18C in Auchincruive, Ayrshire and 19C in Armagh.
But even with statistics, Bradt thinks it will be difficult to change people's perceptions - especially if it needs to start in Britain's own backyard.
"The campaign might be able to change foreigners attitudes - even though the strong perceptions of foggy Britain from the 60s and 70s still persist - but it will be difficult to change British attitudes.
"The British love complaining - it's either too hot or too cold, too wet or too dry - our whole culture is based on complaining about the weather, it's what binds people together," she says.
Gabay thinks there is also another factor at play. According to the branding expert, this is the era of the most cynical consumers ever, and toying with one of the things people most look forward to - their two-week break - is quite a risk.
"There are a couple of things that you don't mess with consumers over - one is religion, another is money - the past performance of a fund does not necessarily reflect its future performance - but perhaps the one that supersedes them all is their holiday," he says.
Rather than using the weather as a "hook", Gabay thinks it would be safer to focus on Britain's heritage, landscape or people.
"Admittedly not everyone wants hot weather, not everyone wants a beach. But if you are going to hedge your bets, people are go to Marbella rather than Manchester," he says.
However Calder believes Britain could do much more to market itself, especially off season, by pointing to some surprising features.
"For example in the lovely county of Somerset, the driest month is April. And its joint warmest month - with July - is May," he says.
So where does Calder think is the best weather in Britain?
"Scotland, by a mile, where a day without at least two or three seasons represented is unusual," he says.