Komen and Planned Parenthood: The pink army revolts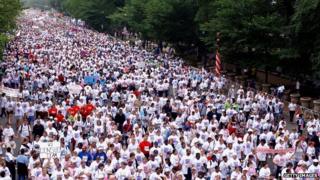 The Komen foundation taught women to fight for breast cancer care. Then they cut funding, and women fought back.
Before Susan G Komen, breast cancer was at worst a shameful secret, and at best a cold, clinical tragedy that most women felt lucky enough to ignore.
Thanks to their relentless campaigning and unprecedented fundraising, the Komen foundation turned breast cancer into one of the most prominent causes in America.
They empowered women to take control of their health and demand proper care, and in the process raised millions.
So when Komen announced they would no longer fund breast cancer prevention programs provided by Planned Parenthood, they faced a week's worth of scorching attacks, and eventually revised their new policy.
In the end, Komen was defeated by an army of their own making.
"They have for almost 30 years been promoting a message of empowerment and taking responsibility of your health and sisterhood, and it was a large part of that constituency that rose up against them," says Samantha King, a professor at Queens University in Ontario and author of the book Pink Ribbons Inc.
Uncontroversial beginnings
The Susan G Komen for the Cure Foundation began in 1982 and grew to be the "global leader of the breast cancer movement," investing more than $1bn in cancer research and support.
It partnered with corporations and universities, making breast cancer awareness synonymous with pink and pink synonymous with women everywhere.
Their Race for the Cure events spread across the country, creating a place where survivors and their supporters could celebrate life while raising money. Their savvy corporate partnerships turned the supermarket pink with branded products, making everyone feel like they were doing their part to fight the disease just by ticking off their shopping list.
"Instead of being about the metastatic disease of the mammary gland, they converted breast cancer into one of the least controversial things in the world, which is there's a woman in your life that you love," says Amanda Bower, associate professor of marketing and advertising at Washington and Lee university.
That non-controversial stance and mass appeal made the charity attractive to corporate sponsors, which increased its visibility and spread its core message: that breast cancer was the main health priority for women of all ages, and the fight against it a worthy cause for all Americans.
"I've given a lot of talks on breast cancer. At the end of the session people will come up to me and say, 'I have lung cancer. Why doesn't anyone ever give a talk about that?'" says Barren Lerner, author of The Breast Cancer Wars and professor of medicine at the Columbia University Medical school. "The answer is a group like Komen hasn't emerged to publicise it in that sort of way."
Pink revolution
The face of Komen had always been non-political. "[Komen president] Nancy Brinker especially has been heard to say 'We don't think this is political, I don't consider myself an activist, and I'm especially not a feminist. Breast cancer affects everyone'," says Ms King.
With that unifying stance, it motivated a generation of women dedicated to breast cancer awareness, a pink army mobilised to protect every resource available in the fight against breast cancer.
In 2009, the United States Preventive Services Task Force issued new guidelines for mammograms. Research showed that women had been getting too many, and the mammograms were turning up too many false positives, leading to both unnecessary cancer treatments and radiation exposure.
While previous guidelines encouraged women to start getting mammograms at age 40, the new recommendations said it was better to wait until aged 50.
On the face of it, it looked like a common-sense guideline founded on evidence-based medicine. But the reaction from American women was one of outrage. They literally took to the street in protest, while celebrity survivors gave interviews decrying the decision.
Their feelings were bolstered by Komen, who demanded that these recommendations not impact insurance coverage for women under 50. In an official statement, they noted that: "The failure of age-appropriate women to undergo mammography costs lives and reflects problems with access to care and breast cancer education. We need to work as rapidly as possible to correct these deficiencies."
So when a new obstacle came to mammogram funding, Komen shouldn't have been surprised - even if they were the ones making the change.
"They have created a group of women, many of whom are survivors or family members, many of whom are enormously passionate about anything you can do about breast cancer, whether it's treatment, prevention, or research," says Dr Lerner.
"These are absolutely the last people in the world who would tolerate this kind of move."
Online activism
When the news broke that Komen would no longer offer grants to Planned Parenthood - a decision that affected about 117,000 women's ability to receive preventative care - many of the same women who had pinned pink ribbons on their Twitter avatars and posted their bra colour on Facebook in the name of cancer awareness were tweeting, posting and emailing about the decision.
Komen gave multiple reasons for their decision. Still, people couldn't help but feel that cutting ties with Planned Parenthood, a political lightning rod for its abortion services, was motivated by something other than health.
They were outraged that politics had trumped cancer care.
Soon enough, they were retweeting, reposting, and forwarding messages, building a groundswell of opposition and a united front against Komen's increasingly ham-handed response.
Indeed, the outrage seemed to startle the Komen foundation, which at one point released a statement saying it was "dismayed and disappointed" by people's reactions. Komen president Ms Brinker gave a contentious interview with MSNBC cable news anchor Andrea Mitchell, saying that people who "bothered to read" the decision were reacting favourably.
The Komen foundation have been "incredibly tone deaf", says Ms Bower.
In the end, Komen reversed course, though the language of their new policy is still being parsed.
But throughout the entire ordeal, their frustration was palpable: Komen had spent years telling women how to fight against breast cancer. Why weren't they being taken at face value, or trusted to make executive-level decisions about what was best?
Because, in part, Komen built their reputation by refusing to kow-tow to authority if care was at stake, and by showing the world that when individual women work together, they have the power to fight for change.