The death of Joe Paterno: Penn State's spiritual crisis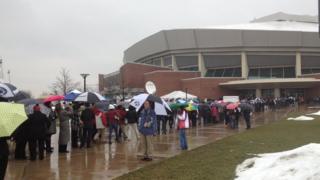 The Penn State community is grappling with both Joe Paterno's death and the uncertain future ahead.
Many of the people in my office are foreigners. They had only heard of football coach Joe Paterno and the Penn State Nittany Lions three months ago, when news of the school's sexual abuse scandal first made international headlines.
When the news of Paterno's death turned into a multi-day affair, they were perplexed: were Americans so in love with football that they'd spend a week celebrating the man sacked for ignoring an alleged child abuse scandal?
As the office's requisite Penn State alumni (we're everywhere), it was my responsibility to explain the culture at my university and interpret the prolonged reaction.
On a very simple level, people are grieving because they lost someone they loved. But they're also figuring out what it means now that the bucolic place they call 'Happy Valley' has experienced such profound tragedy.
If you were to make a list of the people immeasurably harmed by former assistant coach Jerry Sandusky's alleged sexual abuse, the student and alumni who mourn Joe Paterno would not come close to the top.
And when it comes to things that were damaged along the way, "ideals" and "illusions" have the least chance of leaving a scar.
But it's not nothing - especially on such grand a scale, with thousands of people going through the same crisis of faith all at once.
Bubble burst
To call it Happy Valley is telling: the geography is important. Penn State is nestled next to a small mountain, tucked in the centre of Pennsylvania. It's a town that's close enough to Philadelphia and Pittsburgh to make for easy weekend trips home, but far enough away to feel separate: free from big city noise, crime, or traffic (except, of course on football weekends, when the 106,000 capacity stadium briefly becomes the third most populous area in the state).
This cozy isolation allowed us as students to feel safe as we explored the first freedoms of adulthood, and it created the feeling that we 40,000 students were in this together, shaped by the school that brought us here.
It was a very lovely bubble, very recently popped, and the close-knit community has become an echo chamber for grief, the isolation amplifying the impact.
(A similar phenomenon occurs on Facebook, where alumni have flooded their walls with personal stories and photos, making it seem like the only news that's broken all week.)
Identity crisis
To my husband, who went to a big city school famous for using its abandoned football field to test nuclear reactions, the pull of Penn State has always been a mystery. He's never seen as many people, let alone his normally aloof wife, be so earnest, so attached and so enthusiastic about an institution.
Those who attended Penn State were incredibly privileged: we were being trained for adulthood in a bucolic enclave, all the while being told that by doing so, we were part of a unique community - a group of people destined to do great things, and be great people.
The source of that ever-constant affirmation was Paterno, who loved Penn State and truly believed in the power of its students to make a positive impact on the world.
This is the part where I disclose my ties to Paterno, which are multiple but slight: I was a member of a senior honour society that proudly counted "JoePa" as a member, which basically meant seeing him speak at our 100 year celebration.
His wife was an honorary member of another student group to which I belonged. She showed up at meetings on occasion, which was always a delight.
One of my favourite professors was recruited by Paterno for a position that the Paterno family endowed. Beyond that, I have half a dozen "Paterno sightings" and stories about running into the coach.
Basically, my Penn State Paterno experience was similar to that of most other students. We didn't know Paterno well, but we felt his influence on everything we did.
And we all felt the totality of his death - even those of us who remain conflicted about his actions regarding Mr Sandusky.
Lashing out
Paterno wielded his power as a football coach to instil a sense of dignity and excellence at the school, and the students strove to follow his example.
His values became our values. His motto, "success with honour" is repeated like a mantra.
The problem, of course, is that there's nothing honourable about letting child sexual abuse continue unabated.
While many students still believe Paterno did the right thing regarding Mr Sandusy, there's no denying that something very horrible happened at our school, executed and enabled by some of our own.
The high-ranking officials who are implicated in covering up Sandusky's abuse were all people who claimed the same moral code that Penn Staters hold so dear.
That's a large part of why the entire community seems to be suffering a spiritual crisis, and why their tears won't stop. Not only has the man they looked to for guidance and support passed away, but the very legacy on which his empire was built has fallen so sharply into question.
"Legacy" has come up time and time again this week. Former players at Paterno's memorial spoke of it glowingly, while students on campus worried about how it would be tarnished.
Paterno's legacy, it's clear, will be determined by the students and alums he once inspired, many of them now angry and confused.
His final impact on the school will be how those of us who mourn him move forward, and what we take from the life lessons he provided, intentionally or otherwise:
Never rest on the strength of your reputation alone, and work every day for your good name. Do good work for the sake of good work, regardless of how it's recognized. Focus on those in need instead of on yourself, and be grateful for your good fortune.
And, most importantly: the choice to be better than we were the day before is one we have to make all the time. And when we don't choose to be better, we only get worse.