What do people on £1m salaries do with their money?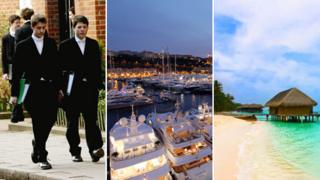 RBS boss Stephen Hester has just turned down a £1m bonus after a public outcry. But just what do people who earn a million pounds a year spend it on?
A million pounds symbolises a life of luxury in the popular imagination - the mansion in Knightsbridge, sports cars, homes dotted around the world, children at an expensive school.
Royal Bank of Scotland chief Stephen Hester waived a bonus of £963,000 paid in shares that were not redeemable for two years. But his basic salary is £1.2m a year, more than most people would even dream of earning.
So what do the million-pound earners actually spend their money on?
Property
Property will be the biggest cost. On a £1m salary, you could get a mortgage up to four to five times that if outgoings were low, says Mark Harris, chief executive of SPF Private Clients.
But it's assessed on an individual basis - if someone is heavily committed - say three kids in private school, loan on a property abroad, maybe maintenance on a previous spouse, it could be about £3m. If there is less of that commitment - such as a single footballer on a £1m a year - you could be looking at four to five times their salary."
Take home pay after tax is likely to be £500,000, or about £41,500 a month. For someone borrowing £3m with 3% interest on an interest-only mortgage - widely favoured by those who earn large bonuses - the monthly mortgage payment works out at about £7,500 a month, which is easily affordable to million-pound earners, says Harris. For your £4m house you would have needed a 25-35% deposit.
But what can £3m buy in today's property market? The golden triangle for the million-pound earner is Kensington, Chelsea and Knightsbridge in London, says Harris. South-west London would also be an option - Putney, Clapham, Wandsworth. South down the A3 corridor - ie Guildford, Weybridge, Esher - are other popular areas.
But even on a million-pound salary London's Mayfair, which includes Belgravia, is off-limits for a family house, says Peter Murray, residential director of Jones Director, Residential Jones Lang LaSalle.
Education and staff costs
Fees at a top public school are more than £30,000 a year for boarders, with Winchester College on £31,350 and Eton clocking in at £30,981 plus a registration and entrance fee.
A top UK university charges tuition fees of £9,000 a year, but that's taken out of the student's income after graduation. However, there's still living costs to think of.
And for million-pound salary earners with children who aspire to be in business there's the cost of a postgraduate MBA course. London Business School charges £53,900 for its MBA, while Warwick Business School charges £30,000 a year. Again, living costs are on top.
A private tutor can start at about £40 an hour, which might work out at several thousand pounds a year.
A nanny can cost anywhere from £500 to £1,200 a week, according to the Chelsea Staff Bureau. The nanny may live in the house or it may be that they need to be found a flat. If the nanny is taking the children to school they may need to be bought a car.
A gardener may cost anywhere between £15 and £30 an hour.
Leisure
Holidays are a major cost. Summers are likely to be taken in a staffed house in France or Tuscan farmhouse, says Lucia Van Der Post, founding editor of the Financial Times' How To Spend It, with winters in a fully catered skiing chalet with private ski instructor.
"Intergenerational" holidays involving children and grandchildren for special occasions are a coming trend. For a family of five, a top of the range safari might cost £60,000 to £70,000 a year, Van Der Post estimates.
Hester has been regularly pictured in the newspapers on horseback in hunting regalia. Horses don't come cheap. To keep a horse at a livery stable for a year could cost £8,400, according to the British Horse Society.
Many young bankers on a million a year have a "flash" lifestyle, says Geraint Anderson, author of City Boy, who worked as a stockbroker for 12 years, with his salary and bonus package peaking at £620,000 a year. There are men in their 20s who like to spend it on cocaine, champagne and strippers, he notes.
A night out could cost £2,000 and a cocaine habit £30,000 a year, although some of this behaviour may have calmed down since the financial crisis, Anderson says. The women would spend their cash on shoes and handbags but were generally more cautious, he says.
Investments
Any sensible person who earns a large salary is likely to invest a large part of it, not least because of the knowledge that the million-pound salary job might not last forever.
Pensions, property and shares might all be large outgoings.
Anderson says he knew people who had invested extremely wisely.
"One guy who earned not more than a million [a year] over the years created a property portfolio in Sevenoaks of 200 properties."
Transport
Cars are a favourite for many wealthy people. As your salary rises, so do your expectations in terms of cars. A Porsche 911 Carrera is listed at £71,449. A more family-orientated car like a Mercedes E-class estate would set you back £31,475. At the other end of the spectrum a Ferrari 458 Spider would cost £198,906, Knightsbridge dealer HR Owen says.
But there are some things a million pounds won't bring you. "A million is a huge whack but it's not enough to have your own yacht, that you're not going to do the sailing. That'll cost hundreds of thousands," says Van Der Post.
Many types
It's difficult to generalise about million pound earners. "There are as many ways of spending a million quid as different personalities," Anderson says. But in the City - where a large proportion of these earners will work - money takes on another dimension, he argues.
It is used to judge a person's worth. "Money is a gauge by which you measure how wonderful someone is."
And before the financial crisis a million pounds was seen as small beer. "I remember seeing a 25-year-old telecoms analyst storming out of a meeting where he'd just been handed a million pound bonus. It wasn't enough."