The silence over gay footballers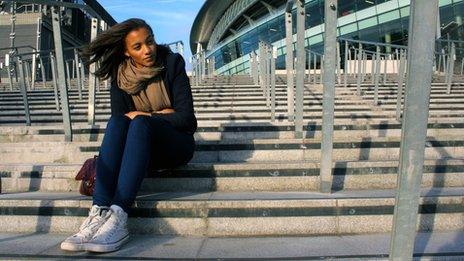 There are currently around 5,000 professional footballers in Britain, but none are openly gay. Amal Fashanu, niece of Justin Fashanu, asks why no gay player has followed in her uncle's boots in nearly 25 years.
My late uncle, Justin Fashanu remains the only professional footballer in Britain ever to come out publicly as gay.
Justin broke into football as a teenage prodigy at Norwich. In 1980 he won the BBC's goal of the season award for an incredible strike against Liverpool. I still feel a surge of family pride every time I watch it.
It's the casual celebration which always gets me. That was Justin. Effortlessly talented, effortlessly stylish, if a touch cocky.
But what I learned about Justin is that, sadly, "that goal" marked the high point of his career.
He was catapulted to fame, when Nottingham Forest paid a million pound-transfer fee to Norwich. But it was largely downhill from there.
Forest's manager, the famous Brian Clough - or in my family the infamous - took a disliking to Justin.
In his autobiography, Clough recounts the confrontation he had with Justin over rumours about frequenting gay clubs in Nottingham:
"'Where do you go if you want a loaf of bread?' I asked him. 'A baker's, I suppose.' 'Where do you go if you want a leg of lamb?' 'A butcher's.' 'So why do you keep going to that bloody poofs' club?'"
Those were the typical attitudes Justin faced in his profession, and very little had changed by the time he took the momentous decision to come out publicly a decade later in 1990.
These prejudices he had to endure saddened, rather than shocked, me. But what I did find surprising was the slow pace of change within football since my uncle's courageous step into the limelight.
I learned Justin was no angel, but he genuinely believed he was setting an example to other players facing discrimination. Sadly, it's an example no other gay player has felt able to follow in nearly 25 years.
Why? Several reasons, I discovered. Matt Lucas, comedian, avid Arsenal supporter and one of Britain's best known gay football fans, shocked me with his description of the homophobia still prevalent on the terraces.
But I learned it's not simply a case of the terraces frightening a gay player from coming forward. Max Clifford, the celebrity PR guru, pinpointed the role of agents and their perception that an openly gay player would be a weak commodity in the transfer market.
"If by their star coming out, it's going to affect their earnings, then they won't want them to do it," says Clifford.
Clifford also told me he had been approached by gay and bisexual Premiership players, terrified that their sexuality would come out and petrified that this would mean the end of their careers.
Joey Barton, Queen's Park Rangers outspoken captain, feels close to the issue as his father's youngest brother initially hid his homosexuality. Barton highlighted "archaic figures" in management positions as an obstacle to gay players.
Former basketball star turned psychologist, John Amaechi, who came out after retiring as a professional sportsman, went even further.
"Football is clearly not that comfortable with women in board rooms. They're clearly not that comfortable with black people in management positions. And so, when it comes to gay people, that just blows their mind," said Amaechi.
But there were some definite chinks of light. I encountered determined campaigners for change, like the Gay Football Supporters' Network, which has been trying to fight homophobia in the game for many years.
Other organisations, like Kick It Out and Show Racism the Red Card and the Professional Footballers' Association, have also added homophobia to their anti-discrimination agenda in recent times.
The Football Association, the game's main governing body and so often the target for criticism over its shortcomings and failings, are about to launch a four-year plan aimed at encouraging more gay players to participate at grassroots level.
Barton was adamant that within the next 10 years there will be an openly gay footballer in the professional game.
However, I was left with the overwhelming feeling that progress has moved at a snail's pace since Justin's era. As someone from a different generation, who works in fashion with gay colleagues on a regular basis, I found this particularly hard to comprehend.
As well as being a great eye opener here, my research allowed me to close a very difficult chapter in my family life, which has always bothered me. By the time Justin came out publicly, his relationship with my dad, John Fashanu had broken down.
My dad was upset that Justin had not at least consulted him before taking this step. When Justin later took his own life in 1998, following unfounded allegations of sexual assault in the US, it was shattering for my dad and family.
I think as a 10-year-old my family, rightly, tried to protect me. But I was deeply upset by watching a documentary about Justin's life made shortly after he killed himself and discovering how my dad reacted in the media to Justin coming out.
He said his brother would have to "suffer the consequences" and that he "wouldn't like to play or even get changed in the vicinity of him". I also heard for the first time the message that Justin left in which he said he felt abandoned and alone.
Reliving that terrible time just made me wish I had been old enough back then to be there for Justin. I'm not saying I could have changed everything but I think he only needed that one family member or someone close to help. He shouldn't have ever felt alone and I think that's what most distressed me.
I spoke to my dad about his reaction at the time and asked him whether he would now have changed any of his actions.
"I'm not homophobic and I never had been, but at the time I was certainly cross with my brother," said my dad.
"I sleep at night wondering all the time, could I have done more and I keep coming up with the answer, yes I could have done more. Does that console me? No. We've cried for nearly two decades for Justin, it's enough."
I think I've come to realise myself that maybe Justin wasn't the perfect person that I had painted when I was 10 years old, and maybe he did do some things that upset our family. But having said that I still don't excuse my dad for disowning his brother publicly.
My uncle's death and this family episode were tragic. But this should never disguise that Justin was proud to be who he was and proud to have been a pioneer.
Related Internet Links
The BBC is not responsible for the content of external sites.