The castaway who annoyed Churchill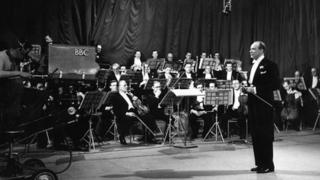 The first ever castaway on Desert Island Discs 70 years ago was a man who not only annoyed Winston Churchill but also earned Adolf Hitler's enmity. So who was Vic Oliver and why isn't more known about him?
Vic Oliver was welcomed on to the first ever Desert Island Discs programme as a "comedian, lightning club manipulator, violinist and comedy trick cyclist", according to the surviving scripts.
That is quite an introduction.
Recorded in the BBC's bomb-damaged Maida Vale studio on 27 January 1942, the first ever Desert Island Discs aired on the Forces Programme at 20:00 two days later.
Oliver was a radio comedian, an Austro-American variety star and music hall bill-topper.
He was a brilliant musician who, while playing his instrument deliberately badly for laughs, led the way for comics Les Dawson and Victor Borge.
But behind the veneer of showbusiness and celebrity, his life story is as compelling as it is colourful.
Born Victor Oliver von Samek in Vienna, Austria in 1898, Oliver's fame peaked during World War II. His hit BBC radio series Hi Gang! was so successful that it had film and theatre spin-offs.
"These programmes used to get bigger audiences than EastEnders does now so it's hard to get your head around how much they've been forgotten," says Dr Sian Nicholas, of the Centre for Media History at Aberystwyth University.
Oliver's original plan was to train as a doctor in Vienna but that was interrupted by World War I. It was rumoured that he had fought alongside Adolf Hitler, though Oliver chose never to address the subject.
Once the war was over, he concentrated on music and studied piano, violin and conducting at the Vienna Conservatoire before becoming assistant conductor at the Graz Opera House.
After emigrating to the US, he played piano in restaurants, bars and silent cinemas. The leap into comedy came when announcing a charity collection during the interval at a theatre where he was performing.
His English was still poor and he ended with the words: "I shall now come down and go through you all."
Laughter and large donations followed and a comedy star was inadvertently born.
A little while later, Oliver met a British stage dancer. Her name was Sarah Churchill and she had a very famous father.
The romance grew quickly and their love life was played out in the papers as any major star's would be today.
Oliver had become a big star in the US, both on radio and on the stage. He began to be offered work in Britain, travelling to star in Charles B Cochran's 1936 revue Follow the Sun.
And despite protestations to the contrary - Oliver told a newspaper in September 1936 that he was not the marrying kind - he had made plans for Sarah, 16 years his junior, to be his wife.
This news did not go down well with the Churchills.
"The first time I saw my mother cry, I was absolutely overwhelmed," Sir Winston's youngest daughter Lady Soames told the Daily Telegraph in 2002.
"I was 13 and she broke down in floods of tears because Sarah had run off to America to marry Vic Oliver. I realised then how much Sarah had hurt them."
In letters released after Sir Winston's death, he referred to Oliver as "common as dirt", among other unflattering things.
Despite the Churchill family's initial objections, the couple married in New York on Christmas Eve 1936.
"It would be such an unsuitable marriage," says Nicholas.
"For Churchill, he was a nobody, an immigrant nobody, a Jewish nobody, an entertainer. The fact that he's made a lot of money from it didn't really matter. I'm not surprised that, in private, Churchill wasn't impressed at all."
But it is believed that Churchill warmed to his son-in-law over time and, according to biographer Paul Addison, was distressed when it became apparent the couple would divorce.
The marriage was a difficult one and, in 1941, the couple effectively separated. Oliver filed for divorce in March 1945.
During the war, Oliver became a big star in the UK. It was in 1940, alongside film star couple Bebe Daniels and Ben Lyon, that Oliver got his British break.
Daniels and Lyon had moved to London in 1935, working during the war by entertaining troops and factory workers - a task for which Daniels was later awarded the Medal of Freedom by US President Harry Truman.
From the idea of amusing people and keeping their spirits up during wartime, the idea for a radio show grew - Hi Gang!
"That programme really put me on the map because, when everyone else was going to the country and sheltering, we were there every Sunday regardless of the Blitz," Oliver said in his only surviving interview, recorded in the 1960s.
"We were there broadcasting to the people and spreading humour and good entertainment among them. The people have never forgotten it, that's when I took out British citizenship."
The programme turned into a stroke of Allied propaganda genius. Hitler began his targeted bombing of London only months after it began.
While Nazi leaflets told of the flattening of London, Hi Gang! and its American stars remained in the capital and broadcast each Sunday for all 52 weeks of the year.
Oliver now had a prominence which, with his Jewish heritage, ensured his appearance in the Nazis' "black book". This list detailed those who were to be immediately rounded up in the event of a successful invasion of Britain.
Other names on the list included Noel Coward, Virginia Woolf and Paul Robeson.
"At the very least, they would have been arrested and interrogated," says Gary Sheffield, professor of war studies at the University of Birmingham.
"Very possibly for many of them, it could have been far worse."
Oliver remarried in 1946 and continued to play in both big venues and appear on radio, even up to 1962 when he appeared in sitcom Discord in Three Flats. He died in Johannesburg on 15 August 1964.
From humble beginnings as a trainee doctor and then a theatre pianist, he had become one of radio's most recognisable voices in an era when variety stars were household names.