Malawian doctors - are there more in Manchester than Malawi?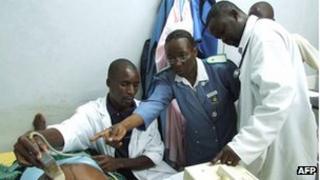 Are there more doctors from Malawi in the British city of Manchester than there are in Malawi itself? Many people have made this claim - including the authors of an international study of health workers, and the head of Malawi's main nursing union.
There is no doubt that many African countries would benefit from more medical staff, and this is certainly true of Malawi.
The World Health Organization estimates there is just one doctor for every 40,000 people in Malawi, and that compares to one per 3,000 in Nigeria, and 1 per 400 in the UK.
This has a predictable effect on Malawian healthcare, where 110 children in every 1,000 born will die before the age of five, compared with six per 1,000 in the UK.
If there were more Malawian doctors in Manchester than Malawi it would be a stark illustration of how many badly needed skilled people had left this African country.
But is this particular "fact" true?
The Medical Council of Malawi has 618 doctors on its register, which all physicians have to join if they want to practise in the country. But a good number of these will have arrived in the country from overseas, and others may have left the country.
Recent estimates from the UK's Department for International Development put the real number of doctors in Malawi at 265.
This number is low, in a country of 15 million - but could there really be more in Manchester, a city of half a million?
This is hard to ascertain as no-one is counting the numbers in the UK. All practising doctors in the UK have to register with the General Medical Council, which says it knows of 34 Malawian doctors across the country. But doctors don't have to specify their nationality when they register, so there could be more.
Instead, the BBC contacted hospitals and health authorities in Greater Manchester - which includes the city of Manchester and surrounding areas - to ask if any Malawian doctors worked for them.
Just seven Malawian doctors were identified, all working in hospitals in Manchester, most of them in training.
There could be more - as hospitals and health authorities do not systematically collect information about nationality either - but it is unlikely to be the hundreds more it would require for the "fact" to be true.
How it began
The myth probably originated in the 1970s and 1980s, says Malawian doctor and social historian John Lwanda, who himself came to study medicine in the UK in the 70s.
That was the decade an agreement was reached, whereby the Malawian government would send a few medical students to the University of Manchester each year.
By the end of the 70s, the Malawian government was becoming anxious because many of the students were not returning from the UK after qualification.
"In 1981 the ministry of health in Malawi made a last-ditch attempt to get their students and doctors to come back home. And we had a big meeting in Manchester - students, qualified doctors were invited to come and attend," says Dr Lwanda.
"And I can imagine probably that when they reported back home that someone from that delegation would have said, we saw more doctors in Manchester than in Malawi."
Dr Lwanda has worked out, with his colleagues Dr Edward Lizi and Dr Henry Matiti, that in 1985 there were 21 indigenous doctors in Malawi and 19 Malawian doctors in the UK.
But that, he thinks, is probably as close as the "fact" came to being true.
The founding of Malawi's one and only medical school in 1991 led to an increase in the numbers of doctors in the country.
However, a 2007 study which followed up the college's first 250 graduates found that two-fifths had left the country and there was a "severe shortage of doctors".
Dr Kate Mandeville from charity Medic to Medic says: "It's more difficult for Malawian doctors to emigrate to the UK now, as the immigration rules changed a few years ago.
"But anecdotally some are emigrating to other African countries like Botswana and Lesotho, which offer higher wages.
"Fortunately the College of Medicine in Malawi is doing a fantastic job and producing many more doctors than before, so hopefully the situation will improve in the future."