Why spend 15 hours a week cutting coupons?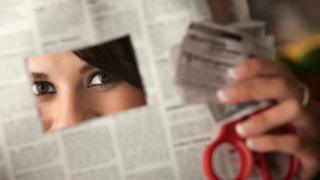 It used to be the domain of thrifty pensioners and families on the breadline - but now a new generation of bargain-hungry shoppers has discovered money-off vouchers. And some even attend couponing class to learn how to get the best deals.
"I would go to the store at night because there was a stigma back then. They were like food stamps. People behind you in the line would roll their eyes."
Kimberly Pepper-Hoctor got the couponing bug from her grandmother, whose thrifty approach to life was forged in the Depression of the 1930s.
She claims to save about $250 (£158) every six weeks on her regular shopping bill, without loading up on unhealthy processed food or stockpiling items she does not really need.
"For a lot of us in the States and beyond, this economy has hit us really hard and if you can save money on your grocery bill, it allows you to take that money and put gas in your car and buy clothes for your kids and have more money for the mortgage," she says.
"A lot of people are having a hard time paying their everyday bills so if you can save in one area, it helps in others."
Couponing is not everyone's idea of fun. Kimberly spends up to 15 hours a week cutting out vouchers from newspapers and planning her shopping trips on a computer spreadsheet.
But far from rolling their eyes at her eccentric hobby, as they did in the past, a growing number of cash-strapped Americans want to learn how she does it.
More than 60 women of all ages and backgrounds (and one male BBC reporter) have crowded into a meeting room at St Mary's County Library in rural south Maryland for Kimberley's latest couponing class.
Incredible as it may seem, for something as simple as cutting coupons out of a newspaper, there is a lot to learn.
Over the next 90 minutes we are inducted into the world of six-week sales cycles, bogos (buy one get one), stacking (using a manufacturer and a retailer coupon for the same item), catalinas and why it is a good idea to shop in pairs.
We find out where to find the best coupons, which stores will still take them when they have expired and the importance of making friends with your local, and soon to be long-suffering, store manager.
Kimberly, 42, whose husband Thomas is in the Navy, began teaching the free classes six years ago on military bases in Virginia, where she was living at the time.
In recent months, she has been almost overwhelmed by demand - thanks, in part, to reality TV show Extreme Couponing which has made coupon-clipping, if not exactly cool, then "more socially acceptable," she says.
"People are more interested in couponing, which is good, but it also makes it harder for me to teach because it's not reality.
"There is a small percentage of extreme couponers who are kind of fanatics, they try to get everything for free and those people, they don't eat healthily, they are not looking at the everyday reality of it."
The growth of online discounting sites like Groupon and promotions on social networking sites have played a big part in the couponing boom - and there has been an explosion of smartphone apps and websites for coupon lovers to share tips and experiences (Kimberly has just launched her own site, The Girl Loves Coupons).
Redemption rates in American stores went up by 22% between 2006 and 2010, according to marketing services company NCH.
But industry experts say the vast majority of Americans still get their money-off vouchers from newspapers which, on a Sunday in particular, are stuffed with them.
The UK has also seen a big jump in redemption rates - and there have been reports that extreme couponing is starting to catch on - but coupons have never been a part of every day life in the way that they are for American shoppers.
US consumer trends expert Audrey Guskey says: "We are conditioned as consumers to use coupons, almost like Pavlov's dogs. 'I am not going to buy it if I don't have a coupon' - that's the mentality that we have.
"A lot of companies like Procter and Gamble tried to get rid of coupons a few years ago and consumers were up in arms: 'We want our coupons.'
"So they had to bring them back. It would be hard to wean consumers off it."
Dr Guskey, professor of marketing at Pittsburgh's Duquesne University, sees the explosion in couponing as part of a broader trend towards discount shopping, with the US still suffering the after-effects of a decade-long "spending-frenzy" and low consumer confidence.
"People are doing everything they can to budget themselves so that what little dollars they feel that they have, they can stretch it as much as they possibly can," she says.
Amanda Kortie, a 32-year-old mother of six, also believes the recent recession has made American consumers more demanding.
"'The customer is always right' has gone out of the window and I think many people are trying to bring that back. I think people are taking back the reins."
Mrs Kortie, who considers herself a "beginner to intermediate" member of Kimberley's class, insists she is ready to put in the hours at the kitchen table with her coupon binder and scissors.
"It is hard work but I consider it my job. I am a stay-at-home mom. My only job is to supply for my children, in a non-financial way, and this is how I do that."
Her hot-tub engineer husband makes enough to support the family but, she adds: "He could make a million dollars and I would still coupon.
"My next adventure will be stockpiling. We don't have room in the house right now so I need to talk to my husband about possibly building on or adding a shed or something."
Maura Maupin, a 40-year-old mother of three, unfurls an immense receipt from her latest shopping trip, when she handed over 122 coupons for 346 items.
She also considers couponing her job and has got it down to such a fine art that the stores are effectively paying her to shop.
Others are not so convinced by couponing's charm.
Amy Jewell, who was sitting on the front row assiduously taking notes, decides she has probably got better things to do with her time.
"I think it's a fad. I really do," she says.
"I think people see it on TV and they want to go to the store with their big binder and show off to everyone."
And there are signs that couponing is becoming a victim of its own popularity.
Some big grocery chains have started getting tough with their redemption policies and placing limits on the number of coupons per customer. There have even been reports of couponers being banned from some stores.
Kimberly advises her class to take a copy of the store's terms and conditions with them and, if the store manager still refuses to play ball when you arrive at the check-out armed with your coupons, phone corporate headquarters.
Or in the last resort, she says, simply walk away.