Scottish independence: The American perspective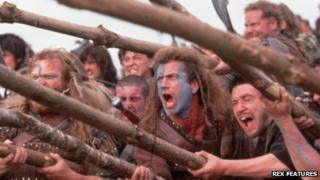 Thousands of Americans will don a kilt on Wednesday and raise a toast to the bard as they celebrate Burns Night. But how much do they know about modern Scotland? And does it matter?
It's the time of year when Americans everywhere get in touch with their Scottish roots, however tangled and distant they might be, as they celebrate Burns Night.
The concept of Scottish identity has recently been invigorated as plans for a referendum on independence take shape in Holyrood. So what do Americans with Caledonian ancestry make of the debate?
"In the minds of most Scottish Americans, Scotland is a country, so the idea of modern-day independence is mostly anathema to them," says Bart Forbes, of Washington DC's St Andrews Society.
"They understood the devolution of the Scottish Parliament but certainly not the details of it. It is another point of pride to being a Scot.
"It's the culture, the romance that captures a lot of Americans' imaginations".
Twisted tales
Their vision of Scotland is mostly taken from movies like Braveheart, Mel Gibson's 1995 tale of Scottish rebel William Wallace, who leads an uprising against an English tyrant, says Mr Forbes.
Few have any idea what modern Scotland is like, he adds, and if they do it will have been picked up from dark and twisted tales like Trainspotting or Shallow Grave.
"There are elements of truth in what people believe the whole of Scotland to be but it is not the whole truth. If you look at the marketing of Scotland, you see these broad mountainous vistas, these sparkling lakes, these old castles.
"They don't talk about the Silicon Glen, they don't talk about the industry around the northern oil fields."
But surely a bit of harmless nostalgia is good for business? Visitors are unlikely to hand over their hard-earned dollars for a tour of a high-tech industrial park.
Up to a point.
The US is Scotland's biggest export market - and the success of an independent Scotland might depend, to some extent, on convincing American investors that there is more to the country than whisky tours and old castles.
Since 2008, the Scottish government has been attempting to rebrand Scotland as "a creative and innovative nation with a rich heritage, contributing to the world as a modern dynamic country".
Commercial focus
To howls of protest from sections of the Scottish press, who claimed he was suffering from delusions of grandeur, First Minister Alex Salmond appointed a Scottish Government Counsellor, Robin Naysmith, to represent Scotland's interests in America.
He replaced the former First Secretary for Scottish Affairs, who had been working in the British embassy in Washington DC since 2001.
Tartan Week, an annual celebration of all things Scottish held every April, was renamed "Scotland Week" and given a more commercial focus - and a succession of Scottish ministers, including Mr Salmond himself, have crossed the Atlantic to drum up business and forge links with American legislators.
Mr Salmond has come under fire for using British taxpayers' money to promote the cause of Scottish independence in America and set up a nascent embassy network in readiness for independence.
The Scottish Affairs Office is reluctant to comment on potential conflicts of interest and insists it is simply there to support the aims of the Scottish government.
In a statement, it said: "Through the Scottish Government's US Engagement Plan, which articulates the government's strategic objectives for the US, our work directly supports the government's overall purpose - increasing sustainable economic growth."
Brigadoon it isn't.
But Mr Salmond's man in Washington, Robin Naysmith, is on a mission to educate the wealthy and influential Scottish Diaspora in America about such modern wonders as Scotland's low carbon energy industry and the Year of Creative Scotland programme.
It has been an eye-opener for Washington's St Andrews Society, which says that before the "Scottish embassy" came to town, it had been content to wear tartan to formal dinners and wallow in nostalgia for a semi-mythical past.
Nuclear weapons
Now it is learning more about modern Scotland and helping out the Scottish government's export drive by forging links between Scottish and American doctors and universities.
It has not always been a smooth ride.
Members of a Gaelic speaking society are, apparently, still smarting after their inquiries about promoting the language in Scotland were batted away by Scottish government officials, who told them that more people speak Farsi than Gaelic in modern Scotland.
The Scottish Government said it works with Gaelic groups "on a daily basis" and has a "very good" record of supporting and promoting the language.
"We are keen to support a wide range of languages that are spoken in Scotland and recognise that we have a special responsibility towards Gaelic," said a spokeswoman.
John King Bellassai, former president of the DC St Andrews Society, says Scottish Americans tend to let romance cloud their judgement when it comes to an independent Scotland.
He admits he is in the minority among his friends in opposing full independence, having balked at the SNP's "pacifist" stance on nuclear weapons and other "left wing" SNP policy positions, despite being a Democrat supporter.
"Americans, I think, are woefully ignorant of what the implications would be from an American point of view," he says.
Even American Scots who do support independence are not always on board with the SNP's ambitions for the country.
Chad McGregor, a 21-year-old New Yorker studying computer science at Aberdeen University, says: "I support Scotland becoming a fully independent nation, maybe without the EU. I am not the biggest fan of the EU."
Mr McGregor, who helps run a website for the Scottish American community, describes himself as a right-wing Republican, and says he and many of his Scottish American friends are planning to travel to Scotland to campaign for independence.
"I have met so many people who are members of the SNP, both in person and online, who consider themselves to be a conservative. They refer to themselves as 'Tartan Tories'.
"They probably disagree with the SNP on a number of issues but, at the end of the day, the independence of their country is more important than their personal party politics."
With the precise date of a referendum still to be set, but the SNP ruling out votes for Scots living abroad, the Scottish American community appears to be as divided about the merits of full independence as Scots themselves.
'Mixed feelings'
No polling has been done on the subject so far, but the New York-based American Scottish Foundation canvassed opinion from some of its members for the BBC.
A spokesman said: "It appears that Scottish-Americans here in the US have mixed feelings regarding the issue.
"While most people are intrigued by the 'notion' of independence, they express a great need to know or understand more exactly what independence will ultimately mean for Scotland in real terms - economically, politically, internationally, and so forth.
"People seem keen to watch the events closely as they unfold, without actually supporting either position at this point in time."
If Alex Salmond really is planning to mobilise the Scottish diaspora ahead of a referendum, he may have his work cut out inspiring the troops.
Time, perhaps, to dig out the Braveheart DVD.