Eve teasing in India: Assault or harassment by another name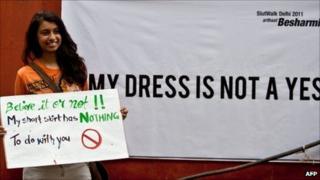 It's an unfortunate truth that women are sexually harassed, and sometimes assaulted, the world over. But in the Indian state of Maharashtra, there is an increasing determination to stamp out "Eve teasing", as it is called here, for good.
It was afternoon and we had just finished filming. My colleague and I were piling into a rickshaw, heading back to the bureau. And that's when it happened. We were suddenly surrounded by a group of boys, barely teenagers.
At first the whole thing seemed harmless, if a little predictable - the cheery interest of a group of bright eyed, smiling boys.
Their approach was not unusual, foreigners and cameras make for an unmissable attraction in India.
But it was only a matter of minutes, possibly seconds, before the smiles turned into a blur of pawing, grabbing hands. Their indecent behaviour was punctuated by cheers, laughter and explicit comments in Hindi.
And that was it. I had been Eve-teased. Or as we describe it in the West, sexually harassed. In broad daylight, on a street in a busy business district of Mumbai.
We managed to get away. Our rickshaw raced down the street in fits and bursts.
But those moments stayed with us - something unpleasant, unacceptable and from our perspective, unforgivable had just happened.
But we also felt the irony of what had just happened.
This kind of harassment, often described in India as innocent play, is commonplace. Yet this is a country in which the predominant Hindu religion worships female deities and claims to respect women.
Stabbed
I remembered that incident a few weeks ago, when I attended a candlelit vigil for two 20-something young men.
They had been fatally stabbed while defending their female friends against a gang of Eve-teasers. This crime took place in the evening on a crowded street full of restaurants and bars.
At the vigil, hundreds of people gathered in a park not far from where the incident took place, to show support for the families of Keenan Santos and Reuben Fernandes.
A slideshow of photographs documenting their young lives played on a big screen. And woven through the chords of the accompanying music were the sobs of a frail, old lady. Keenan's grandmother was crying hysterically into her hands.
But there's more than grief to all of this. The way the investigation and legal proceedings have unfolded has generated a lot of disquiet and shed a bright light on the failings of India's legal system.
Vigilance
One man who wants things to change is Valerian Santos, Keenan's father. In an emotional speech at the vigil he urged the ordinary Mumbaikar to be more active in the pursuit of social justice. To stop when they see someone being harassed, to stand up for women's rights and name and shame those who sexually harass them.
But Mr Santos also said change must be backed up by a legal system that works with victims and their families and not against them.
Valerian and a growing group of campaigners across the city are calling on the state government to overhaul the way in which it deals with crimes of a sexual nature. They say that it should not be possible, as it currently is, for the accused to come face to face with witnesses.
And neither should suspects be allowed to shave off facial hair or change their hairstyles while in custody - also allowed. Campaigners say this makes successful identification hard and weights justice in favour of the accused.
This shocking, violent case has made headlines across India. But it has also generated a new, welcome conversation about the treatment of women across the country.
The government here in Maharashtra, of which Mumbai is the capital, says it will work to make laws tougher and ensure that public areas are policed more vigilantly.
But as I've witnessed - and unfortunately experienced - it may be some time before things really change.
I was once told by a complete stranger: You can wear a trench coat and be covered from head to toe in the depths of an Indian summer but a man with indecent intentions will still try his best to ruin your day.
 How to listen to From Our Own Correspondent:
BBC Radio 4: A 30-minute programme on Saturdays, 1130.
Second 30-minute programme on Thursdays, 1100 (some weeks only).
Listen online or download the podcast
BBC World Service:
Hear daily 10-minute editions Monday to Friday, repeated through the day, also available to listen online.
Read more or explore the archive at the programme website.