Are ice hockey 'enforcers' the toughest guys in sport?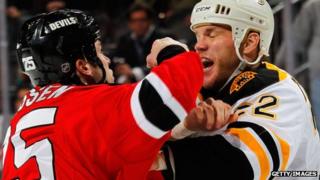 Ice hockey is notorious for brawling - at least in North America's National Hockey League. The role of the enforcers, who do most of the fighting, is the focus of a new film, Goon. But there is growing evidence that some players suffer long-term damage and questions are being asked whether enforcers pay a terrible price.
Jim Thomson barks orders at his young charges at one of hundreds of ice rinks scattered across the vast plains of Canada. He is helping the boys improve at ice hockey.
As a former player in the NHL, the National Hockey League that covers Canada and the US, he is endowed with considerable knowledge and experience.
And yet he has made it his mission to steer the hockey-obsessed teenagers attending his sessions down an alternative path to the one he followed.
Like most young boys in Canada, Jim Thomson played ice hockey. He practised on the frozen ponds of Edmonton, Alberta, hockey's heartland.
He was raised in a trailer park. Money was tight, so his family couldn't afford the necessary kit.
But Jim Thomson was all grizzly determination, and his natural ability with a hockey stick attracted the attention of scouts. His journey to the NHL, the holy grail for Canadian hockey players, had begun.
Jim was a skilful skater, with a fierce accurate shot. He moved east to Ontario where he continued to move up the ranks. But aged 14, people started to notice him for a different skill. Jim was good with his fists.
"I got a big 20-year-old, I'll never forget it - a big guy with a beard. He cross checks me in front of the net, and I go down on to the ice.
"I get up and he's standing in front of me like he wants to fight. So he pushed me and (the) next thing I know he was lying on his back. I caught him with a lucky punch and he was out."
Jim quickly earned a reputation as a good fighter. In North American ice hockey, teams are always on the look out for a bruiser, someone who is willing to skate onto the ice and punch an opponent. Jim Thomson became what is known as an enforcer, and it was his ticket to the NHL.
"Washington Capitals say if you are going to make our hockey team you're going to have to fight. I had 41 fights in 57 games, I had 360 penalty minutes, led the league in penalty minutes, and then I was in the NHL as an enforcer."
The NHL is unique. Nowhere in the world is there a major team sport which tolerates fighting.
Enforcers, otherwise known as on-ice policemen or goons, are employed to protect more skilful members of their team.
They are rarely used for anything else, and they are usually on the lower end of the pay scale.
They fight with their bare knuckles in front of a baying crowd. The referees basically stand by and watch. And when the punching stops the fighters are given a largely meaningless sanction of five minutes in the penalty box.
There is no public outcry, the fans revel in it. There is nothing like it in, say, soccer or even rugby. Ice hockey in Europe or at the Olympics does not allow fighting - if you fight you get sent off.
Jim Thomson was an enforcer for five years, and it destroyed him.
"I started doing drugs heavy, I started drinking heavy. I used those as crutches to get through the fear and the anxiety of knowing that tomorrow I got to go out and fight these two guys that are coming into town that are extremely tough."
Despite once making a good living out of it. Jim wants the NHL to abolish the role of the enforcer.
It's a view which has gathered momentum ever since three former ice hockey hard men died early deaths.
Derek Boogaard took an unintentional yet fatal overdose of drugs and alcohol. Rick Rypien's death was a suspected suicide after a long battle with depression.
Wade Belak was found hanging in a Toronto hotel room. It was initially reported as suicide although his family now say it was an accident. He had also suffered with depression.
People are asking whether these deaths are linked to their violent jobs.
When Derek Boogaard's family donated his brain to Boston University's School of Medicine, doctors carved it open and discovered traces of Chronic Traumatic Encephalopathy, CTE, a degenerative brain disease caused by repeated blows to the head. His brain was ageing rapidly.
Doctors at the centre had previously found CTE in the brains of two other former enforcers.
But despite the disturbing medical evidence, hockey aficionados such as Canada's veteran broadcaster Don Cherry, refuse to believe enforcers are more vulnerable to concussion and emotional problems.
He caused a stir in October when he called Jim Thomson and two other former tough guys "pukes" when they spoke out against fighting. He offers a staunch defence of on-ice punching.
"You have to have enforcers. People love hitting, people love banging, smashing," he says.
"If you see a fight all you have to do is take a look around at the crowd when the fight's on. Nobody goes for a coffee, nobody goes for a beer."
Cherry argues that enforcers are necessary to make the game safer for the more skilful players who need their protection.
But sometimes they square up over a long-term grudge, or as a simple tactic to help motivate their team and excite the crowd.
The laws in the NHL are made by the 30 team owners and their general managers. They have introduced stricter regulations aimed at reducing the number of concussions.
But these are designed to limit the number of illegal head hits during open play, such as unexpected blows to the head from a stick or a flying elbow.
So far the NHL has resisted mounting pressure to dramatically change the rules on fighting.
Brendan Shanahan, who is in charge of discipline and safety at the NHL, says he is not yet ready to accept a direct link between the role of enforcers and CTE.
"I want to learn more. I think it's a bit of a leap right now to suggest there is a definite link, but I think there is enough evidence to show we need to explore it further."
He argues that the two opponents in a fight both know what they are getting into. They accept a certain degree of risk.
It is a role which has been defended by current enforcers - but also by those who have recently retired from the sport.
Georges Laraque, a monstrous tough guy whose highly successful NHL career included stints with the Edmonton Oilers and the Montreal Canadiens, accepts it caused him great stress.
He is convinced last year's deaths are related to the violent nature of their jobs. But he would never attempt to deny kids like him the opportunity he had.
"That's what I did for a living, I want kids that are big like me to have a job like me, that's why I can't ever say I want fighting out of the game.
"If they want to do it we have to let them because now they know the risks more than ever."
Terrible price
So fighting in ice hockey, which has always been part of the NHL, will continue for now.
Jim Thomson however, will carry on lobbying for its removal.
He believes the reason the NHL is refusing to ban brawling is because it fears losing revenues in a crowded sports market.
Ice hockey is the most popular sport in Canada, but in the US it lags behind American football, baseball and basketball.
He worries that enforcers are paying a terrible price.
"I get headaches, my memory is not as good as it used to be. I used to pride myself on remembering things and you know that is a change. Am I worried about long-term damage? Sure I am."