The pampered pooches of Paris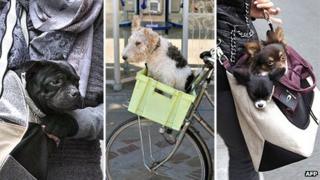 Pet dogs in the French capital appear to enjoy the freedom of the city, accompanying their owners just about everywhere - and even have their own cemetery.
There are hundreds of thousands of dogs in Paris.
They can be chosen from puppy-shop windows or ordered from countryside breeders.
They are seen travelling about the city, nestled amongst the groceries in shopping trolleys or peering out of handbags.
Dogs perch on the running boards of mopeds - ears flying in the wind - or sit, swathed in blankets, in bicycle baskets.
They are petted on the bus, the tram and the metro and, for a flat-rate ticket costing 5.10 euros (£4.25), the smaller ones can escape the metropolis and take the train to anywhere in France.
Access all areas
When on all four paws, dogs in Paris can choose from 72 gardens to walk in - from formal palace grounds to tiny urban squares.
In between, they can mark lamp-posts, trees, ornamental masonry and the corners of Art Nouveau metro stations to their hearts' content.
Paris dogs snooze under cafe tables and sit politely in restaurants.
They are allowed into shops - even when officially not - and, from time to time, sneak into cinemas, usually for a matinee on a wet afternoon.
Each dog has its own preferred vet and there are hundreds to choose from.
Each vet has a preferred dog diet. Calves liver, braised. A little "blanc de poulet" (white chicken meat) or a slice of rare roast beef.
What goes in must come out, and Paris dogs apparently drop 20 tons (20,000 kg) of "crottes de chien" (dog poo) on the city's streets every day, although who exactly weighs it remains a question that even the Hotel de Ville (Town Hall) cannot answer.
These crottes de chien cost an estimated 9m euros (£7.5m) a year to clear up.
Successive Paris mayors have tried - at times, frantically - to tackle the problem, which is of more concern to citizens than that of violent crime, but seemingly to no avail.
From time to time, the city's more creative residents have used the crottes as pavement art, sticking them with coloured flags, photographing and painting them.
Frederic sweeps the streets in the Montparnasse district.
When asked why there is such a problem, he shrugs:
"Je ne sais pas! (I've no idea!) We used to have motorised vacuum cleaners (les motocrottes) but they've all gone.
"Now we have these (he waggles a pair of long-handled tongs) 'Pince-a-crottes' (poop pincers). Fiddly, they are. Usually, we simply swish it in the gutter."
Last resting place
It is a sociable life, a dog's life in Paris, with so many other dogs to meet, greet and play with.
Throughout the city, "Dogs must be kept on a lead", but in the Jardins des Tuileries they are allowed to run free.
Along the tree-lined borders of these palace grounds, where dogs have been walked since the 17th Century, glossy Afghan hounds with jewelled collars sport with feisty Jack Russells, French bulldogs and diminutive chihuahuas in little outdoor coats.
Just across the River Seine, at the bottom of a private garden, lies the grave of Coco, a little Papillon dog which was the last, beloved pet of Queen Marie Antoinette that lived on, pining, after his mistress's execution in the French Revolution.
In another palace garden, Le Jardin du Luxembourg, dogs - kept strictly on a lead - walk under the chestnut trees and regulars gather to talk.
It was here that I heard of a clandestine ritual, confided to me by the mistress of a small black and white crossbreed. This was the furtive scattering of ashes - the last remains of cremated pet dogs - on the limpid waters of the celebrated Medici Fountain.
"A wonderful way to say farewell," she said. "When the park keepers aren't looking, of course."
Paris dogs have had their own cemetery since 1899.
Beneath a bridge of roaring traffic, on a small island in the River Seine, lies a tranquil haven.
You step through the exquisite gates to where the graves are small and fascinating. Here lies Rin Tin Tin, legendary star of the silent screen, laid to rest in his native French soil.
Rescued from a World War I battlefield by a US army cadet, Rin Tin Tin went on to star in 23 Hollywood movies before dying in 1932 in Los Angeles, in the arms of the actress Jean Harlow.
There is a monument to a Saint Bernard - Barry - who "saved 40 lives but died saving the 41st".
And one to Moustache - mascot of Napoleon's Great Army - killed in Spain in 1811.
Here lies Drac, who comforted his mistress, the Princess of Romania - twice exiled, divorced and lonely in Paris.
Here lie Marquise and Tony, dogs of the beautiful Russian Princess Lobanov.
Here lie the graves of myriad Paris dogs - My Darling Minouche, Faithful Belle, Dear Pompon Cheri.
Arry is buried along with his favourite tennis balls. Rosy's grave is marked with a rose bush.
And here lies Emma (1889-1900) whose mistress mourned the loss of "My only friend in my wayward and sorry life".
 How to listen to From Our Own Correspondent:
BBC Radio 4: A 30-minute programme on Saturdays, 1130.
Second 30-minute programme on Thursdays, 1100 (some weeks only).
Listen online or download the podcast
BBC World Service:
Hear daily 10-minute editions Monday to Friday, repeated through the day, also available to listen online.
Read more or explore the archive at the programme website.