The woman credited with creating the sexy single girl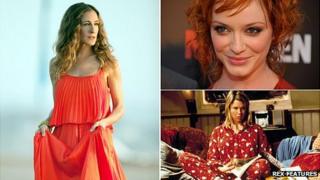 Half a century after the publication of the influential book Sex and the Single Girl, frank assessments of sexual mores are everywhere - in films, fiction and myriad magazine columns. It wasn't always that way, writes Karen Krizanovich.
Helen Gurley Brown didn't invent the single girl. History is paved with unmarried women, among them Elizabeth I, Emily and Anne Bronte, Susan B Anthony and Jane Austen.
But before Brown's landmark Sex and the Single Girl, a woman who was unmarried and childless was an oddball.
Compared with superhero spinsters like Florence Nightingale and Dorothy Parker, an ordinary unmarried woman had the whiff of something wrong with her - some obstacle or horrible personal flaw that stopped her from the exalted roles of wife and mother.
What Brown and her landmark book Sex And The Single Girl did was to show how spinsterhood actually was and to furnish a lively, hilarious chapter-by-chapter guide to its nuances and pitfalls.
With chapter titles such as Women Alone? Oh Come Now!, The Availables: The Men in Your Life and The Affair: From Beginning to End, the book was a runaway hit, selling two million copies in three weeks and making many bestseller lists, including the New York Times's.
Critically, Sex And The Single Girl was either loved or hated - and surprisingly lambasted by some feminists such as Betty Friedan.
A feminist with different views from the first wave of more militant activists, Brown knew from her own experience the needs of this new generation of women.
A female workforce flooded cities like New York, where cheap secretarial power was needed. Along with the invention of the contraceptive pill (the subject of which, along with abortion and lesbianism, was edited from the book's final version), this was the beginning of women competing with men as co-workers and sexual entities.
Brown didn't see men as the enemy - nor was she necessarily against marriage and children.
She agreed that men and children were wonderful, but she emphasised that women must have a life of their own. Brown's "single girl" became a kind of female James Bond armed with powerful social, vocational and sexual know-how.
Brown once said: "Bad girls go everywhere." She meant her single girl was someone men wanted and women wanted to be.
Brown also knew, as a self-confessed shy girl, or "mouseburger", that many women didn't want a radical feminist manifesto - they wanted a softer, more alluring role model who could nevertheless deliver Machiavellian tips.
Sex And The Single Girl (and later on, Cosmopolitan magazine) showed women how to get what they wanted by working within the male-dominated society rather than at odds with it and in that way, her approach shows the cunning of "female thinking".
She encouraged single women to use everything at their disposal to survive and succeed - including sex.
On that count, Brown can still shock - she said women could have sex with anyone, even married men. Once she suggested that women utter specific words during their partner's orgasm, a Pavlovian technique to associate her goals with his pleasure.
Brown's wildly imaginative advice suggested a whole new world of possibilities, many of which were made to sound plausible by Brown's unique delivery.
As the director of promotion and publicity at Bernard Geis Associates which promoted Sex and the Single Girl, Letty Cottin Pogrebin says: "[Brown] has a way of saying the most outrageous things in the sweetest, most polite voice. She is really preaching equality of a sort that was not seen or heard about."
Sex and the Single Girl's message remains controversial. As Observer columnist Katharine Whitehorn says, "the thing that was absolutely staggering was that there isn't a single word in [the book] of any of this having any moral consequence at all."
At the time, no-one knew the moral consequences of the 1960s, which until much later in that decade, retained much of the conservatism of the 1950s. Brown was merely highlighting a social phenomenon as it happened.
The reach of Sex and the Single Girl is wide and long. Bridget Jones would not exist without Helen Gurley Brown, ditto TV's Mad Men.
Mad Men's creator and executive producer Matthew Weiner admits Sex and the Single Girl directly influenced Mad Men - particularly the character of Joan (played by Christina Hendricks).
"The style and thoughts in this book have not disappeared," says Weiner. "They are still part of the culture. The fact that it is Sex and the Single Girl, that retro concept of the powerlessness of some innocent going into the office, I don't think that's changed. "It's still a primary issue: how do I not become a man. Why do I have to become a man to succeed? And when I do become a man, it doesn't get me where I need to go because men don't respond to it."
Three years after the book's publication, Brown went on to edit the ground-breaking Cosmopolitan magazine, for which she remained US editor until 1997. She continued to court controversy.
Today, Brown, born in 1922, no longer wishes to be in the public eye but she was still named by Slate as the 13th most powerful American over 80.
Sex and the Single Girl was never meant as a hardcore political tome.
It is a saucy, knowing guidebook to the pleasures of being a single young woman. The original version of "girl power", it didn't envisage the ladette but it did open the world's eyes to what had been very private before - sex and its social dynamic.
What Brown wrote was shocking because it was the awful truth as summed up by Erica Jong.
"Men and women, women and men. It will never work," she said. And yet it does.