Faces of the year 2011 - the men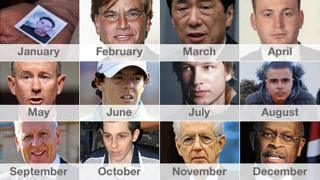 Some of the men who have made the headlines in 2011, left to right: Mohamed Bouazizi, Aaron Sorkin, Naoto Kan, Ronan Kerr (top), William McRaven, Rory McIlroy, Anders Breivik, Mark Duggan (middle), Alan Graham, Gilad Shalit, Mario Monti, Herman Cain (bottom). The women who made headlines was published on Wednesday.
January
Mohammed Bouazizi was a 26-year-old Tunisian selling fruit and vegetables in the city of Sidi Bouzid, supporting eight people on less than $150 (£100) a month. When police confiscated his produce, claiming he didn't have the necessary permit, he doused himself in petrol and set himself alight. His action initiated the Arab Spring that saw his country's President Ben Ali toppled and later other Middle-Eastern leaders. Nearly three weeks after the incident, on 5 January, Bouazizi died. He was posthumously awarded the European Parliament's Sakharov prize.
Suicide protester dies in Tunisia
February
Screenwriter Aaron Sorkin, of West Wing fame, won an Oscar for his screenplay for The Social Network. Although the film charts the story of Facebook creator Mark Zuckerberg, Sorkin admitted he is no technophile. What appealed to him were the age-old themes of loyalty, betrayal, power and envy. He remarked that these were the subjects that Aeschylus, Shakespeare and more recently, Paddy Chayefsky wrote about. He added: "I was just lucky enough that none of these guys were available, so I got to write about it."
Aaron Sorkin: Oscar win like being hit with bat
March
Naoto Kan had the misfortune of being Japan's prime minister when the country experienced the biggest earthquake in its history and the resulting and devastating tsunami. This led to the worst nuclear accident since Chernobyl when the Fukushima reactor caught fire. A founder of the Democratic Party of Japan that swept to power in 2009, Mr Kan inherited a divided parliament, a stagnating economy and a huge public debt. These concerns weighed against him together with his perceived lack of leadership in responding to the crisis, and he later resigned.
Japan's prime minister Naoto Kan resigns
April
A 25-year-old Catholic policeman, Ronan Kerr was killed by a booby-trap bomb that exploded under his car outside his home in Omagh, Northern Ireland, as he set off for work. He had only recently completed his training for the Police Service of Northern Ireland (PSNI). Both sides of the sectarian divide condemned the atrocity, as did international politicians from Hilary Clinton to the Dalai Lama.
In pictures: a week of mourning
May
Vice Admiral William H McRaven masterminded the attack by US Navy Seals on the compound in Pakistan that resulted in the death of Osama Bin Laden. He had planned the operation for three months and President Obama personally thanked him at the White House. McRaven has commanded at every level within special operations and had recently spent much time in Afghanistan conducting night-time raids on insurgents. One former commander described him as "physically tough, compassionate and can drive a knife through your ribs in a nanosecond".
The mastermind behind Bin Laden raid
June
After four near-perfect rounds, Northern Ireland's precociously talented golfer Rory McIlroy took the US Open title by eight shots and broke the tournament's record by four strokes at 16 under par. In so doing, the 22-year-old banished memories of his meltdown at The Masters in April. When the final putt dropped, he hugged his father and then shook the hand of his friend Graeme McDowell who won the tournament last year. McDowell said: "Nothing this kid does surprises me. He's the best player I've ever seen."
Remarkable Rory McIlroy wins by eight shots
July
On 22 July, Norwegian Anders Breivik disguised himself as a police officer and exploded a car bomb in the centre of the capital Oslo, killing eight people. Still in uniform, he drove to the island of Utoeya where a summer youth camp of Norway's governing Labour Party was being held. He then shot dead 69 people, mostly teenagers. His motive, according to an online manifesto, was to defend Europe from a Muslim invasion that the EU and the Labour Party were enabling. He was later officially declared insane.
Profile: Anders Behring Breivik
August
Armed police shot dead Tottenham resident Mark Duggan while trying to arrest him. To his family, Duggan was a non-violent and caring family man. To some others he was a gang member and "well-known" to the police. Whatever the view, the incident exacerbated the brittle relationship between local residents and the police and sparked a riot that subsequently escalated into widespread violence, looting and arson in London and other major English cities. The scenes of destruction made headlines around the world.
Riots in Tottenham after Mark Duggan shooting protest
September
When Northern Ireland farmer Alan Graham agreed to allow R&B singer Rihanna to shoot a video in one of his fields, he had no idea who she was. But she soon caught his eye when he was about to head for home and saw her on his land in little more than a bikini. As a devout Christian he regarded her dress sense as inappropriate and unacceptable, so he halted the filming. "I wish no ill against Rihanna and her friends," he said afterwards. "Perhaps they could acquaint themselves with a greater God."
Rihanna: get off my land and find God, farmer tells singer
October
Looking pale and thin, Israeli soldier Gilad Shalit arrived back in his northern hometown of Mitzpe Hila after five years in captivity in Gaza. He was freed after Israel agreed a deal with Hamas under which more than 1,000 Palestinians would be released in exchange. Most Israelis supported the swap despite believing that the ransom was the release of murderers responsible for terror attacks. In his first interview, Sgt Shalit told Egyptian TV that he hoped his release would end wars between Israel and the Palestinians.
Shalit back in Israel after swap
November
Mario Monti's grey, technocratic style is in sharp contrast to the colourful and controversial persona of Silvio Berlusconi whom he replaced, unelected, as Italian Prime Minister. An economist and academic, Monti had gained a reputation as a tough negotiator as an EU commissioner. Dubbed Super Mario, he blocked a merger between General Electric and Honeywell, and launched an anti-trust case against Microsoft. On his accession as prime minister, his government was quick to adopt a series of austerity measures designed to stave off bankruptcy and the collapse of the euro.
'Super Mario' Takes Over From Berlusconi
December
Herman Cain, a former US political lobbyist and pizza executive, became embroiled in allegations that saw his popularity plummet just as he was establishing himself as one of the frontrunners. An Atlanta woman, Ginger White, claimed she had a 13-year sexual affair with Mr Cain. Then it emerged that a restaurant lobby group had paid off two women who claimed he had sexually harassed them. Other allegations began to emerge and he was forced to pull out of the Republican presidential nomination contest. He denied wrongdoing in every case.
Cain suspends US presidency bid
Compiled by Bob Chaundy
This Faces of the Year appears on the international edition of the BBC News website. There is also a version for UK readers, which reflects a more British perspective and appears on the UK edition.