Faces of the year 2011 - the men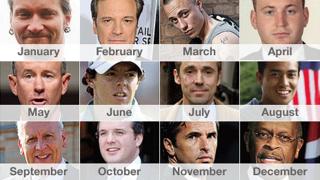 Some of the men who have made the headlines in 2011, left to right: Mark Kennedy, Colin Firth, Sean Donnelly, Ronan Kerr (top), William McRaven, Rory McIlroy, Paul McMullan, Ashraf Haziq (middle), Alan Graham, Adam Werritty, Gary Speed, Herman Cain (bottom). The women who made headlines was published on Wednesday.
January
The high-profile case of Mark Kennedy triggered an inquiry into the role of undercover police officers. He had spent seven years infiltrating an environmental activist group under the alias Mark Stone, having two sexual relationships with female activists. In 2009 he tipped off Nottinghamshire police who arrested more than 100 people from the group accused of conspiring to shut down a power station. Twenty were convicted but a second proposed trial of six more protesters collapsed after it emerged the Metropolitan Police officer wanted to use his secret recordings to help the defence. It led the Court of Appeal to quash the convictions of the first 20 protesters.
Trial of green activists collapses
February
Colin Firth won a Best Actor Oscar for his role as King George VI in the film The King's Speech. The critically-acclaimed movie tells the story of how, having been made king unexpectedly by his brother's abdication, Bertie - as he was known to his family - had to overcome his stammer with the help of a speech therapist played by Geoffrey Rush. On accepting his award, Firth said: "I have a feeling my career's just peaked." He also thanked his wife Livia for putting up with his "fleeting delusions of royalty".
Colin Firth takes the best actor crown at the Oscars
March
A Loughborough binman, Sean Donnelly, scored a YouTube hit with a rap video criticising Health Secretary Andrew Lansley. Also known as MC NxtGen, Donnelly penned the track in response to Lansley's plans to give GPs more control over the NHS budget. "The NHS is not for sale," he rapped. Donnelly was "amazed" at the huge response to his effort saying: "I just thought I'd do something to help." Lansley denied wanting to privatise the health service but commended Donnelly for getting lyrics about GP commissioning into a rap.
Andrew Lansley rap is web success
April
A 25-year-old Catholic policeman Ronan Kerr was killed by a booby-trap bomb that exploded under his car outside his home in Omagh, Northern Ireland, as he set off for work. He had only recently completed his training for the Police Service of Northern Ireland (PSNI). Both sides of the sectarian divide condemned the atrocity, as did international politicians from Hilary Clinton to the Dalai Lama.
May
Vice-Admiral William H McRaven masterminded the attack by US Navy Seals on the compound in Pakistan that resulted in the death of Osama Bin Laden. He had planned the operation for three months and President Obama personally thanked him at the White House. McRaven has commanded at every level within special operations and had recently spent much time in Afghanistan conducting night-time raids on insurgents. One former commander described him as "physically tough, compassionate and can drive a knife through your ribs in a nanosecond".
The mastermind behind Bin Laden raid
June
After four near-perfect rounds, Northern Ireland's wunderkind golfer Rory McIlroy took the US Open title by eight shots and broke the tournament's record by four strokes at 16 under par. In so doing, the 22-year-old banished memories of his meltdown at The Masters in April. When the final putt dropped he hugged his father and then shook the hand of his friend Graeme McDowell who won the tournament last year. McDowell said: "Nothing this kid does surprises me. He's the best player I've ever seen."
Remarkable Rory McIlroy wins by eight shots
July
The phone hacking scandal repeatedly hit the headlines this year and former features editor at the News of the World, Paul McMullan, was involved in many of most high-profile clashes. In July, actor Steve Coogan described him as "morally bankrupt" after confronting him on a television show, while Hugh Grant secretly taped him making claims about phone hacking. He was one of only a few journalists to claim on the record that phone hacking was rife at the newspaper. Defending the culture at the Leveson Inquiry later in the year, he stated: "Privacy is for paedos."
Hugh Grant and Steve Coogan join war on red tops
August
Some of the most disturbing footage of the London riots included the sight of bleeding Ashraf Haziq being robbed on a street in Barking, Essex. The Malaysian student had been knocked off his bike by rioters and injured. As he laid stunned and bleeding from a head wound, he was then robbed by people who had initially appeared to help him to his feet. David Cameron referred to the video as an example of "things that are badly wrong in our society".
September
When Northern Ireland farmer Alan Graham agreed to allow R&B singer Rihanna to shoot a video in one of his fields, he had no idea who she was. But she soon caught his eye when he was about to head for home and saw her on his land in little more than a bikini. As a devout Christian he regarded her dress sense as inappropriate and unacceptable, so he halted the filming. "I wish no ill against Rihanna and her friends," he said afterwards. "Perhaps they could acquaint themselves with a greater God."
Rihanna: get off my land and find God, farmer tells singer
October
Scottish businessman Adam Werritty's close relationship with UK Defence Secretary Liam Fox led to the latter's resignation. Werritty was a one-time flatmate and best man at Dr Fox's wedding. Despite having no official capacity, he met the defence secretary on 18 overseas trips. On one in Dubai he brokered a meeting between a businessman and Dr Fox. He also carried business cards embossed with parliament's portcullis logo. Dr Fox admitted that he had allowed the lines between his personal friendship and his government activities "to become blurred".
Liam Fox resigns following Adam Werritty revelations
November
The death of Welsh football manager Gary Speed, found hanged at his Cheshire home, stunned the world of football. He had appeared only hours earlier on television looking well and relaxed. Speed had played for several clubs including Leeds, Everton, Newcastle, Bolton and Sheffield United. He was regarded as the consummate professional and one of the "good guys" of the game. Tributes were paid to him at every Premier League match following the announcement of his death. His suicide also prompted much discussion about depression among sportsmen and women.
December
Herman Cain, a former US political lobbyist and pizza executive, became embroiled in sexual scandals that saw his popularity plummet. He pulled out of the Republican presidential nomination contest. An Atlanta woman, Ginger White claimed she had had a 13-year sexual affair with Cain. Then it was reported that a restaurant lobby group had paid money to a woman who claimed he sexually harassed her. Others too accused the "Hermanator" of improper sexual advances. Cain denies wrongdoing in every case.
Cain suspends US presidency bid
Compiled by Bob Chaundy
This Faces of the Year appears on the UK edition of the BBC News website. There is also a version for international readers, which reflects a more global perspective and appears on the international edition.