Faces of the year 2011 - the women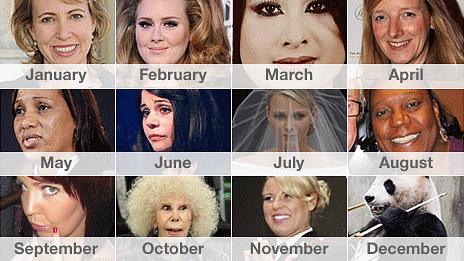 Some of the women who have made the headlines in 2011, left to right: Gabrielle Giffords, Adele, Eman al-Obeidi, Sarah Burton (top), Nafissatou Diallo, Jelena Lecic, Princess Charlene, Pauline Pearce (middle), Rebecca Leighton, Duchess of Alba, Corporal Kelsey de Santis, Sweetie the panda (bottom). The men who made headlines round-up was published on Tuesday.
US Congresswoman Gabrielle Giffords was attending a "Congress on Your Corner" gathering in her native Tucson, Arizona, when a gunman shot her through the head. He killed six and injured 13, including Giffords, who was given emergency brain surgery. Giffords' husband, Nasa astronaut Mark Kelly, flew immediately to her bedside. By August, she had recovered enough to appear in Congress to vote for the raising of the US debt limit, prompting a standing ovation. In a subsequent TV interview she said her recovery had been "difficult".
After performing her single Someone Like You at the Brit Awards, Adele shot straight to number one on the UK singles chart while the album from which it came, 21, was already the top seller. She became the first living artist to achieve two top-five hits simultaneously in both the album and singles charts since The Beatles. In addition, Someone Like You became a number one hit around the world and 21 also topped the album charts in 18 countries including the United States.
A 29-year-old Libyan woman Eman al-Obeidi stunned onlookers when she burst into the Rixos Hotel in Tripoli to tell the assembled foreign media that she had been beaten and gang-raped by 15 members of Muammar Gaddafi's militia over a two-day period. She showed off bruises and scars on her body. Government officials then dragged the screaming al-Obeidi away amid chaotic scenes in which journalists were kicked and punched. She was taken away for interrogation but subsequently released. She has now been granted asylum in the United States.
When Kate Middleton first stepped out to reveal her wedding dress, months of rumour and speculation as to its designer were ended. The honour had gone to Sarah Burton, the Macclesfield-born creative director of the Alexander McQueen fashion house, who had achieved critical acclaim for her collections since McQueen's death in 2010. The dress was made of ivory silk and lace with long sleeves and sported a two-metre train. Burton described the dress's creation, done with the utmost secrecy, as "the experience of a lifetime".
A 32-year-old immigrant from Guinea, Nafissatou Diallo, caused a sensation on both sides of the Atlantic when she accused the head of the International Monetary Fund, Dominique Strauss-Kahn, of sexually assaulting her and trying to rape her when she went to clean his room at New York's Sofitel Hotel. The French politician, 62, denied the claims and resigned as head of the IMF to defend himself. The case was eventually dismissed because of inconsistencies in Diallo's evidence.
A London-based Croatian woman, Jelena Lecic, became a victim of an unusual identity hoax. She found pictures of herself, taken from her Facebook page, on a blog entitled A Gay Girl in Damascus that had gained worldwide prominence. It purported to be written by a gay Syrian woman, Amina Arraf, and described her persecution at the hands of the Syrian government of President Assad. However, it emerged that Arraf did not exist and the blog was in fact written by an American student in Edinburgh, Tom McMaster.
When Charlene Wittstock married Prince Albert of Monaco it appeared to be the archetypal fairy tale. Here was the daughter of a photocopier salesman from South Africa marrying into one of Europe's oldest royal families. But the event was clouded by press reports suggesting Ms Wittstock had come close to returning to South Africa, after learning information about Prince Albert's private life. The royal family dismissed the claims, as well as suggestions she had only turned back after royal aides persuaded her to stay.
Mother-of-four Pauline Pearce was dubbed the Hackney Heroine when she gave a group of looters the benefit of the sharp edge of her tongue during the August riots. She lambasted them for stealing rather than fighting for a cause and told them they made her feel "ashamed to be a Hackney person". Her heart-felt speech was captured on film and became an internet sensation. Pearce had previously campaigned against gang culture after her teenage son Ronald was stabbed in the street. She has since spoken about the issue on national TV and radio.
Nurse Rebecca Leighton, 28, was arrested by Greater Manchester Police after three patients at Stockport's Stepping Hill hospital had died and another 16 were injured because their saline solutions had been unlawfully contaminated with insulin. She always protested her innocence and in September she was released without charge, after spending six weeks in prison. In subsequent interviews she said she had been in a "living hell". She was later sacked from the same hospital after she admitted to stealing painkillers and has lodged an appeal.
One of Spain's richest and flamboyant women, the Duchess of Alba, married again at the age of 85 to a civil servant, Alfonso Diez Carabantes, 24 years her junior. The wedding took place at a palace in Seville from which she emerged to dance flamenco. The duchess is said to be worth more than $4 billion. She allayed family suspicions about her new husband by dividing up her wealth between her six children and grandchildren, and, reportedly, by making Diez relinquish his rights to her fortune.
A US Marine from Virginia, Corporal Kelsey de Santis, had a dream come true when actor and singer Justin Timberlake accepted her YouTube appeal that he take her to the Marine Corps Ball in Richmond, Virginia. The combat instructor was inspired to invite him after Timberlake had publicly encouraged his friend and Hollywood star Mila Kunis to accept a similar invitation from a serviceman. "It was wonderful, a really good experience," she said after the event. Although she said there was no goodnight kiss.
Sweetie (Tian Tian), along with her fellow giant panda Sunshine (Yang Guang), was welcomed at Edinburgh airport with cheers and bagpipes after the pair's 11-hour journey from Chengdu in western China. Their arrival is the culmination of five years of lobbying by the Royal Zoological Society of Scotland and the government. Even the four pilots wore kilts in the pandas' honour. The pandas are on loan for a decade at a cost of £600,000 per year. Zoo bosses are hoping that Sweetie will produce cubs during that time.
This Faces of the Year appears on the UK edition of the BBC News website. There is also a version for international readers, which reflects a more global perspective and appears on the international edition.