Frank Wild in final journey out of Shackleton's shadow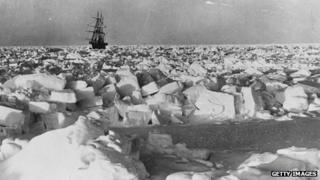 Frank Wild was the right-hand man to Sir Ernest Shackleton, joining him on several of his Antarctic expeditions. But is he finally stepping out of the great explorer's shadow, as his ashes make a poignant journey south?
Almost 100 years ago, the famous polar explorer Sir Ernest Shackleton set out to try to be the first to cross Antarctica.
He failed, but his ill-fated expedition on the Endurance, which began in 1914, is now seen as one of history's greatest stories of survival and leadership.
But while much has been written about Shackleton, his second-in-command on that voyage, a Yorkshireman called Frank Wild, has been largely overlooked by history. At least, until now.
Wild's relatives recently accompanied him on his final journey to Antarctica, as they took his ashes to South Georgia, to rest next to the grave of Shackleton, the man he affectionately referred to as "the boss".
The 18-day voyage retraced the disastrous Endurance expedition and ended in a final reunion of two great polar explorers.
The two men shared several trips to Antarctica, including the Nimrod expedition in 1907-09 which brought them to within 100 miles of the South Pole, a record at the time.
But within weeks of setting sail in early 1915, the Endurance was trapped in ice and 10 months later it was crushed, a moment recounted by Wild in his recently re-published polar memoirs.
"It was a sickening sensation to feel the decks breaking up under one's feet, the great beams bending and snapping with a noise of heavy gun fire…
"Shackleton was on the lookout platform and everybody else in the tents when we heard him shout, 'She's going boys!'
"Running out, we were just in time to see the stern of the Endurance rise and then a quick dive and all was over… I felt as if I had lost an old friend."
Among those on board the Akademik Ioffe, the former Russian research vessel retracing the voyage, was Alexandra Shackleton, who spoke touchingly about the relationship between her famous grandfather and Frank Wild.
"My grandfather was once asked to describe various members of his expedition team, and he was quite rude about some of them.
"But he said: 'There is nothing to say about Frank Wild, he is my other self.'"
Wild's relatives, Julie George and Brian and Martin Francis, described their great uncle as a small man, about 5ft 4in (1.65m) with piercing blue eyes and an expansive chest.
He was also a great disciplinarian, with a good baritone voice and a love of music. His favourite sea shanty was "What Shall We Do With the Drunken Sailor?" and he introduced the family to the song's rude verses as well.
Wild's love of music was to serve him well when the Endurance ran into trouble.
Having retrieved a banjo, and smuggled out a bottle of whisky from their sinking ship, he organised concerts - complete with liquid refreshment - to try to keep the crew's spirits up when they were forced to camp on the ice.
But faced with such extreme conditions, morale did not remain high for long. Cracks appeared in the camp and the ice began to melt.
The men realised they had no choice but to take to the sea in lifeboats in the hope of making it to Elephant Island, off the coast of Antarctica, across some of the most dangerous seas in the world.
From the deck of the Akademik Ioffe, Elephant Island looks savage - a row of snow-covered peaks rising perpendicularly out of the sea. It is too rough to land, which provides a sober reminder of the dangers Shackleton's men faced in lifeboats nearly 100 years ago.
But somehow they made it. After Shackleton and five crew members set off to seek rescue, Wild was left in charge of 21 men in temperatures as low as -45C (-49F).
They lived under two upturned boats and their meals consisted of raw seals and seaweed.
Shackleton managed to make it to South Georgia, a journey of around 800 miles.
But he landed on the wrong side of the island and was forced to scale a mountain range, that no-one had ever climbed before, to get to a whaling station at Stromness - all in the hope that someone would be there.
Dogs barked and children ran away, says Alexandra Shackleton. The whalers knew Shackleton but did not recognise him because he was so thin and his face had been blackened by the seal blubber the crew had used as fuel for a makeshift stove.
"When the manager realised who he was, he turned away and wept. Everyone had assumed the expedition members had died."
Shackleton returned to rescue Wild and his men - although it did take him four attempts.
It was Wild's wish to be laid to rest alongside Shackleton and seven years ago a plan to fulfil that hope began to take shape.
Angie Butler, author of The Quest for Frank Wild, discovered his ashes in South Africa, where he was a farmer after World War I, and made it her mission to bring them "home". This made the Wild family trip to South Georgia possible.
Shackleton's grave is in one of the most desolate places in the world, the disused whaling station of Grytviken.
It is marked by a massive slab of granite and lies in a small whalers' cemetery surrounded by a white picket fence - to keep the seals and penguins out. The whaling station resembles a scrap metal yard, full of disintegrating buildings and whaling boats that have been left to rust on the shingle shore.
Butler hands the casket symbolically to Julie George who places it in the ground.
Wild's granite ledger reads: "Frank Wild, 19 April 1873 - 19 August 1939, Shackleton's right-hand man."
As the two great explorers are reunited for a final time, the ship's horn sounds, echoing across the bay below.
While all the other graves in the cemetery point east, Shackleton's and Wild's look south, to Antarctica where, on the Akademik Ioffe a few days later, the towering, blue icebergs form a lake of glinting ice sculptures.
In the distance, there is a rumble as a tiny fragment of a massive glacier tumbles into the sea.
This is a place where man has no real influence, where nature takes its course, and where, when we go ashore, ours will be the only footprints.
"Once you have been to the white unknown, you can never escape the call of the little voices," wrote Wild.
I know now what he meant. I think I can hear those little voices too.
Crossing Continents is on on BBC Radio 4 on Thursday, 29 December at 11:00 GMT and on Monday, 2 January at 20:30 GMT. Listen again via the BBC iPlayer by downloading the podcast.